Bosnian Syria Terror Suspect's Identity Confirmed by Witnesses
A Bosnian State Investigation and Protection Agency, SIPA officer testified at the state court how Jasmin Keserovic, who is accused of fighting for a terrorist organisation in Syria, was identified.
This post is also available in: Bosnian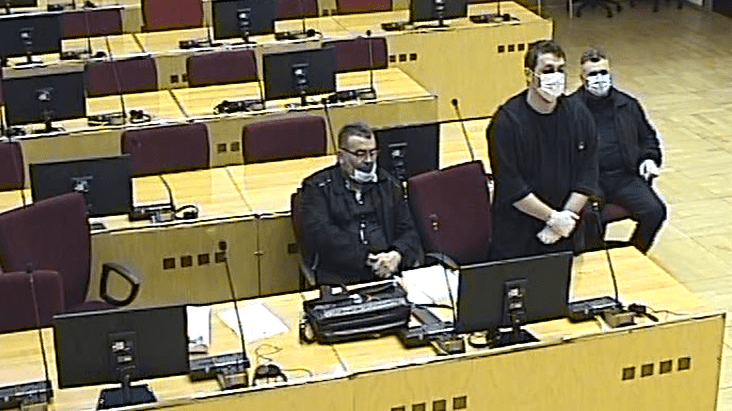 Jasmin Keserović. Source: The State Court of BiH

The witness said that Keserovic was identified as one of several individuals characterised as a security threat for having called for certain actions against state institutions, public figures and people of a different ethnicity.
The witness said he conducted interviews with six female returnees from Syria, as well as a protected witness codenamed M-2, who identified Keserovic on photographs.
The witness agreed with Keserovic's defence that in 2013, SIPA did not prevent Bosnian citizens from travelling to Syria, but only did that later, after the United Nations had declared the so-called Islamic State a terrorist organisation and after departures to foreign battlefronts had been prohibited.
Defence lawyer Senad Dupovac suggested that in 2013 and 2014, SIPA did not prevent the departures because "the 'Arab spring' and the fight for democracy under the US's cloak" were ongoing at the time.
The witness disagreed with the defence lawyer's suggestion that the photos presented to the witnesses had not been selected in accordance with legal procedures.
Following his testimony, the witness, who gave his personal data at the beginning of the hearing, requested that his name and photo not be published due to the nature of his job, which the trial Cchamber accepted.
Judge Dzemila Begovic suggested, after his examination, that there was no need to bring witnesses who would retell how the investigation was conducted.
Begovic said she assumed that state agencies conducted investigations in a lawful manner, adding that evidence about that could possibly be presented later if the defence contests the legality of the investigative procedure.
Prosecutor Cazim Hasanspahic said that, for the verdict, it was necessary to determine facts beyond reasonable doubt, not assumptions.
Bearing in mind the measures requested by the first witness and acknowledging the judge's suggestion, he proposed that the examination of the second witness, another SIPA officer, be postponed. He said he would call the officer later if necessary.
Keserovic has been accused of having gone to Syria in January 2013 and participated, as a member of so-called Islamic State, in terrorist activities. He has also been accused of publicly inciting terrorist activities.
The defence repeated that it was negotiating a plea agreement with the prosecutor, adding that talks would continue on Friday.
The trial will continue with a witness examination on May 29 unless the court is informed before that about an agreement being reached.