Alleged Bosnian Islamic State Fighter Goes on Trial
The trial of Senad Kasupovic began at the Bosnian state court, with the defendant's lawyer saying he will testify about the time he spent in Syria, where he is accused of fighting for the so-called Islamic State.
This post is also available in: Bosnian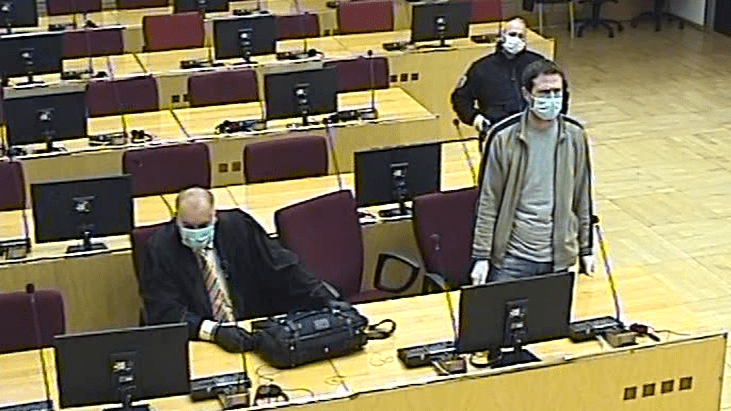 Senad Kasupović. Source: The State Court of BiH
The proceedings began with the reading of the indictment, which alleges that Kasupovic travelled from Bosnia and Herzegovina to Turkey on July 12, 2013 and illegally crossed the Syrian border, intending to fight for the so-called Islamic State, which was declared a terrorist organisation by the United Nations on May 30, 2013.
It further alleges that, by conducting attacks on the local population and detention, the organisation sought to force the Syrian authorities to change the country's constitutional set-up and political regime.
According to the charges, Kasupovic participated, under the name of Muatesim, in terrorist activities, fighting for Bejt Komandos Unit, which was later renamed El-Aksa.
Prosecutor Cazim Hasanspahic announced that 15 witnesses and court experts will be examined and material evidence presented. He said that eyewitnesses, including female returnees from Syria who recognised Kasupovic, will testify. There are also videos on which the defendant can be identified, he added.
The defence announced that it plans to call the defendant, who will testify about his time in Syria.
"He went there for personal reasons. He met a woman online and has two wonderful children with her," defence lawyer Husein Music said.
Music said that before going to Syria, the defendant suffered a wound to his eye, and did not do military service in Bosnia and Herzegovina as he was unfit. Music said he therefore did not know what the defendant would do in an army, except for cooking meals.
He said that at the time when Kasupovic left Bosnia and Herzegovina, changes to the law making it illegal for people to go abroad to fight had not yet been adopted. He also expressed an objection to the jurisdiction of the Bosnian state court over the case, saying that although he was aware of Bosnian law, he thought that the defendant should stand trial in the country in which the criminal offence was allegedly committed.
The trial is set to continue on June 3, when State Investigation and Protection Agency officers are expected to testify.