Sarajevo Canton bought 50,000 protective masks from a company owned by the son of a cantonal parliamentarian, raising questions of corruption and conflict of interests, BIRN BiH has learned.
This post is also available in: Bosnian (Bosnian)
The authorities in the Sarajevo Canton in Bosnia's Federation entity bought COVID protection masks from a company that used to specialise in cakes, and is owned by a cantonal MP's son, BIRN has learned.
Under a contract signed on March 20, the canton paid 52,650 Bosnian marks, around 25.000 euros, for the three-layer single-use protective masks, including VAT.
The contract was signed by the then acting director of the cantonal Civil Protection office, Kemal Cacan, and by Panta Rei's owner, Baris Bejtovic.
The company was founded in 2016 by Bilsena Sahman an MP in the assembly representing the Union for a Better Future party, SBB, and her son, Bejtovic.
The official companies register lists Sahman as a legal representative for the company. The Public Procurement Portal and the companies register describe the company's business as "body care and maintenance".
Bejtovic told BIRN BiH that, before the eruption of the COVID-19 pandemic, the company's main business was pastry making – selling cakes in malls.
"When I realized that this would all stop, and it did stop, and given that some of my workers included single mothers and dead veterans' children, mostly young and highly educated people, I sought ways to do something to keep those people [working] and not refer them to the employment agency," Bejtovic recalled.
With that in mind, before the state of emergency was declared on March 17, 2020 he said he signed contracts with textile companies to start getting protective masks instead.
"Private market chains and pharmacies were among my first clients. We sold them protective masks – cotton or single-use masks," Bejtovic noted.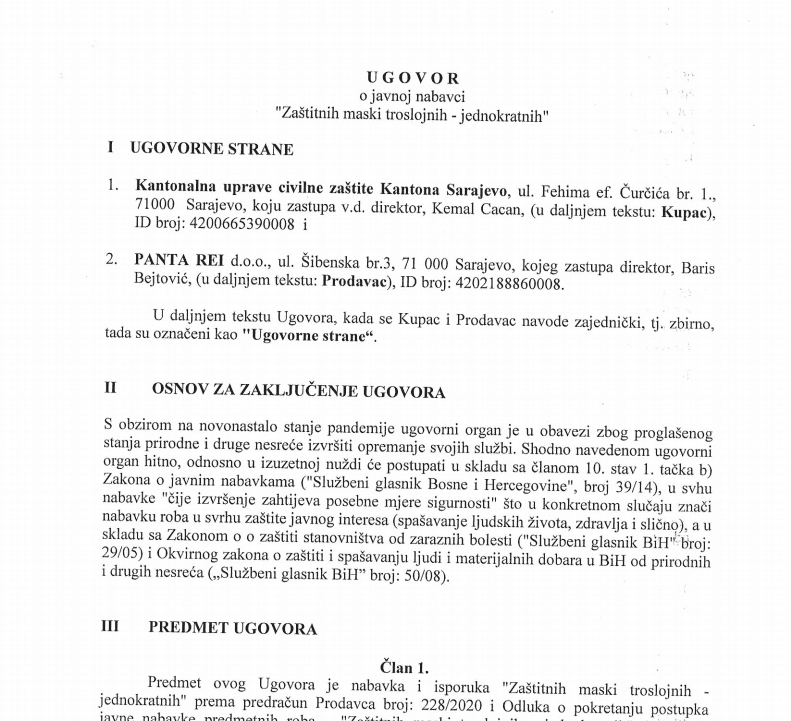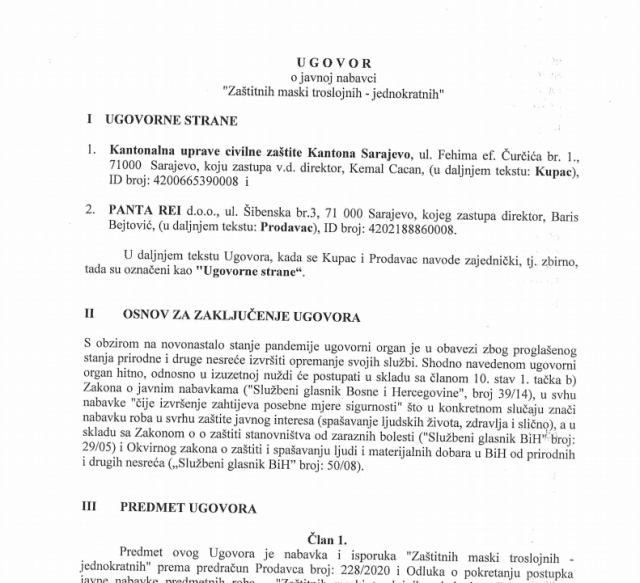 Contract. Photo: kucz.ks.gov.ba
Oddities in contract soon attract notice
Erduan Kafedzic, head of the Anti-Corruption and Quality Control Office of Sarajevo Canton, says his office soon noted irregularities in the procurement procedure, and other elements "requiring in-depth checks".
One issue that struck them was that the company did not have a clear name. "The Anti-Corruption Office's website, where all public procurements are registered, listed a Panta Rei Bijeljina company, while the contract [for the masks] referred to a Panta Rei Sarajevo," Kafedzic said.
He said his office wanted Civil Protection to explain why one company appeared in the tender invitation and another in the contract.
Another concerning issue was the lack of clear procurement procedure. The procurement notice published on the Cantonal Government website said Civil Protection had exempted this purchase from regular procurement procedures – on the grounds that the application of normal procedures might have negative consequences.
The Public Procurement Agency previously justified this exemption, saying in March 2020 that, "in a situation of extreme emergency, when regular public procurement procedures cannot be applied … it is possible to carry out a negotiated procedure without publishing a procurement notice".
The contract with Panta Rei was signed on the same day, March 20, when the decision was taken to allow this process of exemptions from Public Procurement Law.
Kafedzic said he remains dissatisfied with official explanations. "We want Civil Protection to provide us with that data in writing and then forward it … for further action, but only after we have received an explanation why the public procurement notice on our website, which is included in the materials submitted, mentions a company from Bijeljina, while another company is mentioned in the contract," he said.
"Did Civil Protection give wrong information to the [Anti-Corruption] office accidentally or deliberately?" he asked. "The data they provided do not match the contract on the web site, and that is the key issue and that is the beginning," he added.
Civil Protection told BIRN BiH that procurement of the masks from Panta Rei was initiated on the basis of a market survey and the offers they had received. It said Panta Rei's offer had included advance payment of 50 per cent of the fee.
It also said the confusion over the name of the company was a technical error. "Following the signing of contracts, we are obliged to enter all related data into the e-procurement information system," it said.
"When entering the data in the e-procurement information system a mistake was made, so, out of two companies with the same name, a wrong one was selected. This was a technical error made when entering the data."
The Public Procurement portal names Panta Rei's website as antiage.ba, which is the internet address of the "Centre for Dermocosmetic, Aesthetic and Healthy Nutrition". The webpage names Bilsena Sahman as a member of its team.
Data from the cantonal Anti-Corruption Office suggest that this centre is a branch office of Panta Rei, whose chief is Baris Bejtovic.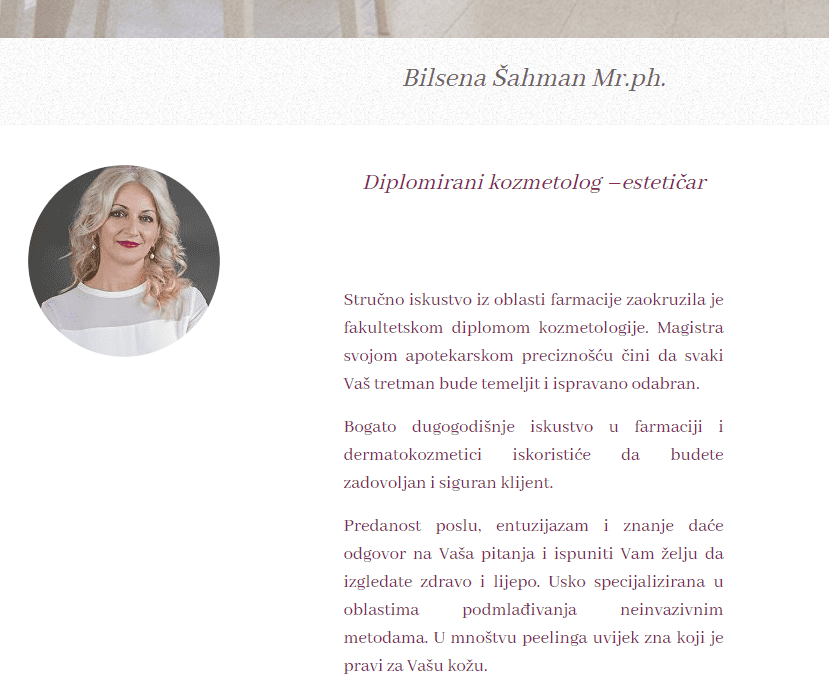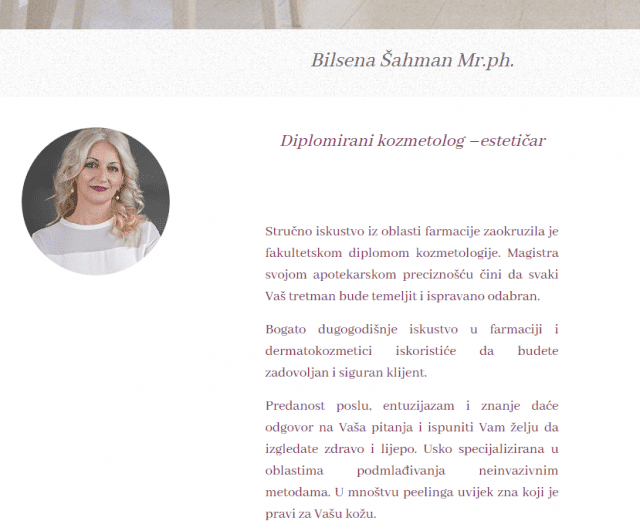 Photo: antiage.ba
Contacts with Civil Protection denied
Bejtovic says Panta Rei received an email asking for an offer for the protective equipment that they supplied at the time. He also said he had no personal contacts with Civil Protection and had no idea why they first contacted him.
"I don't know how they [Civil Protection] knew that our company had been engaged in wholesale trade for four years, and whether someone from Civil Protection called someone in the pharmacies to which we had sold our goods, or someone else, and was referred to us," he said.
"I did not meet any of them. I do not know who the director of Civil Protection was at the time, and who led all that," he added.
Kemal Cacan, then acting director of Civil Protection, who signed the contract with Panta Rei, says the contract was signed as the number of people infected with coronavirus began to rise sharply.
"We had four or five companies we could address, but absolutely no one had the resources we requested – and then Baris Bejtovic came forward and said he had it [the masks]," he said.
"The situation was strained due to the [rise in] payments, because … prices had increased enormously. From early February to early March, prices went ten times up and then it was like: 'Let's catch anything, so we can distribute it to people,'" Cacan said.
He insisted Bejtovic made the best offer. "That gentleman came forward, sent an email and an offer, and his price was more favourable than the price offered by others," Cacan said.
He denied knowing Sahman, or her son, adding that he had spoken to Bejtovic over the phone only once. "We spoke on the phone once. Then it all went through my procurement services, they did it," Cacan said.
Sahman denies role in award of the job
Bejtovic said the main condition for being awarded the job was to give the best offer and promise the shortest delivery time. "We guaranteed a quick delivery, which hardly anyone could guarantee at the time," he said, adding that his mother did not even know about that contract.
"I am not a little kid who has to inform anyone about my actions. I did my job and she was glad because I did not leave my staff without work," he said.
"That was probably the smallest contract we'd ever handled. Most of our trade turnover has been made with private companies, and with the biggest pharmacy chains in Republika Srpska. I do not see how my mother could influence that," Bejtovic said.
Sahman was elected to the Sarajevo Cantonal Assembly in October 2018.
That year, she was acquitted in the second instance of obstructing the work of the judiciary, alongside Fahrudin Radoncic, Bakir Dautbasic and Zijad Hadzijahic. Radoncic was acquitted of charges that, through Sahman and Dautbasic, he had ordered pressure to be put on a witness to change her statement in the trial of Naser Kelmendi in Kosovo.
Sahman maintains she had no influence on her son's award of the procurement. "I did not even know about the public procurement notice, I don't get involved in those things," she said.
"He works all the time. Not just for Civil Protection, either – he procured goods for others, too. He did not import [the masks] but procured them from our producers. I know he went to Tesanj to get the masks all the time," Sahman said.