Bosnian Salafist Preachers Calibrate Message to Growing Audience
Salafist preachers, or Da'is, are harnessing the power of social media to increase their influence in Bosnia, dialing down their rhetoric but still challenging fundamental rights.
This post is also available in: Bosnian
Elvedin Pezic has over 150,000 followers on Facebook, where he broadcasts live his lectures on Islam to packed auditoriums around Bosnia and Herzegovina.
Yet it was only a few years ago that Pezic and other Salafi Da'is – preachers who call people to the Islamic faith – were marginalised, shunning and shunned by the country's official, more liberal Islamic Community, the chief Islamic authority in Bosnia.
Now though, Pezic enjoys the kind of social media profile that Islamic Community officials can only dream of, the result of what a BIRN BiH analysis suggests has been a concerted policy to dial down the Salafi Da'i rhetoric and to mobilise a network of non-governmental bodies in organising and promoting lectures via social media, often with the promise of prizes for those who attend, from mobile phones to paid-up Hajj pilgrimages.
Observers of the Salafi movement in Bosnia, however, are concerned about its growing following. They say that while the Salafi Da'is have toned down their most radical messages, they still preach intolerance and call into question basic human rights enshrined in Bosnian law.
"I think we have a serious problem," said Edina Becirevic, associate professor of security studies at Sarajevo's Faculty of Criminal Justice, Criminology and Security Studies, who has studied the Salafi phenomenon in Bosnia extensively.
"We, as a society, must deal with the fact that Salafi influencers promote intolerance, exclusion of women and religious superiority."
Refusal to talk
Salafists in Bosnia have long been viewed as hardliners within a Muslim Bosniak population that on the whole practices a moderate form of Islam.
The rise of Islamic State in Iraq and Syria and the departure of some 200 Bosnians to join it led many in Bosnia to see the community as a security threat.
The shift in rhetoric from the Salafi Da'is appears to have coincided with a move by the Islamic Community to integrate the Salafists and shut down a network of parallel, unofficial mosques since 2016, under pressure from the West to confront the flow of Bosnian Salafists to ISIS.
Pezic has no official position within the Islamic Community, but where once he spoke strongly against it, the popular Da'i now says he is a part of it.
Becirevic stressed that the likes of Pezic do not pose a threat in terms of encouraging violent extremism. Pezic himself has preached against ISIS and violence in the name of Islam.
But the Salafi Da'is do question some fundamental human rights and the role of women in modern Bosnian society. And their sophisticated use of social media means they are reaching a growing audience.
They are supported by a network of organisations registered as associations for the promotion of 'positive values' and 'original Islam', youth associations and book clubs, according to BIRN BiH reporting. They organise lectures in local premises such as cultural centres and cinemas, encouraging interest with promises of prizes for a few lucky participants.
BIRN BiH contacted a number of these organisations but none of their representatives agreed to be interviewed. Pezic consented to an informal conversation with BIRN BiH reporters but declined a formal interview.
Fellow Da'is Safet Kuduzovic, Almir Kapic, Zijad Ljakic refused to speak to BIRN BiH, while Dzevad Golos did not respond to requests for comment. Each has a considerable circle of followers and gives lectures across Bosnia.
The Islamic Community did not respond to an interview request, while three professors at the Faculty of Islamic Sciences, who have previously written and spoken publicly about the work of Salafi Da'is, refused to comment for this story.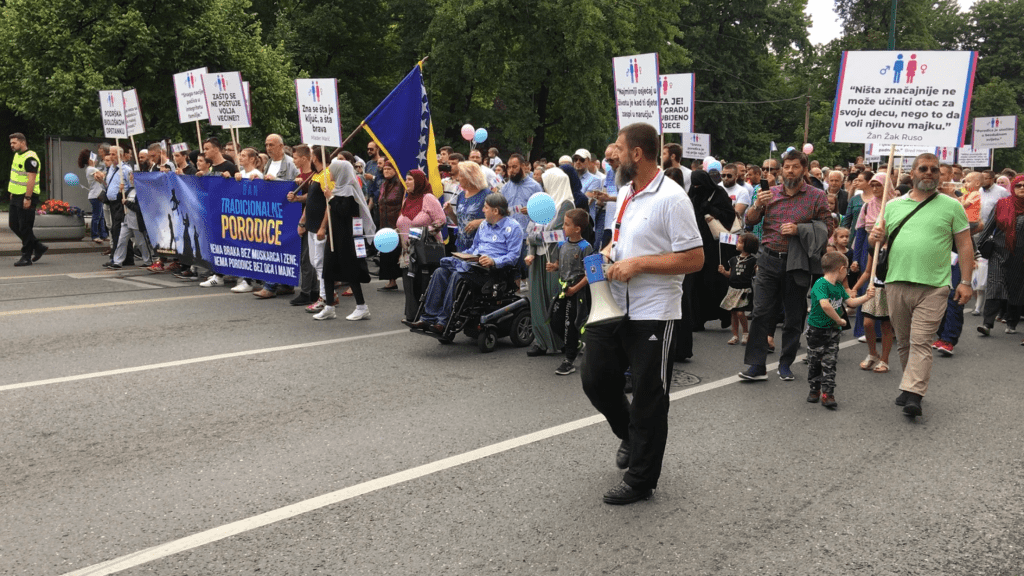 'Change of tone only'
Kuduzovic, who has roughly 33,000 followers on Facebook, is considered the highest authority among Salafi Da'is.
His most popular video on YouTube, titled 'Can a husband sleep with two wives at the same time?' and uploaded almost five years ago, has been viewed more than 170,000 times.
Such viewing figures are "very respectable", said Srdjan Puhalo, a psychologist and author of the book 'Salafists in Bosnia and Herzegovina'. "I think very few people in Bosnia and Herzegovina have such potential," he told BIRN BiH.
Puhalo said it was important to note that conservative followers of Bosnia's other main religions – Catholicism and Orthodox Christianity – take no issue with much of what the Da'is preach. This, he said, is suggestive of a society "in constant crisis, a permanent crisis where people are trying to find the best answers for themselves about how to live. How do they function in a society where you no longer know what's good, what's bad?"
Tanja Tankosic Girt, a psychologist and family therapist, said that social networks were "very important for young people because they are a communication channel that is very accessible to them."
The Salafi Da'is, she said, have "softened" their messages, "they have learnt to open discussion about topics that have not otherwise been discussed."
"Half of that is a show and another half is the truth. They are actually a reality show."
Previously, the Salafi Da'is were heavily critical of the moderate form of Islam practiced by most Muslims in Bosnia, and some lectures were condemned as anti-Semitic. Such rhetoric has largely gone, but they continue to preach a restrictive view of the role of women in society.
Pezic, for example, has said Western society lost its moral compass when it "let women out of the home, when she became everything but a woman."
The Salafi Da'is were also vocal in denouncing Bosnia's first Gay Pride march in September this year.
Ljakic, who is considered more hardline than other Salafi Da'is and who never publicly accepted the Islamic Community's invitation for integration, is also on record in one video lecture as saying female circumcision is not barbaric but is in accordance with Islam if carried out correctly.
"A number of those influencers promote polygamy and discuss very openly the guidelines for practicing polygamy and insist on full control of women, in terms of both their private and professional life," said Becirevic.
"As they have tens of thousands of young followers and the figures are growing progressively, it means they have influence on those young people," she told BIRN BiH.
Bosnian society, Becirevic warned, already "has a problem with tolerance, interethnic tolerance and political crisis". The influence of Salafi Da'is is "an additional factor. This type of narrative is an additional factor in the destabilisation of society."
"In a certain way, they fill gaps in the society, the lack of free activities for young people. They give instructions for life, they are involved in what Western countries call life-coaching."
But while there has been a discernible shift in the language, Kuduzovic said in 2017 that the message remained the same.
"In 2000 or 1999, when we spoke about a joint Zikr [the practice of ritual prayer glorifying God], I had a switchblade in my hand. In 2016 I took a rose," he said in a video uploaded to Facebook.
"The discourse is the same, there is no difference. Both have remained the same, I have not changed anything … So, brothers, this is about a change of tone only."
Independent or coordinated?
One organisation that spent a decade organising Salafi Da'i events is Svjetlo [Light], led by Sead Abdurahman Kalabic. Svjetlo is no longer involved in such work, having handed over responsibility to a number of other organisations which Kalabic said were doing "a much better" job.
"Now we have the Internet, Facebook, various types of advertising, marketing etc, as well as attractive subjects," Kalabic told BIRN BiH.
"The lecturers themselves, starting from Safet Kuduzovic, Pezic… have gained certain experience through lectures given in a more accessible manner. They attract young people more easily by giving nice lectures."
Becirevic said it was notable that the Da'is appear to act independently of each other, but on closer examination their "roles have been carefully distributed".
"Each of those influencers has a well-developed media profile," Becirevic told BIRN BiH.
"One of them is attractive to young people and gets more and more followers every day. Another is slightly more conservative and he somehow seems like an undisputable authority in the Salafi world. The third-ranking one in the popularity poll is what we would call an extreme rightist in a political sense. Not only is he religiously conservative, but his messages contain traces of violence." Becirevic did not specify whom she was referring to.
"They somehow coexist in the parallel online Salafi universe, as, what seems to me, a very well-coordinated team."
Elvedin Subasic, a theologian, said the preaching of Ljakic and other Salafi Da'is should be viewed only in terms of its adherence to Bosnian law.
"In my opinion, as long as Ljakic stays within the framework of this country's law, he can speak whatever he wants," Subasic said.
"Those who want to offer a counter-narrative to that, there are probably people within that group who have already reacted when he, in one of his articles I think, mentioned that he did not waive the possibility of Takfir, denouncing someone a non-believer. Another group wrote a letter, saying they disagreed with him."
"They have every right to call themselves Salafists and Muslims, and think of themselves as totally correct and the only true interpreters of Islam," Subasic told BIRN BiH. "They have every right to do it, because they live in such a country."
'Pseudo-democratic'
In September, Svjetlo joined with 14 others NGOs in staging a rally a day before the Sarajevo Pride march, though Salafi Da'is were more restrained, urged their followers to simply ignore what was hailed by human rights organisations as a watershed moment for Bosnia's LGBT community.
Lejla Huremovic, one of the Pride organisers, said that, directly or indirectly, the Salafi Da'is had called on the authorities to ban the Pride march, "which would mean that a group of people would not actually be able to exercise its human right."
"In that context we consider that nobody in this society, even that group, has the right to ban someone's human right to freedom of assembly and the right to fight for human rights in the street," Huremovic said.
Tankosic Girt said the row over Pride demonstrated the Salafi message that "all those who are different are perceived as enemies".
"It is characteristic for all those radical groups that they have a pseudo-democratic position, a pseudo perception of democratic rights," she said. "From all those narratives they take what suits them and turn it to their advantage."
The psychologist Puhalo, on the other hand, said the Da'is had shown a degree of responsibility in telling their followers to simply ignore the event. But he questioned what their policy might be in the event they were to emerge as a political force in Bosnia.
"There is a paradox concerning human rights and Salafists, and Salafists must provide the citizens of Bosnia with an answer," he said.
"Knowing that Bosnian society has to ensure respect of human rights of all people, including Salafists, what would happen, and this is a hypothetical question, what would happen if they could come into power and form the government. What would happen with those human rights?"