One December Sunday, dozens of darkly dressed Serbian far-rightists answered a rallying call to head to Kosovo and show support for Serbs there, who had barricaded roads in the latest protest against the authorities in Pristina.
This post is also available in: Bosnian
Most of the men were masked, but though they may have been coy about their individual identities, their proudly displayed flags and insignia made it easy to identify which groups had taken part.
Journalists from BIRN BiH, which has been tracking the evolution of far-right movements across the Balkans, identified at least five from the perhaps one or two dozen known to exist in Serbia, among them a group supporting Russia's Wagner mercenaries fighting in Ukraine.
Leading them on and unworried about hiding his face was Damnjan Knezevic, the head of a group called Narodna patrola, or The People's Patrol.
"We didn't come here to jostle with you," he told Serbian police, standing at the front of his group, face to face with a long line of officers.
Narodna Patrola says it is defending Serbia because no one else is, and that it opposes migrants, Covid vaccination, Kosovo's independence and LGBT rights.
In the preceding week some right-wing organisations said they would go to Jarinje if authorities in Serbia did nothing to support Kosovo Serbs who had blocked the main route north from Kosovo to the Serbian capital.
The blockade – later lifted – was in protest at Pristina's attempts to extend its authority over parts of northern Kosovo nearest to Serbia where ethnic Serbs are a majority.
"People from all over Serbia, Montenegro and Srpska (the Bosnian Serb Republic) are heading to Jarinje – we don't admit borders," said a promotional video on the Serbian nationalist, pro-Russian website Srbin.info. It also gave details about where to join vehicle convoys in Belgrade and other Serbian cities, Obrenovac, Cacak and Kraljevo.
From St Petersburg to Jarinje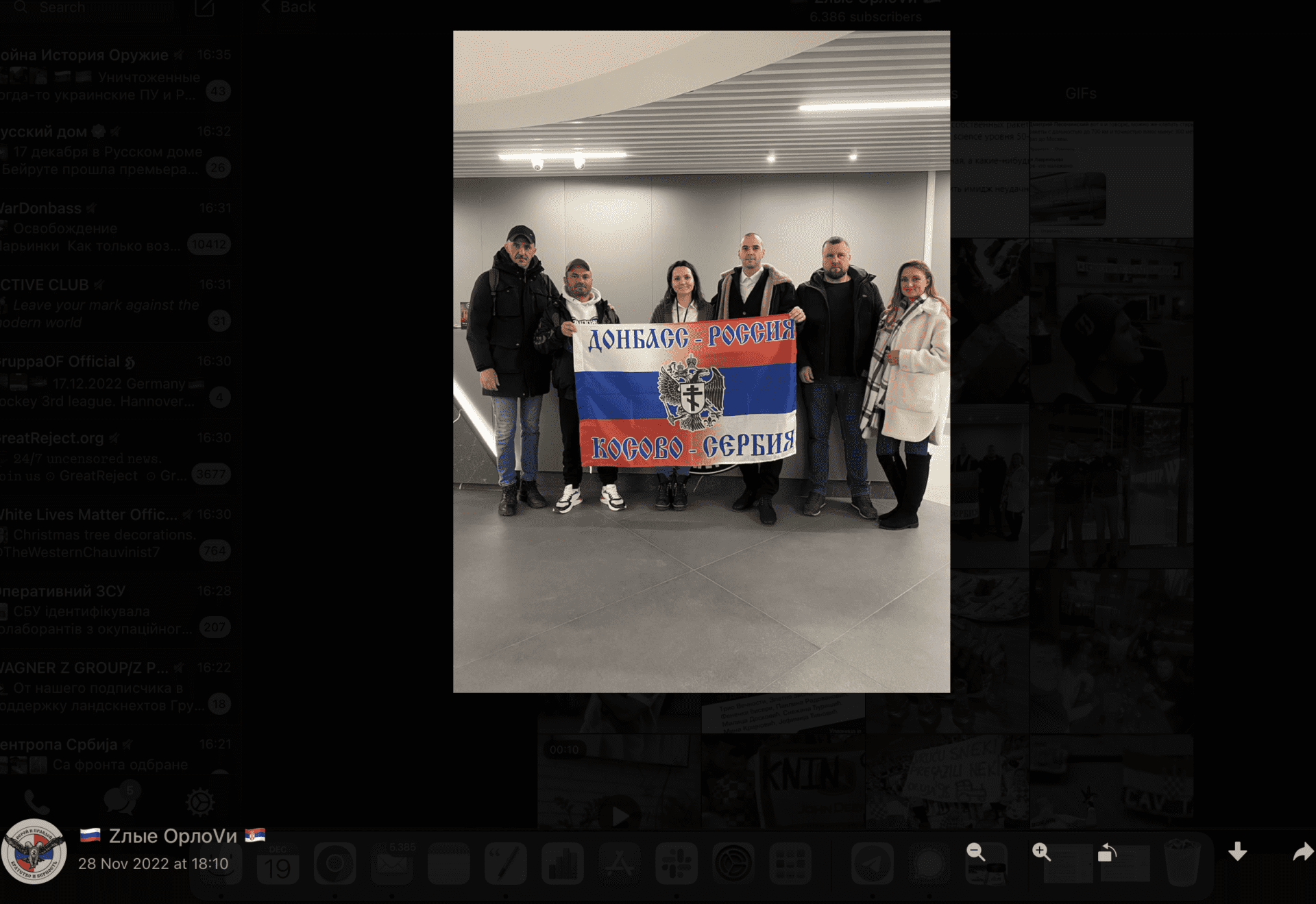 Announcement about Damnjan Knežević's visit to Wagner. Photo: Telegram, screenshot
Balkan Investigative Reporting Network of Bosnia and Herzegovina, BIRN BiH, went through photos and videos published on social media from the Jarinje stand-off and checked out the badges, insignia and symbols men there were sporting – from far-right bikers' clubs to ultranationalists.
Chief among them was Narodna Patrola, whose members prominently displayed symbols showing the group's enthusiastic support for Russia – which many Serbs revere as a sympathetic Slavic superpower – and especially for the Wagner group, a paramilitary formation which recruits Russian convicts and is accused of some of the most brutal fighting in Ukraine.
Wagner announced on its Telegram social media channel that it had set up a Russian-Serbian friendship group called Orlovi, and in late 2022 posted a photo of Narodna Patrola's Knezevic visiting its St Petersburg offices.
Knezevic said on a podcast that though Wagner did not operate in Serbia, anyone could sign up to join it – though he did not say if he had done so. He said Wagner officials had invited him to drop by after seeing him carrying a flag at a football match that said Ukraine's Donbas was Russia, and Kosovo was Serbia.
He said Serbia was surrounded by hostile countries and had an ill-prepared army.
"I see my mission in strengthening those ties further (with Wagner) and us getting adequate help in case of need," he added.
A video on Srbin.info's YouTube channel shows protestors at the border near Jarinje wearing Wagner symbols on one jacket sleeve and Narodna Patrola logos on the other.
Narodna Patrola has called for support to "the Russians and Belarusians in their fight against the Nazi and pro-Western government from Kyiv".
Right-wingers inspired by war crimes
The far-right in Serbia has been growing in popularity, especially since Russia invaded Ukraine in February, 2022. Whilst still marginal, it has had a strong influence on some groups and individuals in other parts of the world.
Members of Srbska Akcija (Serbian Action), an ultranationalist Christian group, also took part in the attempt to cross into Kosovo, seen by many Serbs as the birthplace of the Serbian Orthodox church and the cradle of the nation.
"The gathered participants make it clear that our brothers and sisters in the holy Serbian land are not and will not be without the sincere support and help of patriots in other Serb areas," a Telegram post by the group says. "No division! No surrender! Kosovo is Serbia!"
Alongside them were members of the Hrabro za Kosmet (Bravely for Kosmet) organisation, which collects aid for Serbs in Kosovo, which Serbs often call Kosovo and Metohija, or Kosmet for short.
"We shall not obey and suffer the terror of Shqiptars," it said, using a term for Albanians that is derogatory in the Serbian language. "We are reducing words and protests and slowly switching to actions," it wrote on its Telegram page after the protests.
The group blamed Belgrade of irresponsible policies ever since 1999, when NATO forces bombed Serbia to try to prevent the oppression of Kosovo Albanians.
An invitation to join the rally which it posted was shared on the Serbian Telegram channel of Zentropa, an international forum for extreme-right movements.
Hrabro za Kosmet offered for sale what it said were Russian-made badges to "help the children of Donbass". They depicted the face of Ratko Mladic, the former Bosnian Serb army commander serving life for genocide against Bosniaks from Srebrenica in 1995 and other war crimes.
Nemanja Sarovic of the Serbian right-wing, nationally conservative political movement Ljubav, Vera, Nada (Love, Faith, Hope) shared videos from Jarinje on Facebook.
Sarovic stood for parliament in 2022 but his party won under one percent of the vote. He had founded it with the late Bozidar Delic, former commander of the 549th Motorized Brigade of the Yugoslav Army, who always denied accusations that he took part in some of the most notorious attacks during the conflict in Kosovo in 1999.
Bikers with Third Reich skulls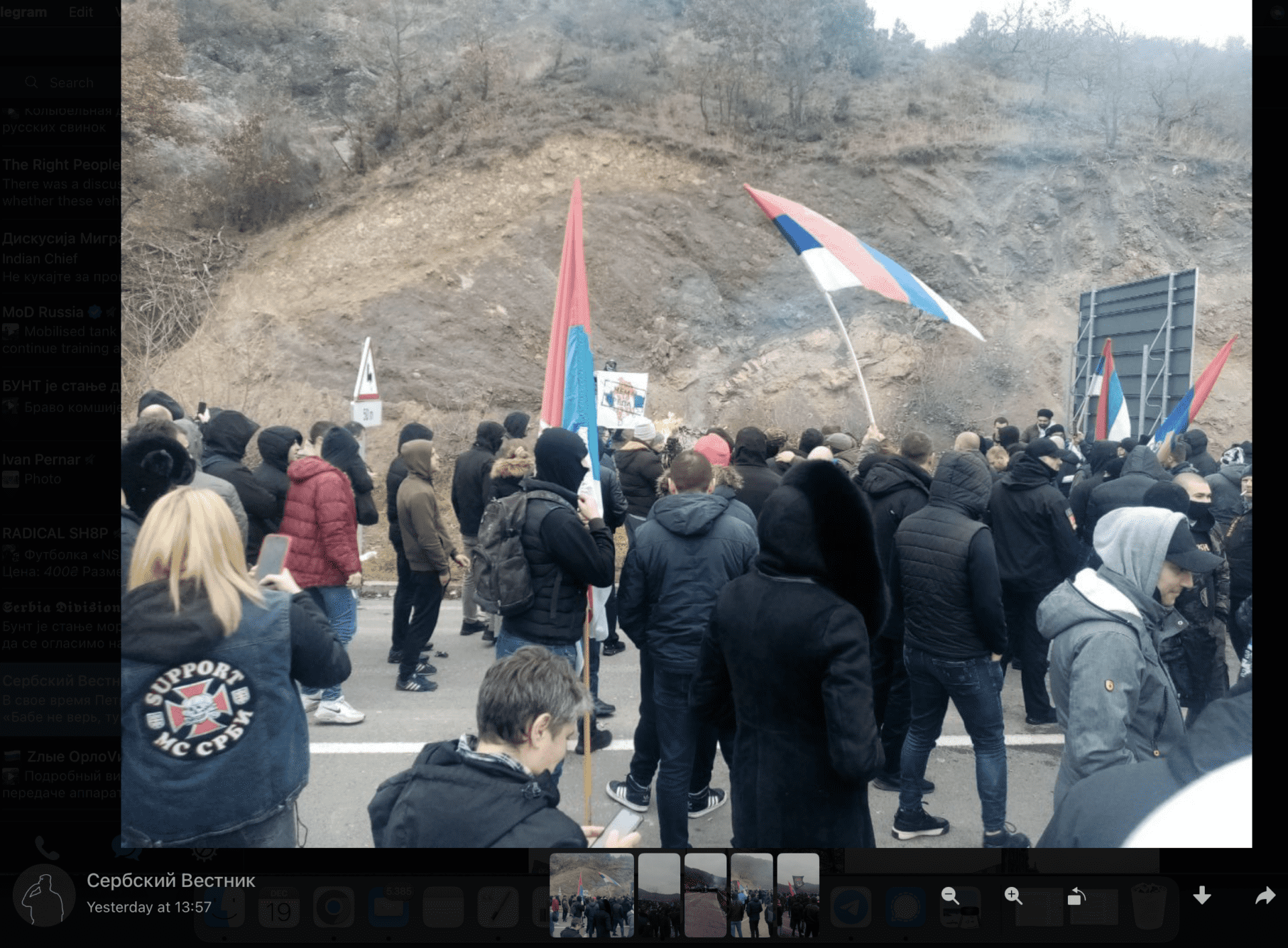 Gathering at the Jarinje border crossing. Photo: Telegram, screenshot
Bikers wearing jackets with logos from the MC (moto club) Serbs Serbia, and Support MC Serbs can be seen on several photos from Jarinje.
They sport the Totenkopf, or death head, symbol – a skull and crossbones used by a Nazi SS division in World War Two. Experts interviewed previously by BIRN BiH say the symbol is a direct allusion to Nazism and glorification of the Third Reich.
Chetniks – fans of the World War Two Serbian nationalists who fought the Nazis but then lost to the Yugoslav communists – were also in Jarinje, with tee-shirts and flags of their group. Self-styled Chetniks have admitted to funding and arranging travel for volunteers to fight with Russia in Ukraine in 2014.
Many of the demonstrators who tried to cover their faces did so with masks from Serbon Shop, a popular online store where far-rightists can get Nazi insignia and so on and which has worked with many far-right groups.
BIRN BiH was unable to get comments from organisations mentioned in this article.