A year ago, Croatia finally adopted a law granting compensation to civilian victims of the 1991-95 war - but few cases have been resolved so far, and even fewer relating to injuries sustained by Serbs during Operation Storm in August 1995.
This post is also available in: Bosnian
"The shell fell, it hit the garage. I was in front of the house, it hit me in the knee, the shrapnel was in the bone," Drca told BIRN.
"I was in the hospital for six days, after that I wore a leg brace for a month," he added.
Some two-and-a-half years later Drca, together with many other Croatian Serbs, was forced to flee the country and come to Serbia.
Operation Storm, conducted from August 4-8, 1995, saw Croatian forces defeat rebel Serbs and oust their self-proclaimed statelet, the Republic of Serbian Krajina, which they had established on Croatian territory in 1991.
Several hundred Serbs were killed during and after the operation, according to the Croatian Helsinki Committee. Others were injured, and more than 200,000 refugees left for Serbia. None of them has ever been compensated.
Operation Storm will be celebrated this week by Croatia as a great victory that ensured that the country gained independence from Yugoslavia, while the Serbian authorities will mourn its victims.
Some of the Serbs who suffered injuries during Operation Storm or in other wartime incidents were given hope of compensation by Croatia's Law on Civilian Victims of the Homeland War, which was adopted in July 2021. Janko Drca was one of them.
In April 2022, with the assistance of Serbian National Council, which represents ethnic Serbs' interests in Croatia, Drca applied for compensation under the law. But by the end of last month, he had still not received any feedback.
Milena Calic Jelic from the Serbian National Council's legal department said that it has assisted plaintiffs to submit 70 requests under the law so far.
Calic Jelic said that the organisation is "busily working [on] finding people who are exercising their rights under the act", helping them fill out applications and directing them to the correct county or city office in order to file their claims.
She said however that the law only began to be implemented in November last year and "for now, we do not have a single request resolved".
Croatia's war veterans' minister Tomo Medved told parliament in June 2021 that his ministry estimates that there will be "up to 2,500 new beneficiaries of the status rights of disabled people and family members [of victims]".
No data on Serbs' compensation claims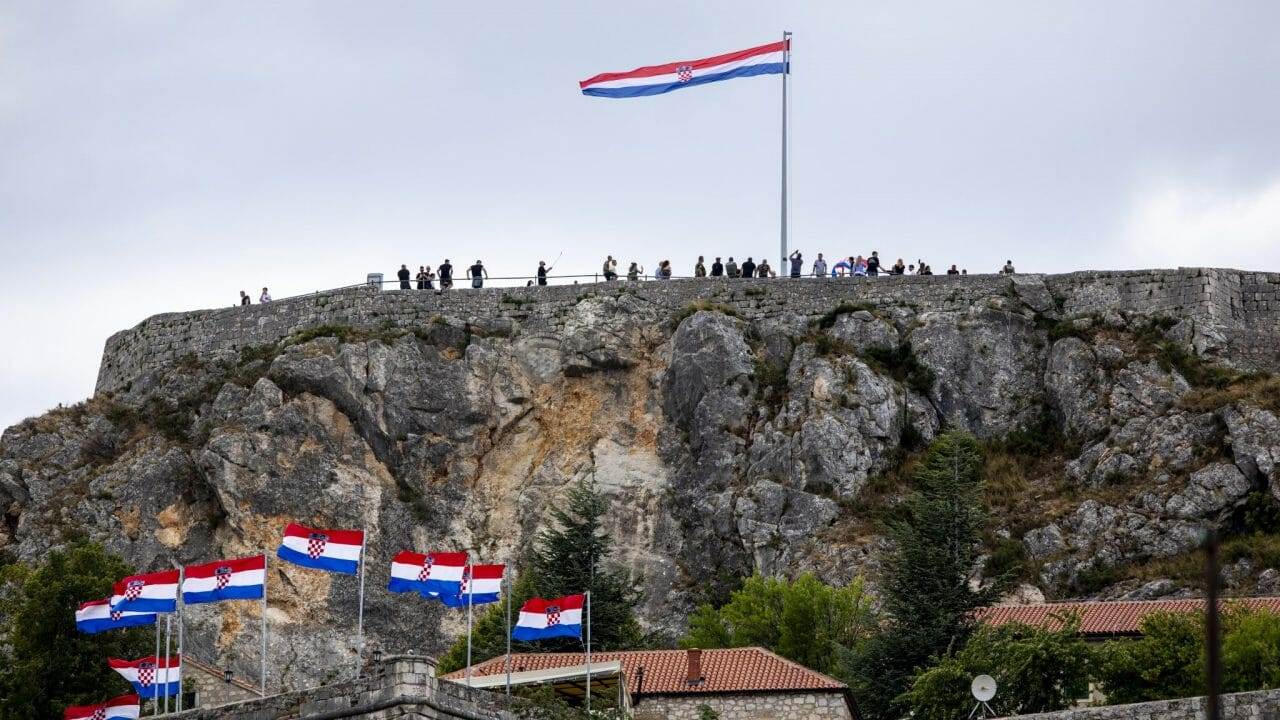 Celebrations of the Day of Croatian Veterans and the 25th anniversary of Operation Storm at the Knin Fortress, August 2020. Photo: EPA-EFE/MIROSLAV LELAS.
The new law grants compensation for people who became disabled as a result of the war or who lost family members, as well as funding specific items like prosthetics.
Under the law, relatives of civilians who went missing in wartime but who have not yet been officially declared dead will be able to claim benefits even before a death certificate is issued for the missing person.
People seeking compensation must apply at county offices or, if they no longer have an address in Croatia, at an office of the City of Zagreb.
Some of the counties said that they do not inquire about an applicant's ethnicity during the process, so BIRN asked for data about how many cases there were in total and how many have been completed.
In Primorje Goranska County, BIRN was told that there have been six applications in total, two for civilian disabled status and rights based on injuries sustained during the war, and four for recognition as a family member of a civilian who died or went missing and the right to family disability benefits. None of these had been resolved by the end of July.
In Varazdin County, one application had been submitted and approved.
Osijek Baranja County received 126 applications – 32 requests for the status of civilian victims and the associated right to personal disability allowance, and 94 for the status of a family member of a civilian who died or went missing and the associated right to family disability allowance.
The Osijek Baranja County authorities said that they approved 21 applications for the status of family member of a killed or disappeared civilian, and rejected two requests for the status of civilian victim and the associated right to disability benefits.
None of the applications were related to Operation Storm, BIRN was told.
'Enemy forces' barred from benefits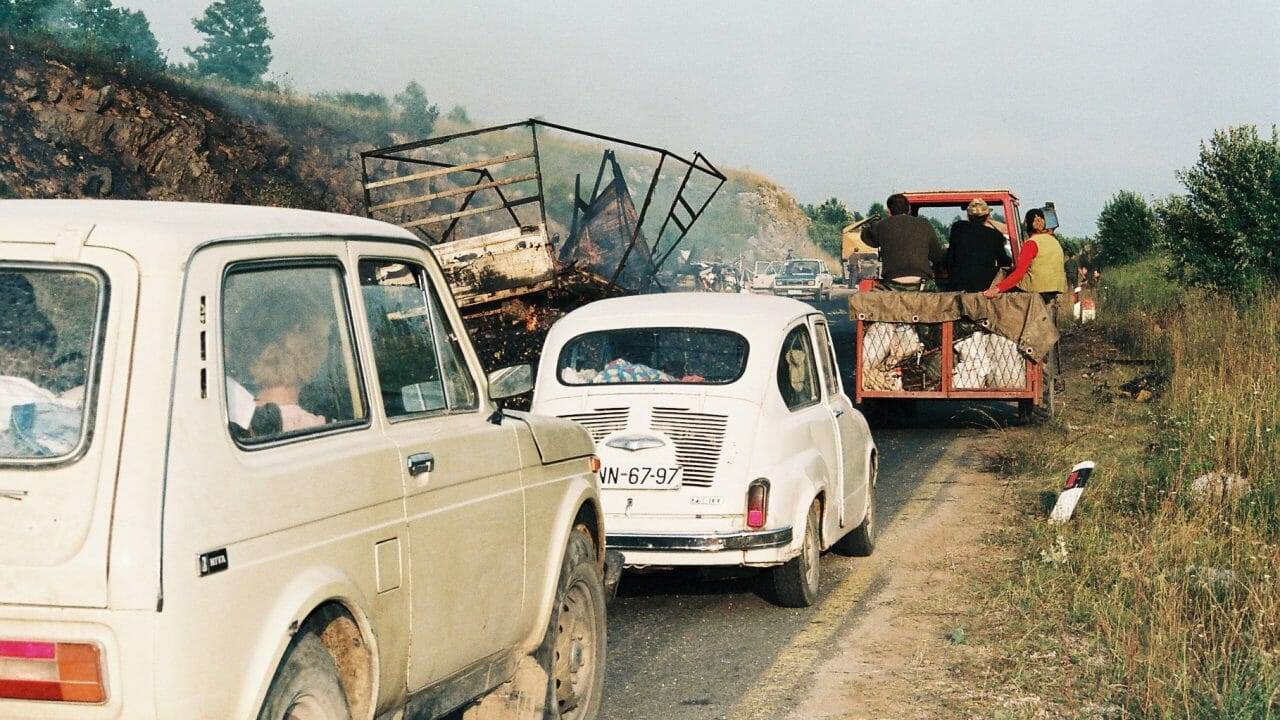 A column of Serb refugees from Croatia during Operation Storm pass s destroyed truck near Bosanski Petrovac, Bosnia and Herzegovina in August 1995. Photo: Ranko Cukovic.
At the Serbian National Council, Calic Jelic explained that as well as dealing with claims from victims of Operation Storm, she also handles claims related to wartime violence in the Vukovar area, Dubrovnik, Benkovac and other parts of Croatia from the beginning of the war in 1991.
"There are a lot of [claims relating to] 1991, the autumn and winter, and a lot related to [Croatian Army operations] Flash and Storm [in 1995], but also that period in between," she said.
Most plaintiffs who live outside Croatia are from Serbia and Bosnia and Herzegovina.
"I have the most [requests] from Serbia, people who live in Serbia today, but during the war they were on the territory of the Republic of Croatia and either they [relate to people who] died or, unfortunately, their relatives died, and I have slightly fewer from Bosnia and Herzegovina," she said.
While the new law was being debated, and at the parliament session at which it was adopted, right-wing Croatian MPs claimed that it could allow "aggressors" and former Serb troops to get financial benefits from the state.
The law states however that members, helpers or associates of enemy military and paramilitary units who took part in the armed aggression against Croatia cannot receive benefits, and nor can members of their families.
Savo Strbac from Belgrade-based NGO Veritas said that this means that people who are related to anyone who fought on the Serb side cannot be compensated for their injuries.
"We submitted requests related to a mother and daughter who were killed by a Croatian shell near Biograd [na Moru], the father and husband was a Serbian soldier at a [military] post somewhere when it happened, somewhere near their house," Strbac told BIRN.
"We can say that according to their [Croatian authorities'] logic, they cannot [be accepted] because their father and husband was engaged, mobilised, whatever, or volunteered to defend some of his borders there," he said.
The Croatian War Veterans' Ministry has established a committee to determine whether someone was a member of enemy forces.
BIRN asked the ministry how many cases it had received and how many had been decided, but received no response.
Calic Jelic said that the Croatian War Veterans' Ministry told the Serbian National Council at the end of June that the commission had received 481 requests from county offices for checks on whether or not someone was a member, helper or associate of "enemy military and paramilitary forces".
She said that it is still too early to talk about whether there is any discrimination involved in the process yet because it is still in the early stages, "but it will certainly be a subject of close attention".