The former BBC correspondent Martin Bell tells BIRN that the 'information war' for media coverage and international attention is as important in Ukraine now as it was when he covered the Bosnian conflict in the 1990s.
This post is also available in: Bosnian
But as the conflict kept grinding onwards and the months passed, control of the media narrative became increasingly important as the warring forces sought to maintain international attention on their cause or deflect condemnation.
Bell, who won awards and was honoured by the British state for his reporting, believes that there are similarities between the three-and-a-half-year Bosnian war and the current conflict in Ukraine, which has now entered its sixth month.
"Certainly in the Bosnian war for three-and-a-half years, I would say the war of words and images was as important as the clash of arms," he told BIRN in an interview.
"The Bosnian government had an extremely effective spokesman in [Bosniak politician] Haris Silajdzic, who could operate both in English and Bosnian, and in Arabic come to that. One of the UN commanders reckoned that his eloquence alone had the force of a brigade of infantry."
President Volodymyr Zelensky has fulfilled a similar role for Ukraine, which is seeking to convince the West to back its resistance to the Russian invasion by supplying more weapons and imposing more sanctions on Moscow.
Meanwhile the Russian authorities have shut down independent media in an attempt to ensure that their propaganda narrative about a 'special military operation' against illusory 'Ukrainian Nazis' goes unchallenged domestically, while spreading online disinformation to undermine Kyiv's narrative abroad.
Bell believes that the media battleground is currently being dominated by Ukraine: "I think the Ukrainians' information war is going very well, and the Russians' is definitely not," he said.
"You could see this in the sinking of the flagship of their fleet in the Black Sea. They just wouldn't admit that it had happened when it had obviously happened. I think that because the censorship is so cast-iron in Russia, a lot of people are not aware that they're being told a pack of lies. But never underestimate the power of social media – people are able to find alternative sources of information."
Combatting war fatigue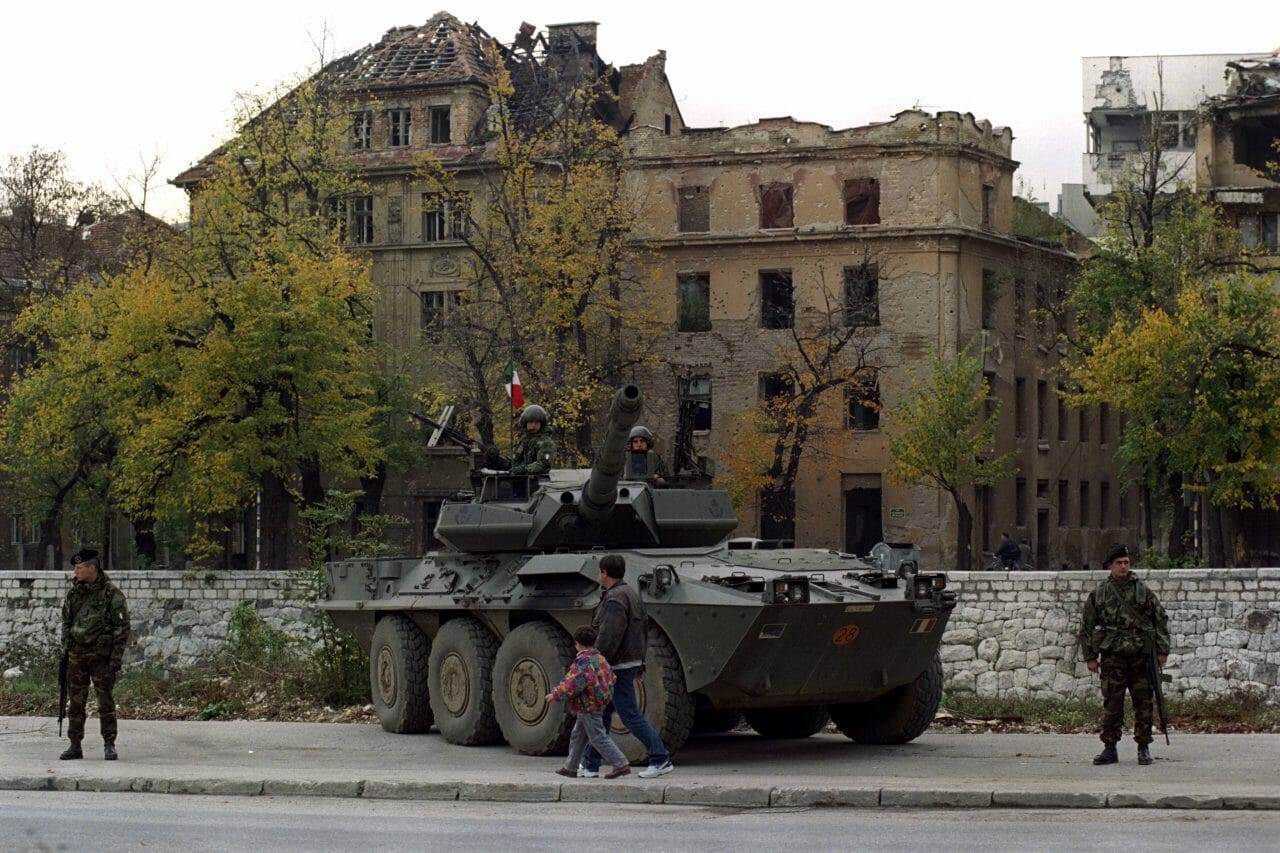 A main street in Sarajevo several months after the war in October 1996. Photo: EPA/FEHIM DEMIR.
Bell, who is now 83, reported for 30 years on conflicts around the world from Vietnam to Northern Ireland, the Middle East to Rwanda, and became renowned for his commitment to truth and justice and his principled criticism of official inaction in the face of atrocities. He has also testified at the Hague Tribunal in the trials of Radovan Karadzic and Ratko Mladic.
Referring back to his experience of the long-running Bosnian war, Bell said that Ukraine faces a potential problem in keeping its narrative in the main headlines in the Western media as the conflict continues with no end in sight.
"From the time the war began in Bosnia in April '92, there was very intense interest. This continued throughout the summer of '92, and by October, UN troops were involved, including a British battalion, and that, from the BBC's point of view, made it easier to get stories on air. But I noticed in the second year of the war, it got harder and harder to get material on air," he recalled.
For a while, up until the Srebrenica massacres in July 1995, "there was an element of fatigue, not least I think among the editors in London, who thought we weren't producing anything new".
When faced with waning interest in straightforward news reports of battlefield incidents, Bell would try alternative angles and propose "oddball stories" in an attempt to circumvent viewers' and editors' 'war fatigue'.
"For instance, there was a bear chained in a cage in an abandoned restaurant on the front line in the town of Vitez, in central Bosnia. And it was rescued by the British UN troops, using army combat rations to lure the bear into the trap they lay for it so they could take it to [the Croatian port of] Split and ship it to a safe forest somewhere in northern Europe," he said.
But this wasn't just a 'soft news' tale of an animal rescue, he insisted: "The story raised interesting questions – why is the UN ready to use resources to save the life of a bear when hundreds of people in the area around are being killed and the UN mandate doesn't seem to cover their defence?"
'There is more savagery'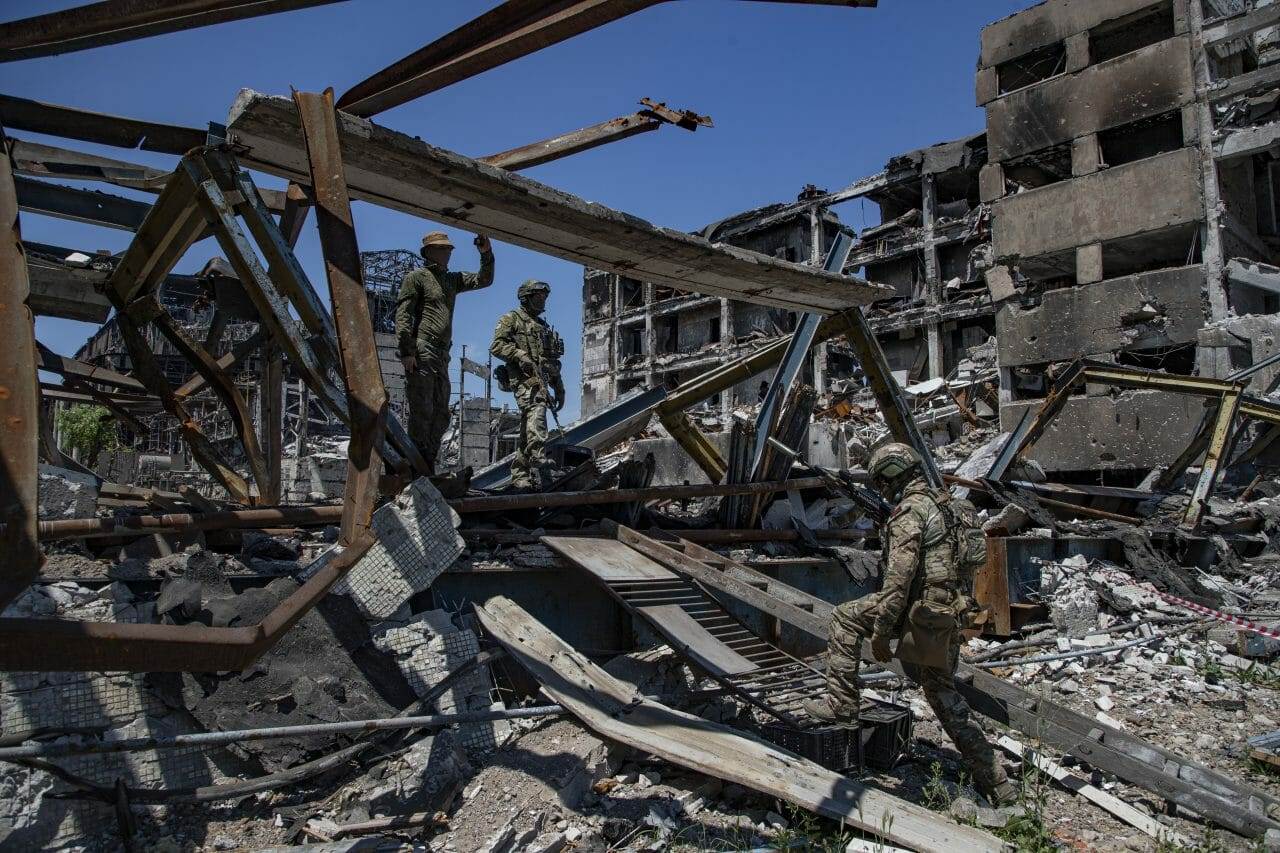 Russian troops at the Azovstal steel plant in Mariupol, eastern Ukraine, in June 2022. Photo: EPA-EFE/SERGEI ILNITSKY.
Bell's coverage of the siege of Sarajevo made him one of Britain's best-known journalists, but it also put his life in peril. Although he was wearing what he called his 'lucky' white suit, he was seriously injured by shrapnel while reporting in the Bosnian capital in 1992.
Courting danger was one way that reporters could get their stories broadcast, he recalled: "If you risked your life in extreme circumstances and you got some really strong frontline pictures, that could get on air most of the time. But there were more journalists killed in the Bosnian war, which lasted only three-and-a-half years, than the whole of the Vietnam War, which lasted for more than ten."
More than 150 media workers were killed during and just after the Balkan wars in the 1990s, as BIRN's Last Despatches series has documented. The Ukrainian war has also proved deadly for reporters: the New York-based Committee to Protect Journalists estimates that so far, 15 journalists and other media workers have been killed in Ukraine since Vladimir Putin's troops invaded in February this year.
Bell said he believes that war reporters are more careful and protect themselves better today than their predecessors did in the 1990s, and that the use of drones has enabled camera operators to reduce the risk of injury while getting dramatic pictures.
But he also pointed out that the heavy weaponry being used in the Ukrainian war is much more powerful and devastating than the military hardware that was deployed on the battlefield in Bosnia and Herzegovina three decades ago. Several of the journalists who have died in Ukraine have been killed in rocket attacks that targeted populated areas. "I think there is more savagery and intensity in the fighting in Ukraine as you have more heavy weapons being used," Bell said.
'The Man in the White Suit', as he was nicknamed in his home country, left the BBC in 1997 to stand for the British parliament as an independent candidate on an anti-corruption platform, and won. After serving as an MP for four years, he went on to become an ambassador for the UN children's charity UNICEF.
He has also written a series of insightful books, from his 1995 chronicle of his Bosnian war years, 'In Harm's Way', to his most recent book, 'War and Peacekeeping', which looks back on the conflicts he has reported upon and assesses the efforts that were made to stop them.
Asked what advice he would give to reporters covering the war in Ukraine, Bell responded in the resolute tone that commanded the trust of BBC viewers for three decades: "Don't rely on rumour. Never report an atrocity story unless you have it first-hand. Trust your ears and eyes.
"And prepare to be discouraged. Because as the war continues, you will find that you take risks and you risk your life to no purpose because some people aren't interested anymore," he added.
To illustrate what he meant, he concluded with a self-deprecating anecdote from the early years of his long and illustrious reporting career.
"My mind goes back to November 1972, when I did a report on a terrific firefight on Highway One north of what was then Saigon, between the North Vietnamese Army and the Viet Cong on one side and the South Vietnamese on the other," he said.
"It was highly spectacular, but by then the war was in an advanced stage, and the Americans were withdrawing from Vietnam and interest was waning, and what I thought was my epic battle report was dropped from the [BBC TV news] running order – in favour of a story about 12 swans that had died on the River Thames."