Important files, photographs and witness records that illuminate the history of the Kosovo war are being kept separately by human rights groups, amateur archivists and the State Archives, as the authorities haven't managed to establish a proper central archive.
This post is also available in: Bosnian
As he tried to give a chronological explanation of the material in his files, Shala stopped and groaned, raising his eyebrows with a sigh.
"Eh, a lot of work, many years. It's a sin they are not used often enough," he said.
The Council for the Defence of Human Rights and Freedoms has been monitoring human rights violations since 1989. Its activists interviewed victims and witnesses and gathered information, and some of its lawyers supplied information to the UN tribunal in The Hague about Yugoslav President Slobodan Milosevic.
"Over 2,000 people worked for more than a decade voluntarily to report. We registered everything that happened in Kosovo during the 1990s," Shala told BIRN.
The documents that the NGO has amassed are highly significant, and form a crucial record of Kosovo's history under Yugoslav rule.
"We think after 33 years the time has come to put them into the State Archives," said Shala. "They are well preserved. But we don't have capacity to preserve them forever," he added.
The Council for the Defence of Human Rights and Freedoms is still the main repository for records produced by various individual human rights activists in Kosovo from 1989 to 1999. Over the last two decades, very little has been done to collect archive materials related to the war.
Since the war ended, the Kosovo State Archives hasn't managed to create any proper archival collection. The head of the State Archives, Bedri Zyberaj said that the materials it holds related to the war are photographs and some articles from foreign newspapers about the conflict.
"Kosovo's State Archives, containing eight cubic metres of material, contain little more than one metre of material related to the war," Zyberaj explained to BIRN. However, he insisted: "Although the war-related materials are fragmented, they are nevertheless useful."
But he admitted that the collection is inadequate: "It's a pity. We could do more," he said.
Kosovo politicians have repeatedly accused Serbia of committing genocide during the war, and have also threatened litigation against Belgrade at international courts. But paradoxically, they have been unable to set up an archive of documents related to the war.
"It's a real shame that for more than two decades we haven't create a culture that supports the establishment of wartime archives," Zyberaj said.
Like other initiatives related to the war and dealing with the past, most of the archival collections that exist in Kosovo were created by civil society organisations like the Pristina-based Humanitarian Law Centre, which works on documenting facts about the war to help ensure the integrity of war crimes trials.
"We have been collecting war-related materials. Most of them are testimonies of survivors and families of victims, as well as other recorded evidence including visual materials and pictures," Bekim Blakaj, the head of the Humanitarian Law Centre, told BIRN.
"But still, a lot of material is scattered around in private hands and no institution has considered seriously collecting, analysing and archiving it," he said.
Documents disappear without trace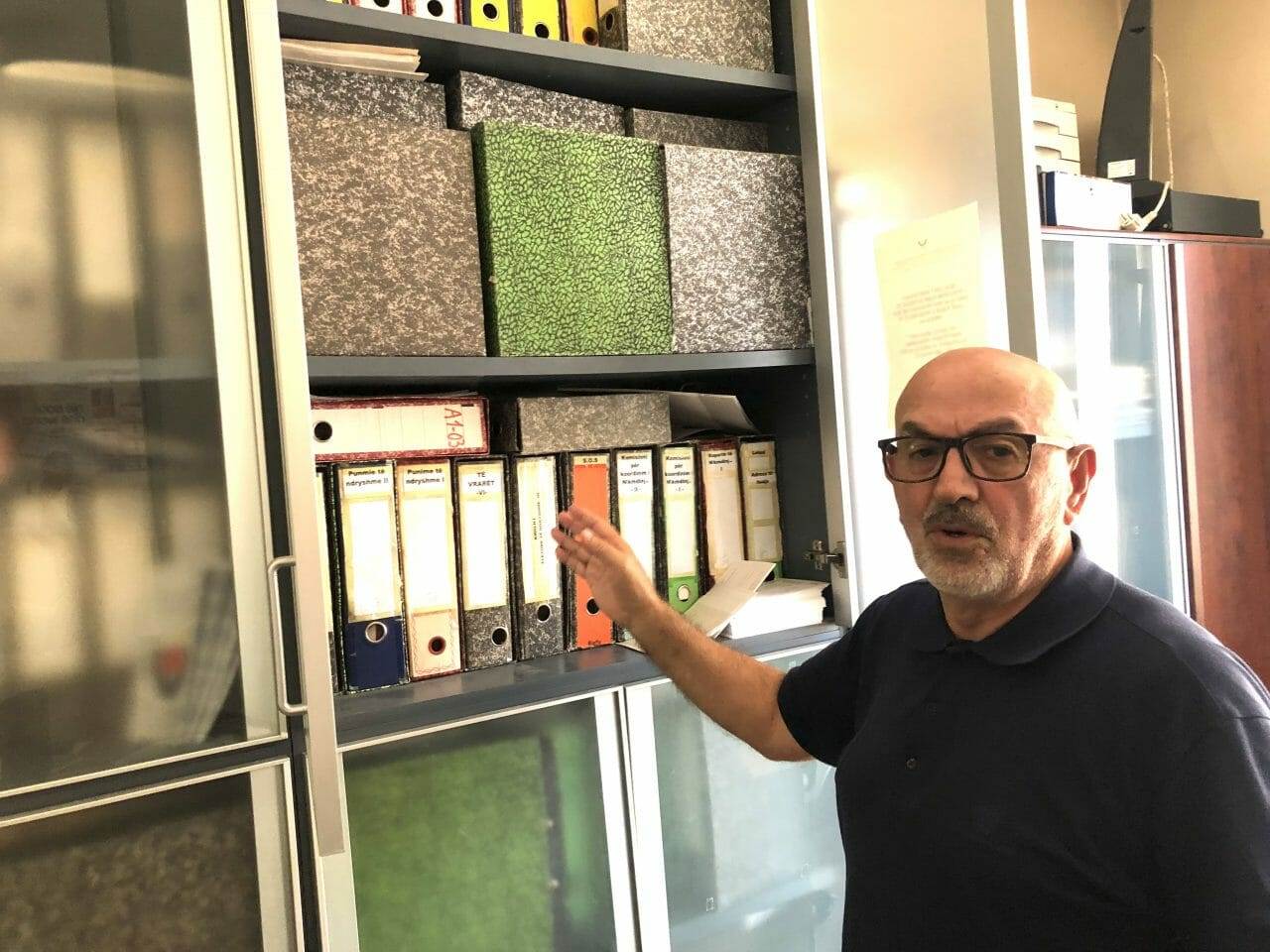 Bexhet Shala at the Council for the Defence of Human Rights and Freedoms. Photo: BIRN.
One institution that might be able to help to establish a proper archive of war-related material is the Kosovo Institute for War Crimes Research. The institute was initially established in 2011, but then abolished in 2018 by the prime minister at the time, Ramush Haradinaj, before being re-established last year by Albin Kurti's government.
Baki Svirca, who is head of the Transitional Justice Division at the Justice Ministry and chairs the working group on Kosovo's national transitional justice strategy, said that the strategy will also include the establishment of a database of archival materials. The strategy has already been drafted and will be released for public debate in September.
"It might be necessary for the newly-created Kosovo Institute for War Crimes Research to be an archival mechanism which will collect all possible data related to the war, as well as the establishment of a centre for historical memory which will deal with the processing of archival material," Svirca said.
In many cases, potentially significant material is hard to find because there is no accurate information about which individuals or organisations have it.
"The location of many documents has been lost forever, because there was no accurate record of who collected documents and from which locations," Blakaj said.
A lot of significant material remains in the hands of private individuals who collected documents and other items about the war on a personal basis. These materials are at risk of deterioration because they are not being handled and stored correctly.
Zyberaj called on individuals who have such private collections to hand them over to the State Archives to ensure that they will be preserved "properly". But it's unclear how many private archivists will heed his call.
At his home in the village of Krajkove/Krajkovo in the municipality of Drenas/Glogovac, amateur archivist Esat Shala has collected more than 2,000 video recordings of crimes committed during the 1998-99 war.
The mostly soundless, unedited recordings have generally never been seen by the public, and many of them contain disturbing images which cannot be broadcast or published on social networks. But Shala believes they can serve prosecutors in their investigations.
"The Ministry of Justice is asking people like me to hand them over to them. But the ministry is not an archival department. If I was to hand them over, I would send them to the State Archives," Shala told BIRN.
But, he cautioned: "Currently the Kosovo State Archives have no security system. I still don't feel comfortable sending them there."
Zyberaj, the head of the State Archives, admitted that they lack many security features, including a fire alarm system. But he insists that the State Archives can provide guarantees that private collections, if handed over, will not be damaged.
Sali Krasniqi, a retired doctor who also has gathered evidence about people who died as a result of abuses and torture at Kosovo's central hospital, mostly during the war, is also hesitating about whether to give them to the State Archive.
"The Ministry of Justice contacted me about cooperation. But still I don't see them committed to working seriously," explained Krasniqi.
"There are more than 12,000 hospital registries, videos and pictures that I gathered for the needs of my academic research. I'm considering whether to hand them over to the State Archive or to keep them in my home," he said.
The digital archive of the UN's International Criminal Tribunal for the Former Yugoslavia provides access to a range of documents and other records related to the history of the conflict in the former Yugoslavia, offering important information about what happened in Kosovo during the war.
Over the past few years, Kosovo has also been calling on Serbia to open up its Yugoslav-era military and police archives to provide information to help find the locations of wartime mass graves, but its pleas have so far gone unheeded. Serbia in return has asked for the Kosovo Liberation Army's wartime archives to be opened up for scrutiny. This call has also gone unheeded, with Kosovo insisting that the KLA, as it was a guerrilla organisation, never had military archives.
UN files remain inaccessible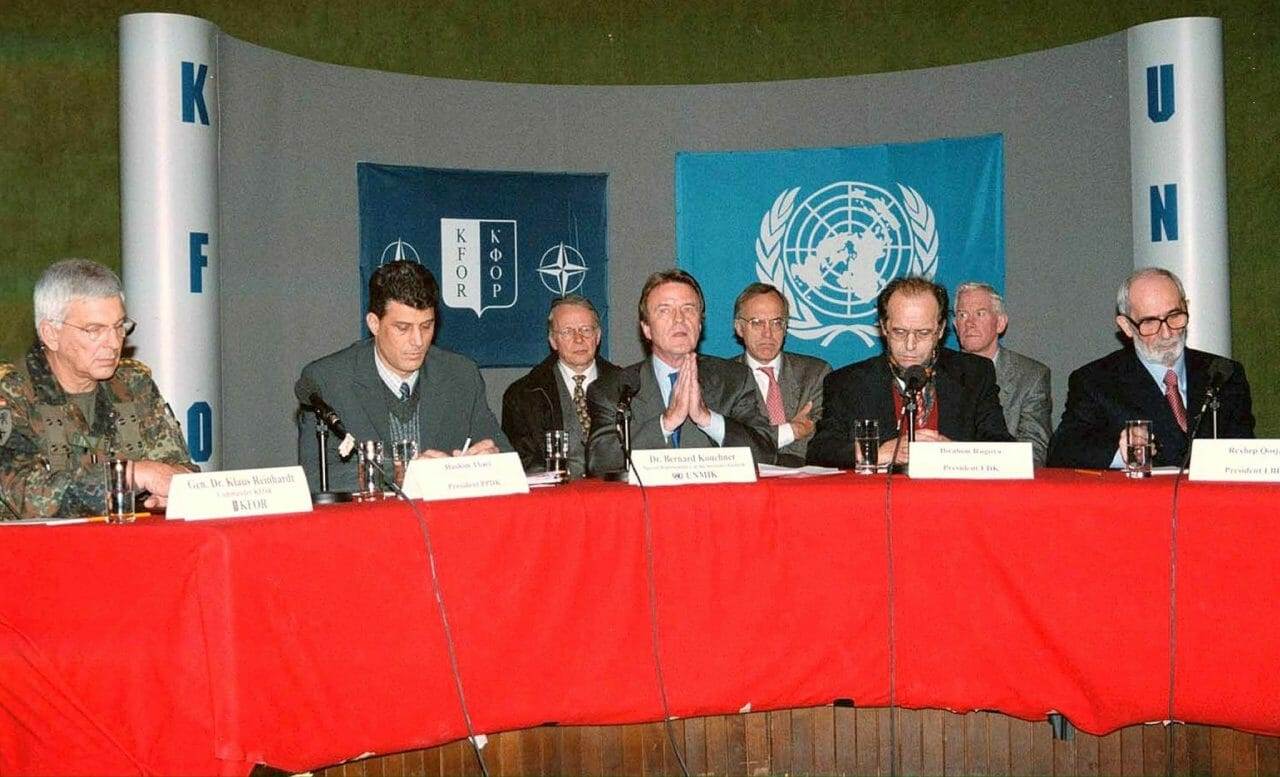 NATO Kosovo mission commander Klaus Reinhardt, Kosovo Albanian leader Hashim Thaci, UN mission chief Bernard Kouchner, Ibrahim Rugova of the Democratic League for Kosovo and Rexhep Qosja of the United Democratic Movement address media after agreeing on a UN-created joint administration for Kosovo in December 1999. Photo: EPA/Alban Bujari.
As well as archives related directly to the war, Kosovo has a problem with civilian archives that were removed or destroyed when the Yugoslav Army and Serbian police withdrew at the end of the 1998-99 war.
When Serbian forces were leaving Kosovo, they took most military and police files but also civil archives and documents. As Serbia continued to operate a parallel system of courts, police departments and municipality offices even after its forces left, the authorities of seven towns in Serbia become responsible for the civil registries of Kosovo cities and municipalities.
In 2015, the Kosovo Institute for War Crimes Research, a government-established body, published a book about the plundering and destruction of Kosovo's archives by Serbia, before and during the war.
The author of the book, Baki Svirca, told BIRN that this was "carefully planned and executed by Serbian state structures" in order to alter the demographic situation in Kosovo, seize properties and prevent ethnic Albanians who fled the war from returning.
He explained that historical archives, cadastral records, civil registry records and cultural heritage records, plus the records of public companies and banks and the archives of courts and police, were all affected. "But no detailed report has yet been prepared so far on the extent of destruction of the institutional system of archives," Svirca said.
During the EU-facilitated dialogue between Belgrade and Pristina aimed at normalising relations, there have been agreements on civil registry records and cadastral records, aimed at ensuring that Kosovo has full records of the period before Yugoslavia lost control over its former province at the end of the war. Serbia has returned these records, but only as scanned copies.
Svirca argued that the issue of all of Kosovo's missing archives should be discussed during the ongoing negotiations in Brussels.
He also suggested that Kosovo should officially ask the United Nations to hand over the archive documents that were created while the country was a UN protectorate from after the war in 1999 until it declared independence in 2008.
"Based on international law, everything created in a territory belongs to that country that was created by the UN mission in Kosovo," Svirca said.
The Kosovo government has never asked the UN for this material – documents which could provide significant insights into another important period in Kosovo's history.