As the July 1995 massacre by Bosnian Serb forces was marked at the Srebrenica Memorial Centre, international officials condemned continuing genocide denial and glorification of war criminals.
This post is also available in: Bosnian
Sajit was captured along with 300 other people from Srebrenica who had tried to reach safe territory through the forest, she says. He was 19 when he was killed.
"He saw us. There were three neighbours and him. His gaze remained to the side. They recognized us and as they walked, they looked at us and greeted us," she remembers. His remains were found in the Liplje mass grave in 2011.
"I delayed the burial, thinking we would find more remains. That hurts me more … If only I could find something from my father, I could come and recite a Fatiha [Muslim prayer] for him," said Merka, who never found her father, Remzija.
The remains of three victims who were minors were also buried in the cemetery of the Potocari Memorial Center on Monday. The youngest victim, Salim Mustafic, was 16 when he was killed, while Vahid Smajlovic and Elvir Muminovic were 17.
When the Bosnian Serb Army attack on Srebrenica began on July 6, 1995, Elvir Muminovic, 17, and two of his friends were wounded by a shell that fell in the park where they were sitting. One of their friends was killed, Elvir's brother, Almir Muminovic, told BIRN.
"The small bones from his body stabbed my brother. I removed 18 bones from under his right armpit," he recalled.
On July 11, the two of them left Srebrenica through the forest in hope of reaching safe territory.
The column of people in which Almir and Elvir marched was shelled the whole time. They were ambushed several times but managed to escape. Together, he and his brother arrived at a beech tree on Kamenicko hill, where a large number of people from Srebrenica died.
"We should split up. You have seen situations when one brother is wounded, the other does not want to leave him and both of them have the same end. My proposal is that we split up, so whoever is luckier survives," Almir remembers his brother's last words.
After that, he says, the shooting and shelling started. When he raised his head after a few minutes, he saw that Elvir was gone. He never saw him again.
"He was found last year in the Dobro Polje mass grave near Kalinovik. In March this year, they informed me that his identity was confirmed with DNA analysis. In April I went to confirm his identification," says Almir.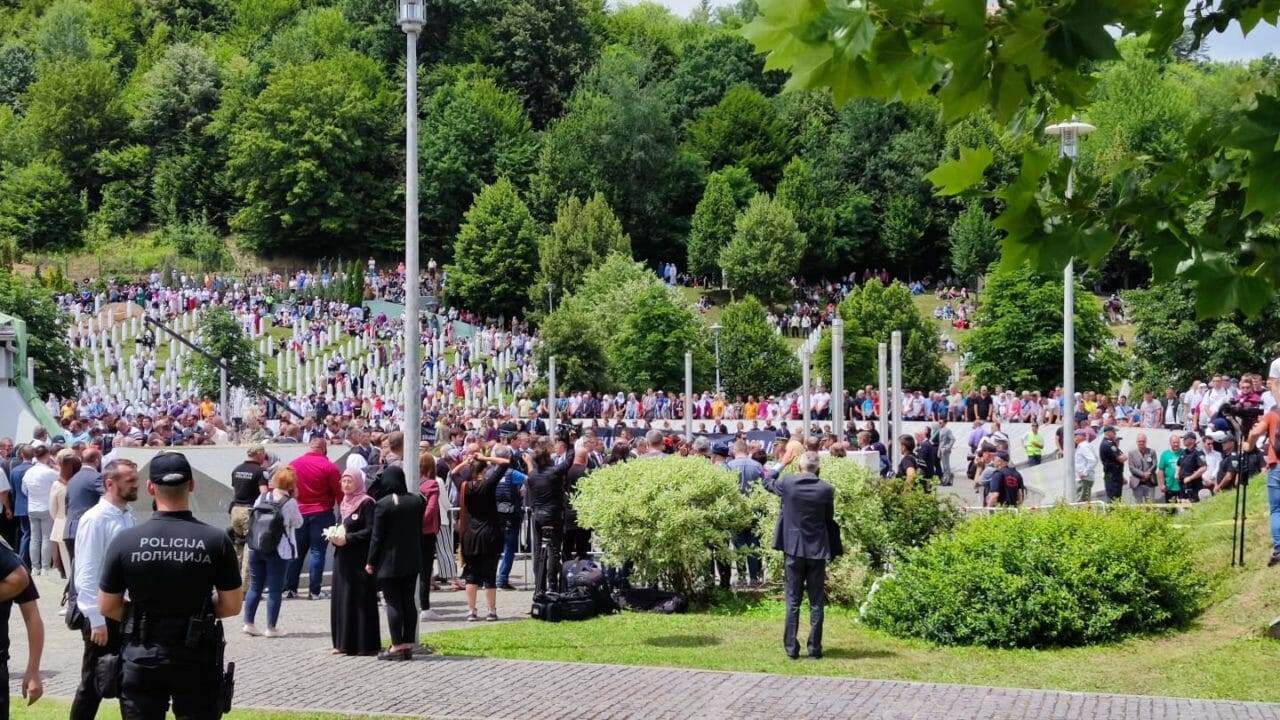 Commemoration of the 27th anniversary of the genocide in Srebrenica. Photo: BIRN.
During the commemorative speeches on Monday, the president of the International Residual Mechanism for Criminal Tribunals, Graciela Gatti Santana, said that Bosnian society today, despite court verdicts, still faces denial of genocide. She said she was committed to never suppressing the truth.
The Minister of Defence of the Netherlands, Kajsa Ollongren, said that her country, as part of the international community, bore part of the responsibility for the failure to stop the massacre in 1995.
She offered an apology on behalf of her country to the mothers of Srebrenica and the victims.
"The international community failed to provide adequate protection. As part of that community, the government of the Netherlands shares responsibility for that failure. For this, we offer you our deepest apology," said Ollongren and added: "It is a moral duty that we must always tell the truth about everything and expose lies."
The High Representative in Bosnia, Christian Schmidt, also condemned the genocide denial.
"Whoever tries to deny that this was genocide, whoever tries to minimize the number of victims as if that would diminish the guilt, the scale, and the horror of the crime – whoever does these things is living inside a cocoon of willful ignorance," said Schmidt.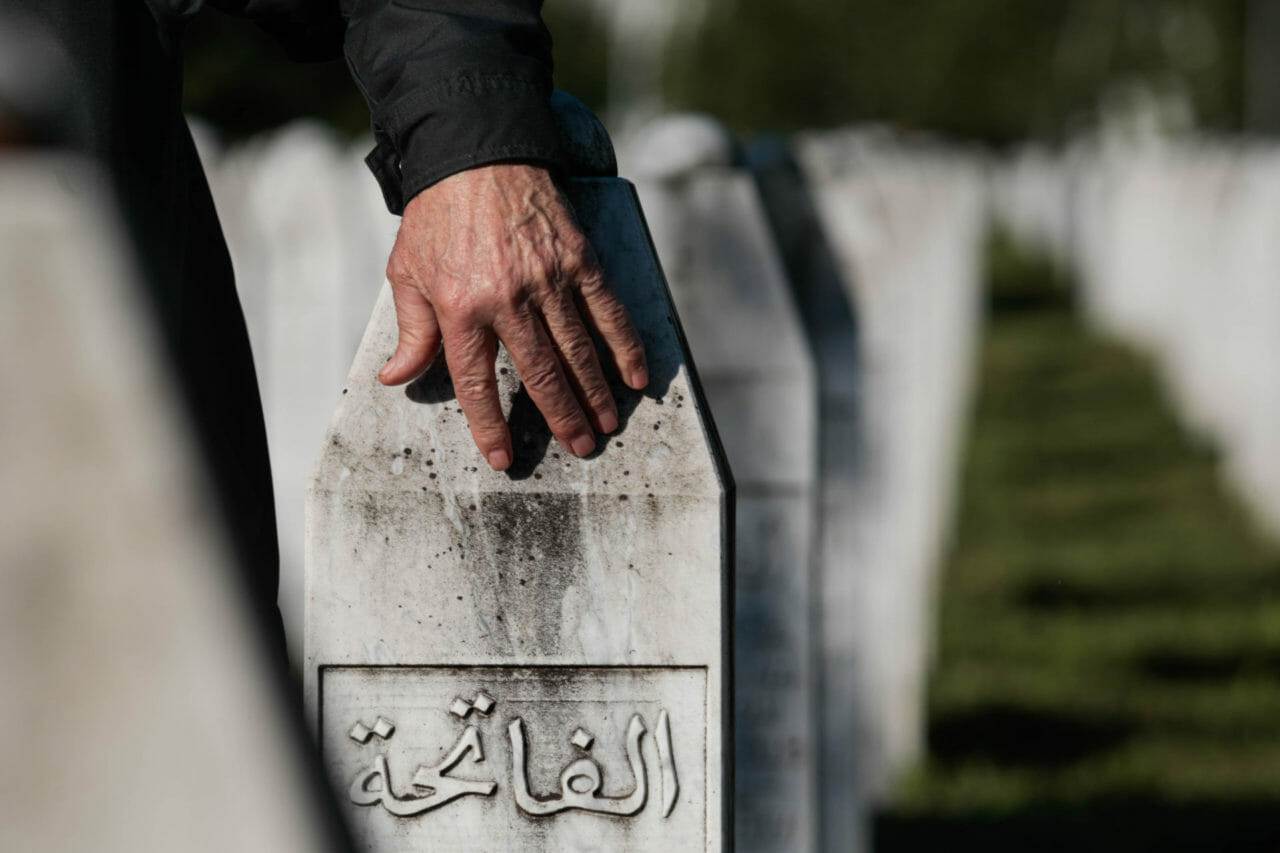 A man holds his hand on a grave at the Memorial Center on July 11, 2022. Photo: EPA-EFE/JASMIN BRUTUS.
Alice Wairimu Nderitu, UN Special Adviser of the Secretary-General on the Prevention of Genocide, said it was important to work on the criminalization of the glorification of war crimes. "Denial is painful and an obstacle to the reconciliation process," Nderitu stated.
The EU High Representative for Foreign Affairs and Security Policy, Josep Borell, said that peace should never be taken for granted.
"We have to learn from the past. There is no place for denial of genocide and glorification of war crimes. There can be no reconciliation without recognizing the genocide," said Borrell.
Srebrenica is a scar that will never fully heal, said Marija Pejcinovic Buric, General Secretary of the Council of Europe.
"It reminds us of the horrors that human beings are ready to do, but also of our commitment and determination that they should never happen again," she said.
Sefik Dzaferovic, Chairman of the Bosnian state presidency, said that Bosnia's mainly Serb entity Republika Srpska puts great effort into denying the genocide.
He also said this commemoration was special, considering the changes to the criminal law, since when the denial of genocide has "almost disappeared from the public space".
"The obligation of all of us is to do everything necessary for the new generations in Srebrenica so that they can live and work here," said Dzaferovic.
Court verdicts established that in Srebrenica in July 1995, more than 7,000 people, mostly men and boys, were killed, and more than 40,000 women, children and elderly were expelled.
According to the Bosnian Institute for Missing Persons, around 1,200 more Srebrenica victims have yet to be found. With Monday's burials in the Memorial Center, the number of buried victims is 6,721.
So far, the UN court in The Hague and the courts in the Balkans have sentenced 50 people to more than 700 years in prison, and five life sentences, for crimes committed in Srebrenica.