Families of Wartime Disappeared Urge Bosnian Prosecutors to Act
Relatives of 46 people who disappeared in the Hadzici area after being detained by Bosnian Serb forces during the war in 1992 rallied outside the state prosecutor's office, calling for the perpetrators to be brought to justice.
This post is also available in: Bosnian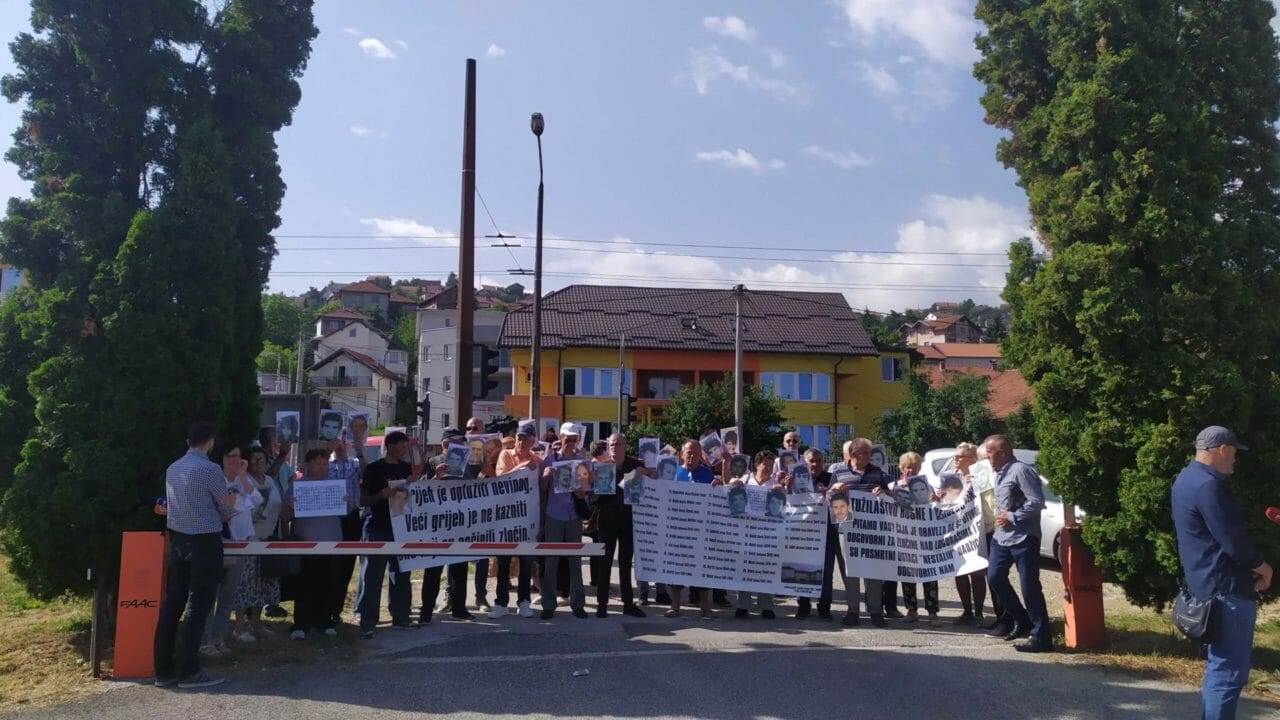 Photo: Mario Ilic/BIRN
Relatives of 46 people from the Hadzici municipality who went missing in June 1992 and whose bodies have yet to be found held a rally outside the state prosecutor's office in Sarajevo on Monday, holding pictures of their loved ones and a banner with the names of the disappeared.
The people who went missing were first detained by Bosnian Serb forces in a sports hall and in garages, then transferred to the Slavisa Vajner Cica military barracks in Lukavica, where they were beaten up.
One of the protesters, Zlata Krajina, said her brother Camil Ismic was among those who were detained and then disappeared after being taken to the military barracks.
"I had only one brother. I wish someone would just tell me where he is, so we can find his bones and bury him, and I want those responsible to be punished," Krajina said. "My parents have not lived to see that. I am 64, so I may not live to see it either," she added.
Almin Dzelilovic, the head of an association of wartime detainees called 1992-95 – May It Never Be Forgotten and Repeated, said that on June 22, 1992, he was among the prisoners who were held at the barracks.
"In the afternoon, a group of extremists burst into the room and started beating people, mostly the young ones. On June 23, five or six people appeared at the door and called out the first and last names of those 46 people, telling them to come out," Dzelilovic said
"When the roll call was over, their screams and howls could be heard until the next morning. We have had no information about those people since they were taken away," he added.
No one has been prosecuted over the disappearances so far. In 2009, the Association of Detainees of Bosnia and Herzegovina filed a criminal complaint against members of the Serb-led Crisis Committee of Hadzici municipality, but indictments have been issued.
Dzelilovic said that 15 days ago, he sent a letter to acting chief state prosecutor Milanko Kajganic, asking for a meeting. "I hope he will receive us so we can discuss this issue again and break the deadlock," he said.