Bosnian Eurovision Songwriter Joins Ukraine Peace Song Project
Popular Bosnian vocalist Adi Mulahalilovic, who co-wrote Bosnia's 1994 Eurovision entry, said that as a survivor of the siege of Sarajevo, he felt obliged to join the multinational Europe for Ukraine music project.
This post is also available in: Bosnian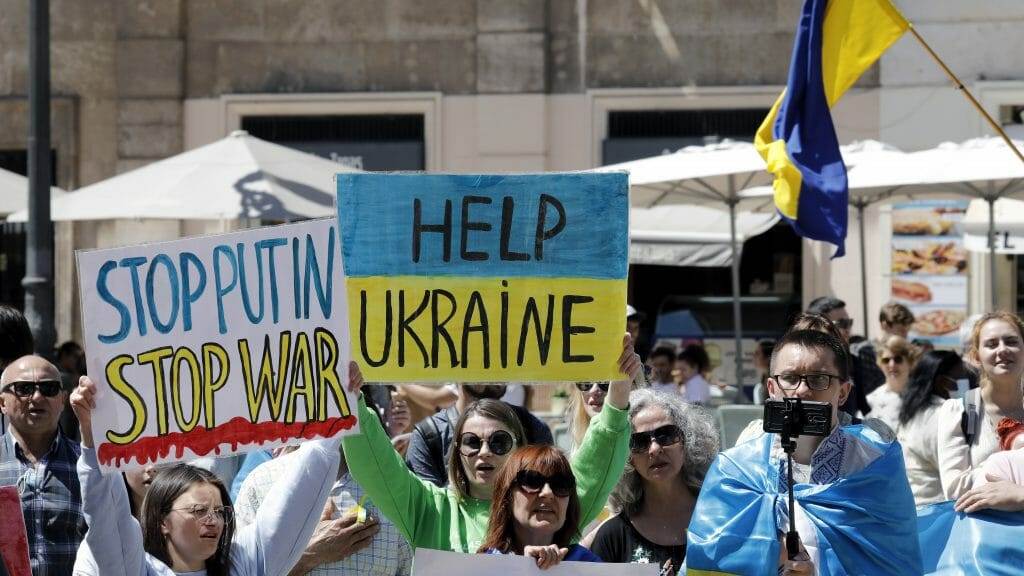 Ukrainians living in Valencia, Spain protest against the Russian invasion. Photo: EPA-EFE/JUAN CARLOS CARDENAS.
Adi Mulahalilovic, the former pianist of the popular Yugoslav-era band Hari Mata Hari, has joined an initiative bringing together musicians from 50 countries to record an original composition in support of Ukraine.
As a member of Hari Mata Hari, Mulahalilovic co-wrote the song 'Ostani kraj mene' ('Stay with Me'), which was Bosnia and Herzegovina's entry in the 1994 Eurovision Song Contest in the midst of the war in the Balkan country.
"As a survivor of Sarajevo siege 1992-1995 I feel obligated to react to the aggression against the Ukrainian people," Mulahalilovic said in a statement published on the YouTube channel of Amelia Ray, the founder of the Europe for Ukraine project.
"Artists unfortunately cannot stop the violence, but we can lift the spirit of the people and bring the hope," Mulahalilovic added.
Europe for Ukraine's song, 'Hands in Hearts', is intended to be "an anthem of peace and kinship", according to Ray. It will be released on Ukrainian Constitution Day on June 28.
Other participants in the Europe for Ukraine project include Ukrainian violinist Yuliia Kryzhanivska, drummer Vicky O'Neon from Finland and Franc Moody bassist Rosetta from Italy. The musicians will record their performances remotely.
A portion of the proceeds raised by the release will be donated to the UN refugee agency for humanitarian relief efforts for Ukraine.