The far-right in Serbia has embraced publishing as both a way to raise money and a means of spreading the word.
This post is also available in: Bosnian
The book, the Manifesto of Revolutionary Nationalism, was written by François Duprat, one of the founders of the French far-right political party National Front, later renamed National Rally under current leader and presidential challenger Marine Le Pen.
A notorious Holocaust denier, Duprat was killed in a car bomb in 1978. More than four decades later, in 2020, a Serbian translation of Duprat's Manifesto became the first book to be published by the Serbian branch of the Zentropa network, a transnational forum of far-right movements.
The Zentropa magazine, ZentroMag, which is also published in Germany, France and Greece, can also be bought at Klub 451 for 300 dinars, roughly 2.50 euros. Also on the shelf, according to posts to the club's Instagram account, is a biography of the neo-Nazi musician Ian Stuart Donaldson, the leader of the UK skinhead movement who died in a car crash in 1993.
Registered in August last year as a 'citizens association' in the Serbian Business Registry, the members-only Klub 451 is the latest manifestation of what critics say is a far-right drive to propagate hate under a guise of 'civil society' legitimacy.
"They're foisting it upon people," said Marija Srdic of the Vojvodina Anti-Fascist Coalition, VAK.
Representatives of Klub 451 declined to be interviewed for this story.
Historical revisionism and the search for a 'narrative'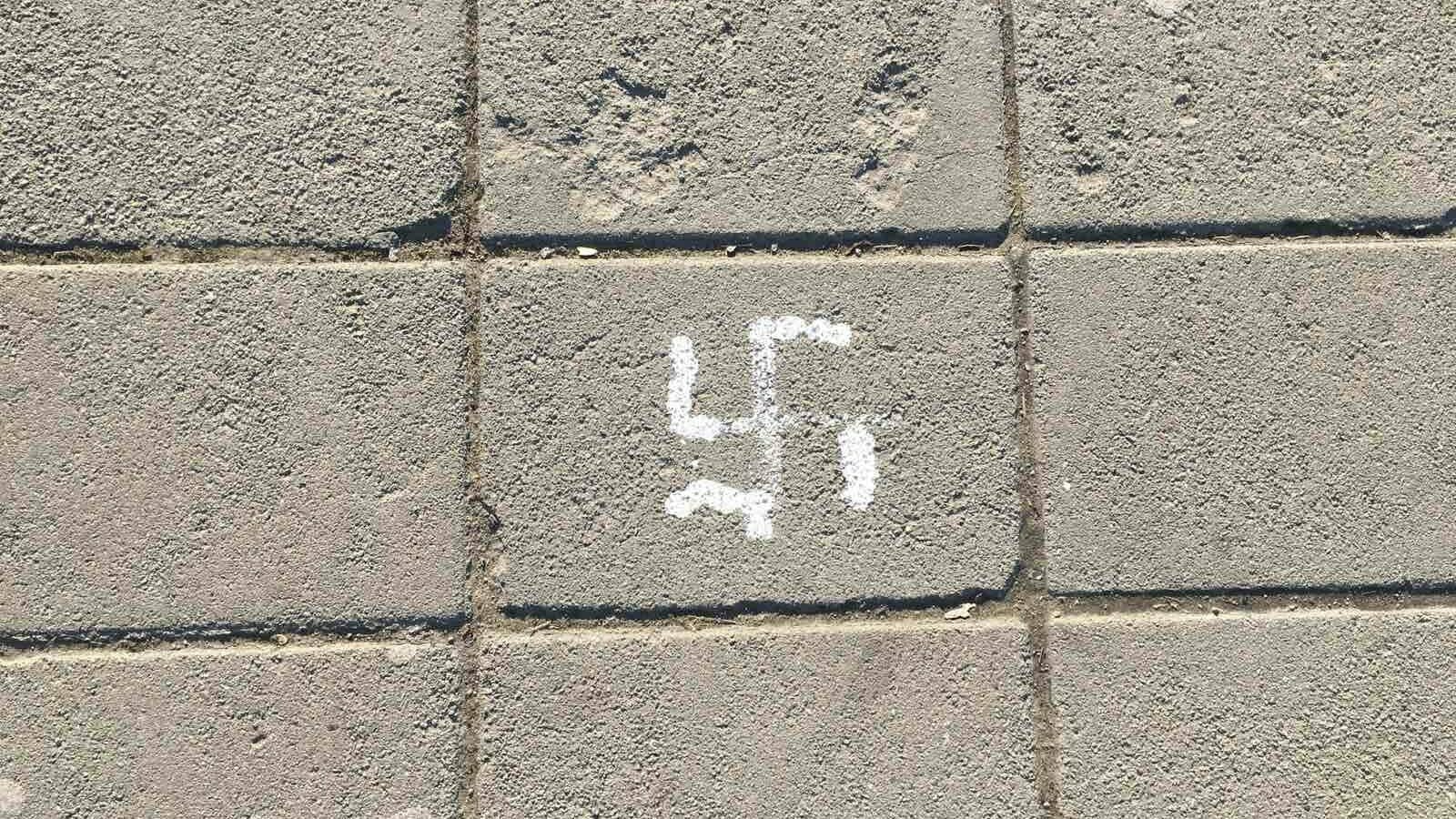 Extremist landmarks from the street to the institution. Photo: VOICE/Svetlana Paramentic.
Klub 451, founded by former National Serbian Front member Marko Gajinovic, has echoes of La Citadelle, a club in the French city of Lille where members of the far-right Identitarian Movement meet and, according to a documentary by Al Jazeera, discuss and plan activities, promote films and forge links with other extremists.
In November 2021, Klub 451 sent a message of support on Instagram to the far-right Alvarium group based in the western city of Angers after French President Emmanuel Macron signed a decree banning its activities, while the following month the club also hosted representatives of French Zentropa for a panel discussion.
The club only really made headlines, however, in February this year when leftist groups sounded the alarm over an announced concert by Ewiger Sturm, a Swiss musician who performs arrangements of songs by ultra-right bands, one of which is dedicated to Donaldson.
The concert, due to be held on March 12, the 19th anniversary of the assassination of reformist Serbian Prime Minister Zoran Djindjic, was cancelled. But plenty of other far-right promotional events have gone ahead.
One of them was the Montag Book Fair, held late last year in Klub 451, at which Zentropa, the 'Ishodiste' bookstore, and the far-right group Serbian Action presented their publishing activities, among them 'For My Legionaries' by Romanian far-right leader Corneliu Codreanu, founder of the militant fascist movement Iron Guard in 1930.
Representing Ishodiste was Ivan Petrovic, author and editor of the right-wing magazine Identitet, which count among its contributors Gajinovic and Marko Dimitrijevic, both of whom took part in a protest in early 2018 calling for the rehabilitation of Milan Nedic, leader of a Nazi-backed Serbian puppet government during World War Two.
Besides Codreanu, Ishodiste recommends a host of "forbidden" books including the collected works of Serbian fascist politician Dimitrije Ljotic, founder of the fascist 'Zbor' movement in 1935.
For its part, Serbian Action promotes the works of Ljotic follower Milosav Vasiljevic, who collaborated in Nedic's government, and Nikolaj Velimirovic, a revered Serbian bishop briefly imprisoned by the Nazis in Dachau concentration camp but who had a high opinion of Ljotic and was accused of anti-Semitism in his writings and sermons. In its online bookstore, Serbian Action praises Velimirovic for "exposing Jewish malice and the spirit of Judaised and godless modern Europe."
The publishing house Catena mundi, founded by Branimir Nesic, a leading member of the right-wing Dveri movement, has republished the 1956 'Book about Draza', which romantises the life of WWII Serbian nationalist commander Dragoljub 'Draza' Mihailovic, who was executed in 1946 by Yugoslav communist authorities for collaborating with the Nazis. The book is widely available in major Serbian bookstores.
Srdic of VAK told BIRN: "Revision of history is common in this branch of science. When new facts are established, then existing actions and attitudes are re-examined. But these cases do not revise history, they interpret it differently. It is unbelievable what is justified here and in what way it is interpreted."
Such narratives serve to radicalise sections of society, she warned. "Everything must first begin in words, in a narrative."
With cash and connections, 'you can publish anything'
Catena mundi is in a different league, for example, to Ishodiste.
Between 2017 and 2020, the publishing house had revenues of almost 70 million dinars, roughly 600,000 euros.
One of its biggest clients is the Serbian culture ministry, which, according to financial reports filed with the Serbian Business Registry, has spent just under 10 million dinars [85,000 euros] on the publisher's titles, including Book about Draza.
Among the books it has published are works by the Serbian academics Kosta Cavoski and Bojan Dimitrijevic, who both testified on behalf of the family of Nedic in their legal attempt to have him declared a victim of political persecution by the Yugoslav communists.
In 2019, the Belgrade Appeals Court upheld an earlier ruling dismissing the request for Nedic's rehabilitation, unlike in the case of Mihailovic, who was rehabilitated in 2015 in a case that also enjoyed the support of Cavoski and Dimitrijevic.
Catena mundi declined to comment for this story.
Dimitrijevic is deputy director of the Institute for Contemporary History in Belgrade. In 2016 he received funding for three books from the Croatian culture ministry when the minister was Zlatko Hasanbegovic, a prominent right-wing figure in Croatia who has been accused of sanitising the crimes of the fascist Ustasha regime in Croatia during World War Two, regional broadcaster N1 reported at the time.
The books were later published by the Zagreb publisher Despot Infinitus, which features among its titles works by WWII Ustasha leader Ante Pavelic.
In 2018, Dimitrijevic published a biography of Bosnian Serb wartime commander Ratko Mladic, who is serving a life sentence for genocide and other war crimes committed during the 1992-95 war, under the title 'Komandant', or 'Commander'. Dimitrijevic said at the time he had come across no evidence that Mladic had ordered the 1995 Srebrenica massacre in which forces under his command killed some 8,000 Muslim men and boys, and that Serbia had made a mistake in extraditing Mladic to stand trial in The Hague in 2011.
Historian Milivoj Beslin, a senior research fellow at the independent Institute for Philosophy and Social Theory in Belgrade, said publishing in Serbia had lost its way, foregoing accepted standards for the publication of academic works, including the process of editing and review.
"It is difficult to say which publishing houses are reputable," he said. "If you bring the money and you have good connections, you can publish anything."