Serbian Pro-Regime Media Praise Russia 'Overrunning' Ukraine
Serbian newspapers, which are usually pro-Putin, either reported enthusiastically about Moscow's troops "reaching Kyiv in a day" or called the Russian attack on Ukraine a "response to NATO threats".
This post is also available in: Bosnian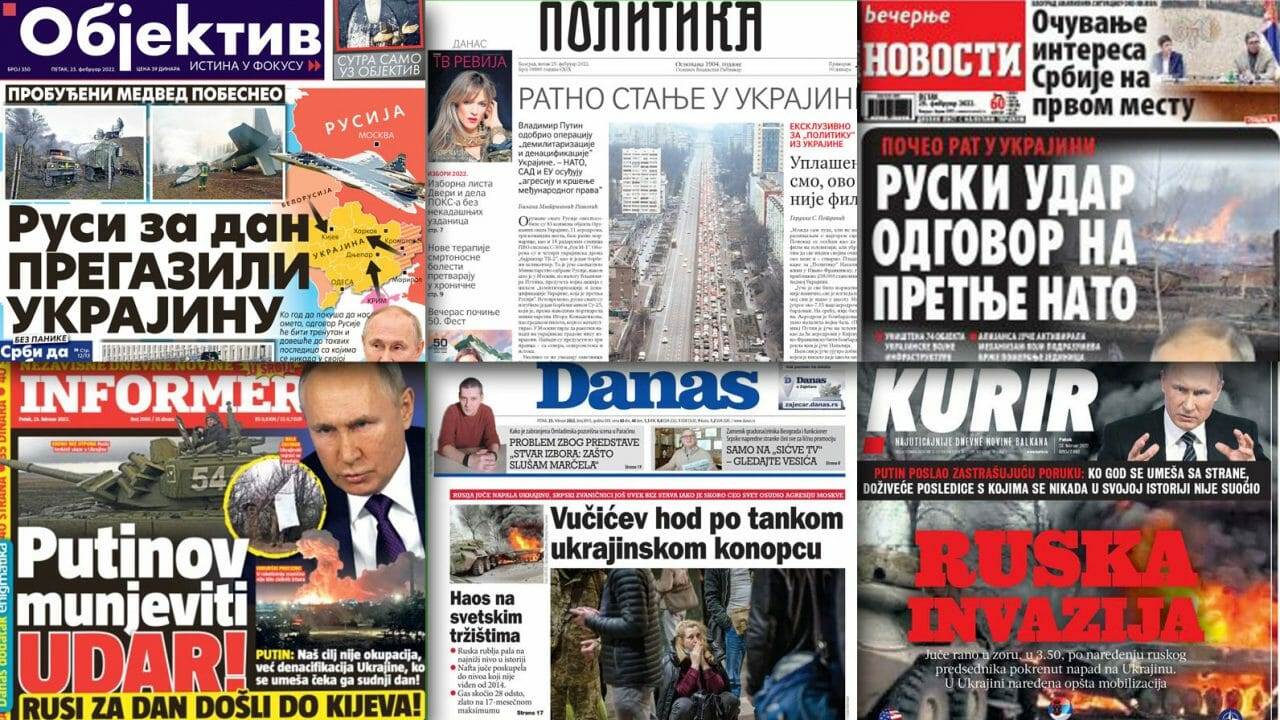 Front pages of Serbian newspapers on Friday morning. Photo: politika.rs, danas.rs, novosti.rs, kurir.rs, objektiv.rs, nova.rs, informer.rs. Graphic: BIRN.
Newspapers that support the Serbian government hailed the Russian invasion of Ukraine on their front pages on Friday, 24 hours after Russian President Vladimir Putin launched his military assault.
Informer and Alo led with front-page headlines claiming that Russia "reached Kyiv in a day", while Objektiv's headline said "Russians overrun Ukraine in a day".
Vecernje Novosti's main headline was "Russian coup in response to NATO threats".
Sprski Telegraf printed headline that "Putin is preparing 'Satan' [Russian R-36 intercontinental ballistic missile] for Europe" together with a photo of the Russian president in military uniform.
Politika led with "State of war in Ukraine", saying that "Putin approved an operation 'of demilitarisation and denazification'" and quoting only Russian sources about the ongoing war. Russian officials have often accused the Ukrainian government of Volodymyr Zelensky, who is Jewish, of being fascist.
Meanwhile Danas and Nova, which are seen as critical of the government, mostly reported on Serbian officials' silence about the Russian attack on Ukraine.
President Alexander Vucic, an ally of Putin who is also seeking EU membership for Serbia, has yet to announce his official view of the Russian invasion of Ukraine.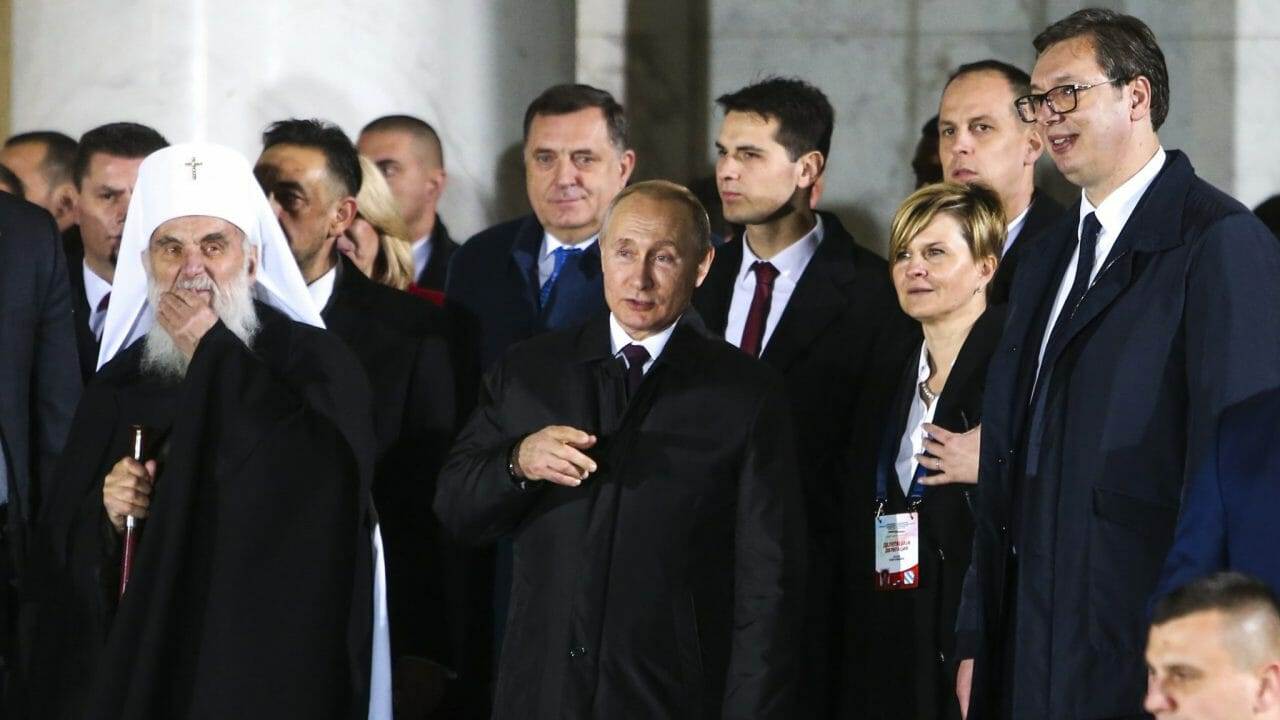 Russian President Vladimir Putin (centre) with Serbian President Aleksandar Vucic (right) and late Serbian Orthodox Church Patriarch Irinej (left) in Belgrade, January 2019. Photo: EPA-EFE/ANDREJ CUKIC.
Mainstream Serbian media, which are usually pro-Putin, continued to support him after he recognised the independence of two breakaway regions of eastern Ukraine, Donetsk and Luhansk, on February 21.
Tabloid Informer went the furthest on Tuesday, publishing a front-page headline that claimed that "Ukraine attacked Russia".
It alleged that "the Ukrainians shelled a border checkpoint near Rostov, 150 meters inside Russian territory" and "Russian special forces liquidated five Ukrainian saboteurs who tried to cross the border" – claims that have been strongly denied by the Ukrainian government.
On February 22, tabloid Kurir published a headline claiming that "Russia has done everything it can for peace in Ukraine".
The following day, 24 hours before the Russian invasion began, Vecernje Novosti reported prominently that Putin said that Russia "is not building an empire, and it would be best for Kiev to give up [on its wish to join] NATO".
On the day of the invasion on Thursday, Informer quoted former US President Donald Trump saying that "Putin is a genius, he tricked us all". With the exception of Trump, Putin was the only world leader quoted in pro-government tabloids, and the only one whose photo was printed on their front pages.
Tabloid Kurir claimed meanwhile that behind the conflict "is the fight over energy: the United States has used the conflict to try to implement a longstanding plan to reduce gas dependence on Russia".
Due to Serbia's firm ties with Russia, many of Serbian headlines were also about Belgrade's next steps in terms of its as yet unclear response to the war in Ukraine. President Vucic is the only European leader who has not taken a stance on the Russian invasion so far.
On the evening of Putin's recognition of the two separatist territories, Vucic said that 80 per cent of Serbia's media are "always, no matter what happens, on the Russian side", while "20 per cent, they also have no impartial and objective approach, they are a priori against the Russians".
He also claimed that Serbia is under pressure to join EU sanctions against Russia, and expressed concern about the impact on his country's economy.