The minimum age requirement to open a TikTok account has done nothing to stop thousands of children in the Balkans under the age of 13 from accessing the short-form video app. A BIRN survey finds parents and teachers struggling to stay on top of the risks involved.
This post is also available in: Bosnian
Six months passed before his parents found out, and the boy, from the Albanian port city of Durres, had already been duped into downloading a photo app containing what he described as "embarrassing photos", without elaborating.
The teenage boy, who like other minors interviewed for this story spoke on condition of anonymity with the permission of his legal guardian, is one of a growing number of Balkan children using the Chinese-owned social networking service based on short-form videos, the most popular website in 2021, according to US-based Cloudflare.
BIRN has found that many of those children are below the minimum age requirement of 13 and some are accessing TikTok on a regular basis from six or seven years of age in the full knowledge of their parents.
A BIRN survey and dozens of face-to-face interviews with teachers, parents and children point to a gaping 'technology gap' that means many parents are unaware of what their children are exposed to on the service.
More than two thirds of parents said their children opened TikTok accounts before the age of 13, half of them without parental consent. Twenty-five per cent of parents said they had noticed potentially harmful content.
Experts say children are particularly vulnerable to bullying and harassment online, and often parents do not notice until it is already too late.
There might be a ban on access to social networks before the age of 13, but in Serbia, for example, "there is no control in that regard," said digital communications expert Nikola Ristic.
"Parents often do not know enough about how to approach children during their informal learning, which is present from the earliest age of a child when it comes to the Internet and content consumption."
TikTok's user guide says it is "deeply committed to ensuring the safety of minors on the platform and do not tolerate activities that perpetuate the abuse, harm, endangerment, or exploitation of minors on TikTok." BIRN reached out to TikTok for comment, but received no answer by the time of the publication.
According to BIRN's findings:
Sixty-nine per cent of parents surveyed said their children opened accounts before the age of 13, violating the terms of use
Some 52 per cent of parents said they did not give consent for their child to open a TikTok account
Twenty-five per cent of parents said they noted dangerous or inappropriate content
Some 82 per cent of teachers said they themselves do not use TikTok
Eighty-seven per cent of them said they are not familiar with what their students are posting; same percentage said they do not know what their students are following online
Age six, and already on TikTok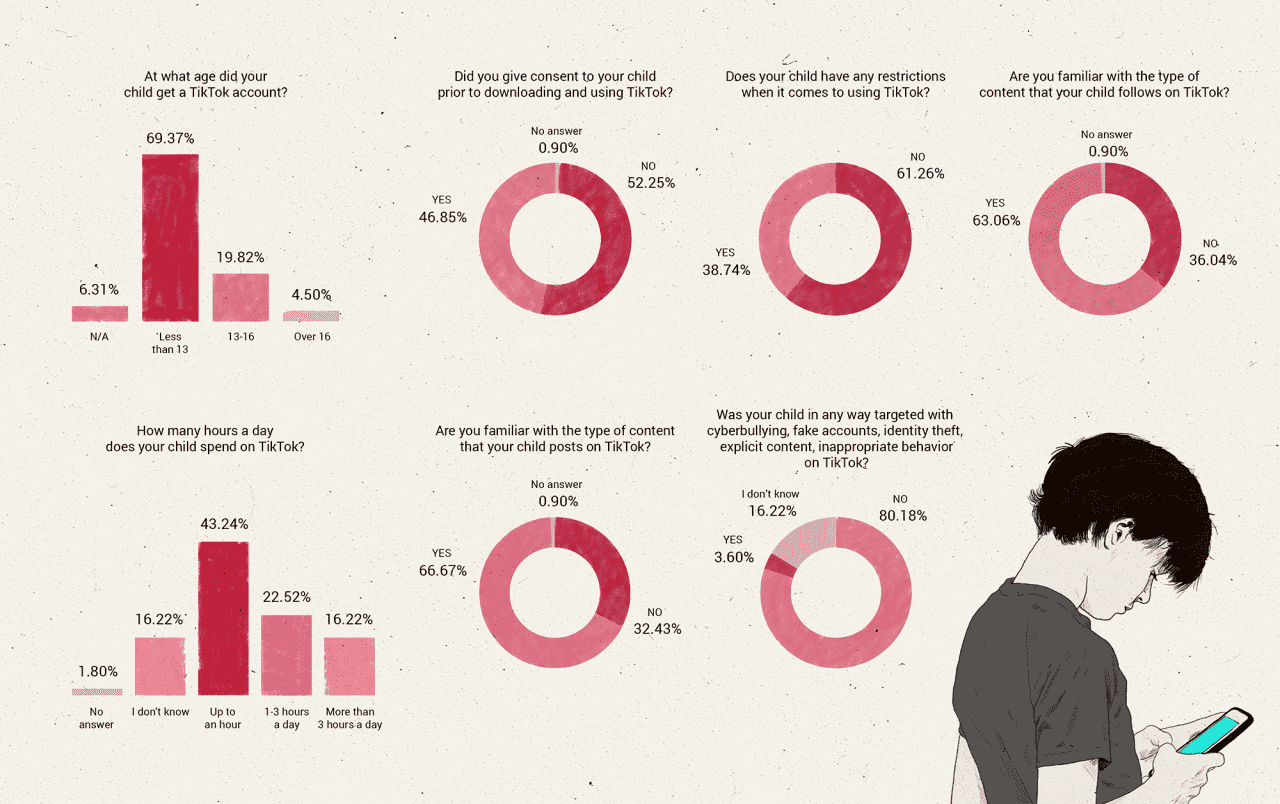 Graphic: BIRN/Igor Vujcic
Officially, TikTok does not allow children under the age of 13 to open an account. Up to the age of 16, users are subject to other restrictions: for example, their account is private by default; they cannot use direct messages or host a livestream; and content they share will not be visible as suggested content for other users. Users younger than 18 cannot send or receive virtual gifts.
Yet 69 per cent of parents surveyed, including those who are also teachers, told BIRN that their children opened accounts before they were 13.
Some 52 per cent said they did not give their children consent to use the app.
Over 63 per cent of parents, including those who are also teachers, said they are familiar with what their children are viewing on TikTok, while 66 per cent said they are familiar with what their children are posting.
Those surveyed said their children view dance videos, singers, sports, gaming, funny clips, influencers or content posted by friends. Most said that, while they themselves do not use the app, they are familiar with it.
A mother of two in Bosnia and Herzegovina, who spoke on condition of anonymity, said her children, aged seven and 13, had been using the app for the past year. The woman said she was "superficially" acquainted with the app.
Some parents saw little wrong in their children using the app well before the age of 13.
Hasime Tahiri Hasani, in the northern Kosovo town of Mitrovica, said her nine year-old daughter "uses TikTok mainly to show her dancing talent or do some video editing and maybe this is something positive" in terms of learning a skill.
Nationalism, xenophobia, violence
For the purposes of this story, BIRN journalists registered a TikTok account registered to a fictitious 13-year-old. BIRN used the account to search content in Bosnian/Serbian/Croatian and English, following hashtags popular among children of that age.
Besides videos of underage teenagers having fun with music, acting or dancing, there were also posts in which children are seen being or pretending to be violent, often in the classroom.
In one of the videos taken in an elementary school in a small town in eastern Serbia, three boys burst into the classroom, kicking school tables. One of them sets a spray-on deodorant on fire.
In another video, youths drive a car at night the wrong way down the street.
BIRN also found a number of accounts promoting nationalistic and xenophobic propaganda.
Ivo Djokic, also from Mitrovica, said his six year-old son had "learned English very well" thanks to his use of TikTok and YouTube.
Another woman in Bosnia, who again spoke on condition she not be named, said she had seen no negative impact on her eight year-old daughter.
"She learns different things with this network and repeats them in her daily life, with friends, at school, at play, imitating certain TikTokers".
"I haven't noticed that my child is mimicking any of these challenges, but rather mimics the individual TikTokers she monitors regularly."
A 12 year-old girl from Durres said her parents had allowed her to open a TikTok account, "on condition that I use it in front of them."
While some parents see little harm, others – or a little over 25 per cent in the BIRN survey – said they had noticed potentially dangerous posts, usually containing sexual content, body-shaming or related body challenges, drug or alcohol use or pranks that could cause harm.
Zijada Karic, a mother of two in Bosnia, said her 11 year-old son "used TikTok until he heard that a girl was killed because of a challenge that was circulating on the social network."
Nevertheless, her nine year-old also uses TikTok. "But she mostly watches funny clips adapted to her age," Karic told BIRN.
Some children BIRN interviewed spoke of viewing harmful content. A 12 year-old girl in Kosovo said she saw a video of "a person killing himself".
In Albania, the Child Rights Centre Albania, CRCA, opened a helpline at Safe.al dedicated to online issues facing children. Whereas most complaints used to concern YouTube and Instagram, said CRCA director Altin Hazizaj, "last year and this year TikTok has been one of the predominant platforms of children's complaints, especially in cases of bullying."
"It is mostly videos that are funny but not suitable for children," he told BIRN.
In terms of screen-time, 43 per cent of parents surveyed said their children spend up to one hour per day on TikTok. Yet the majority of children BIRN spoke to said it was more like one to three hours per day.
A 13 year-old boy in Durres said he follows "videos with experiments such as mint cola, elephant toothpaste"; another, aged 12, said he likes "funny videos, and sometimes I make these videos myself."
Concerns over impact on attention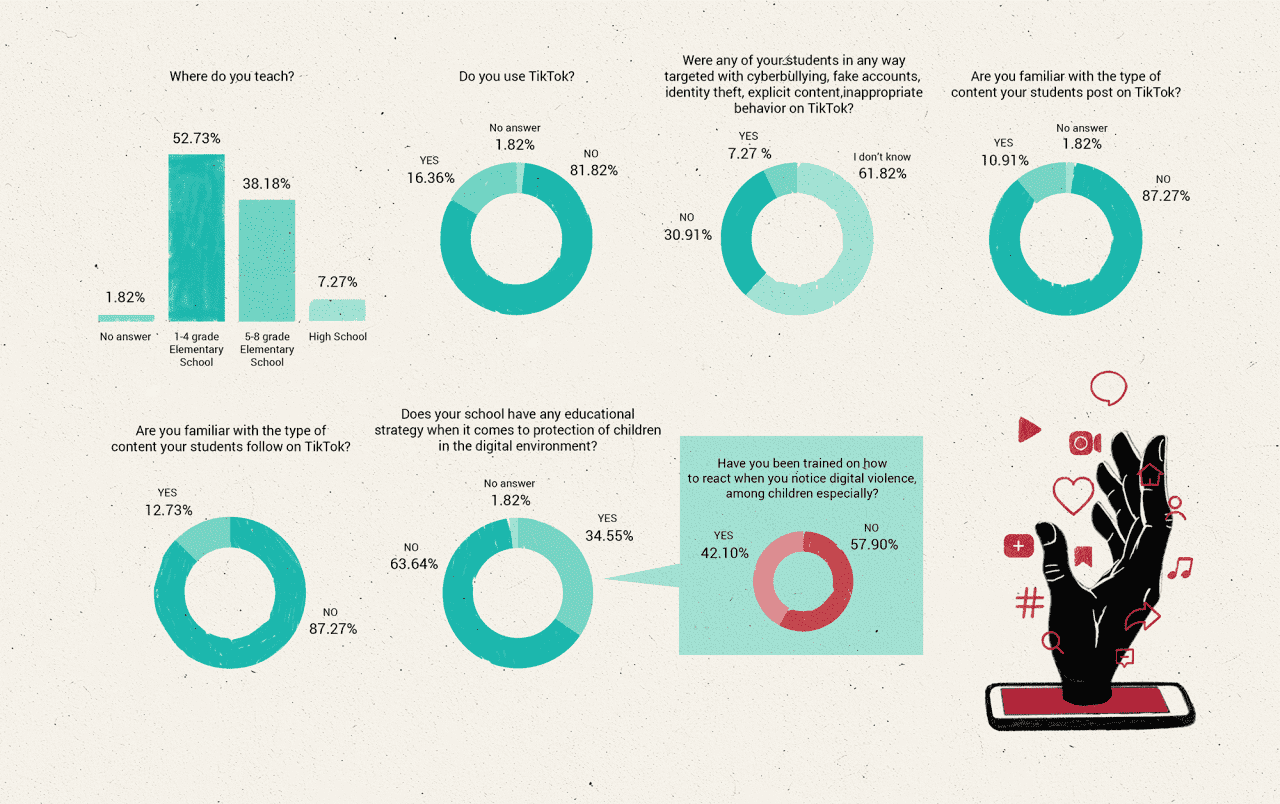 Graphic: BIRN/Igor Vujcic
Founded in 2016, TikTok has rapidly come to challenge the popularity of Facebook among young people.
"Primarily the young audience is losing interest in Facebook because a huge percentage of people between the ages of 35 and 65 are present there and more content is placed for that group," said Bosnia media analyst Amel Petrovic.
While Facebook and Instagram tweak their algorithms so that a limited number of people might see a post, "TikTok has unlimited resources," Petrovic told BIRN.
"When you upload a video you have the ability to reach several hundred thousand people without using the boost option."
For children, this also means greater potential exposure to dangerous content and to dangerous individuals online.
"Short video content has proven to be a very good way of 'attracting' and keeping users on the application for a long time, not only children but also adults," said Bozidar Dimic, a teacher in Serbia.
Kosovo psychologist Naim Telaku cautioned that such rapid, short-form content has an impact on attention spans.
"If attention is trained to function in this way then the child will lose the ability to concentrate on different activities, will lose the ability to focus, will lose the ability to think logically, to rationalise, and what is very important may lose the ability to learn classroom content, may lose the ability to learn general skills and knowledge," Telaku told BIRN.
Many parents surveyed said teachers too have an obligation to better educate children in the downsides and potential dangers of social media.
But 87 per cent of teachers surveyed by BIRN, including those who are also parents, said they are not familiar with what their students are posting; the same percentage said they do not know what their students are following online either. Eighty-two per cent do not use TikTok.
"Any teacher who cares about their education and their profession can set aside one segment to talk to students about online safety," said Emina Bekovic of Serbia's National Contact Centre for Child Safety on the Internet, a state body created in 2017 to deal with the issue of the cyber safety of children.
Natasa Kolevska, an IT teacher at an elementary school in North Macedonia, told BIRN: "We in the school continuously talk with them about this topic and we are trying to point out all the traps they can face."
"At the same time, we direct them if they use TikTok to use it in order to use content that will be useful for their education or the education of their peers."
Professor Hasija Dedovic, a high school teacher in Sarajevo, said his school had introduced special classes and online workshops on safety online for children and parents.
Some 34.5 per cent of teachers, including those who are parents too, said the schools where they work have an 'educational strategy' in place concerning protection of children in the digital environment.
But 58 per cent said they have not received any training in how to respond if they notice cyber violence among children. Almost 62 per cent said they did not know whether any of their students had been the victim of cyber bullying. Almost 31 per cent said 'No' and seven per cent said 'Yes'.
'Conversation is crucial'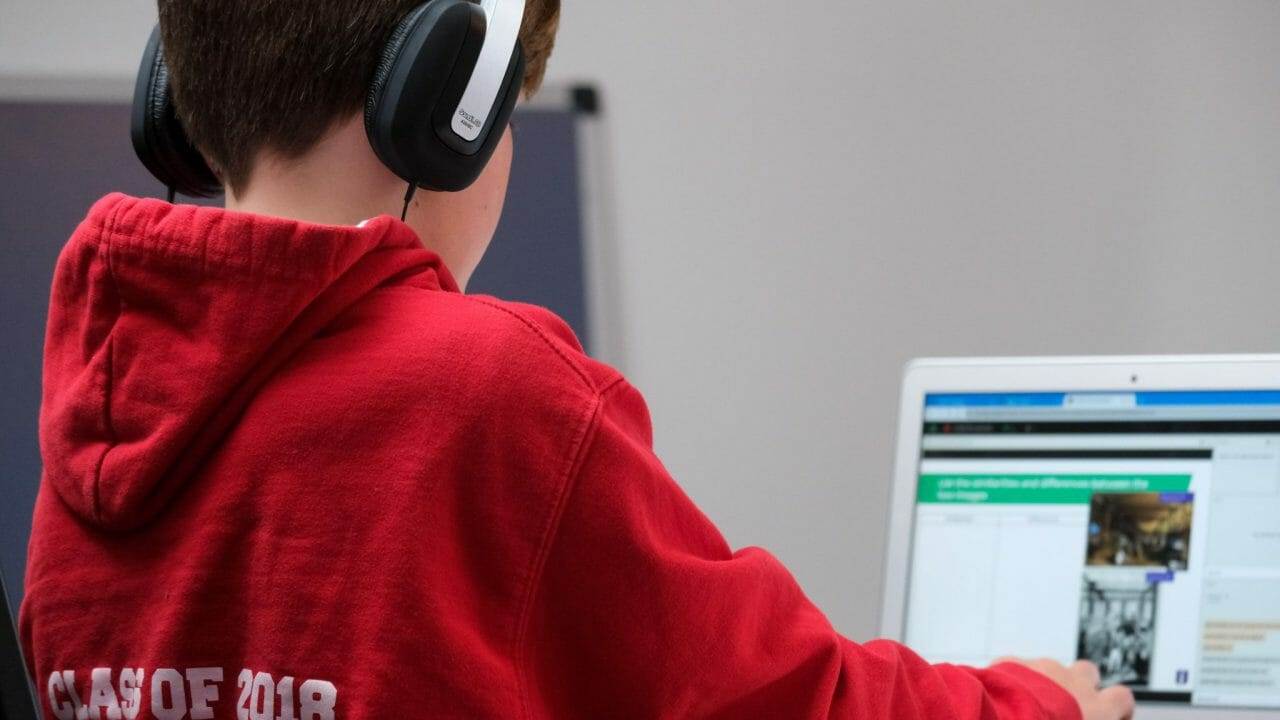 Illustration. Photo: Unsplash/ Compare Fibre
Asked if they limit the way in which their children use TikTok, almost 39 per cent of parents surveyed said 'Yes'. Most of those said their children are instructed not to communicate with strangers or to share or disclose their personal information in any way.
TikTok also provides ways to limit the amount of time a child spends on the app and the content they can view.
One woman in Bosnia, the mother of an eight year-old girl, said that "proper monitoring" of the time a child spends on a smartphone can influence the way the child develops and "avoid all those negative influences."
She and others spoke of the importance of conversation and building trust.
"I don't impose bans," said father-of-three Arif Kadriu from Mitrovica, who told BIRN he encourages his son to check the background of the TikTok videos he watches to see who made them and where.
According to TikTok's latest transparency report, in the second half of 2020, 36 per cent of content removed violated its minor safety policy, up from 22.3 per cent in the first half of 2020. Of those videos, 97.1 per cent were removed before they were reported, and 95.8 per cent of videos were removed within 24 hours of being posted.
As stated on its website, TikTok uses PhotoDNA, a technology that helps identify and remove known child exploitation content, to protect against child sexual abuse material and made 22,692 reports to the US National Center for Missing & Exploited Children in 2020 compared to 596 in 2019.
According to TikTok's transparency reports, in 2020 Albanian law enforcement filed one request for information from TikTok concerning five accounts. The same year, Serbia made three requests concerning three accounts, while in 2019 Serbian authorities requested information on one account. TikTok did not provide any information in response.
"Limitations are based on conversation," Kadriu said. "I think that the best way is conversation and explanation of life through social networks."
Bekovic, of Serbia's National Contact Centre for Child Safety on the Internet, agreed that conversation "is crucial".
Parents, she said, need "to improve their digital skills and inform themselves and the child about protection measures and ways to recognise dangers."
"They need to talk openly with their children, build a relationship based on trust and make the children feel free to turn to them for anything."
Hazizaj, from the CRCA in Albania, told BIRN that if children do not talk to their parents and about the issues they face online, "protection becomes many times more difficult."
Jelena Vukicevic, a psychologist at the Edu Centre, said simply banning children from TikTok was not the answer.
"It is not enough to say 'Leave it, it is evil, you must not use it, we forbid you'," Vukicevic told BIRN.
"It will simply not be enough for most children to stop; they will find other ways to use what their peers use. So parents should be informed about all possible types of networks used by their children and again keep an open channel of communication with those children, to show a truly authentic interest in what is happening on social networks."
Additional reporting from Denisa Canameti from Pro Pacientit, Geri Emiri from Media Amfora, Erisa Kryeziu from Citizens Channel, Tirana Bytyqi and Rina Koliqi from ÇOHU, Majlinda Brahimi and Fatmir Hajzeri from TV Mitrovica, Semira Degermendžić from Fokus, Enes Hodžić and Elmedina Šabanović from Tacno.net, Tatjana Mrđa from Udar, Selma Jatić from TV Slon and North Macedonia Zaklina Cvetkovska from Kumanovo news.