A man who left his home behind in Hrtkovci in Serbia in 1992 after Serbian Radical Party leader Vojislav Seselj stirred up anti-Croat fervour in the village is now trying to win compensation.
This post is also available in: Bosnian
"My mother – or, rather, my great-grandfather, grandfather and mother – always lived in Hrtkovci, whereas my father originally came from Lika in present-day Croatia," Baricevic told the International Criminal Tribunal for the Former Yugoslavia in October 2008.
After completing secondary school and doing his Yugoslav military service, Baricevic went to Zagreb, where he spent three years working and doing additional vocational training.
"After three years, I went back to Hrtkovci where I started working for the waterworks. I worked there as a maintenance worker up until 1992," he told the Hague-based war crimes court.
Hrtkovci was an ethnically-mixed village. But after the Croatian war broke out and Croats living in Serbia came under pressure from nationalist threats, Baricevic decided to leave in May 1992.
Like many other Croats who lived in Vojvodina, he was forced to swap his home in Serbia for a house in Croatia owned by a Serb family that now, because of the war, wanted to live in Serbia.
Baricevic still lives in Croatia. Some 30 years after he was forced to leave Hrtkovci, he launched a case for compensation damage at the Civil Department of the Higher Court in Belgrade.
He is suing the state of Serbia and the leader of the nationalist Serbian Radical Party leader, Vojislav Seselj, over a speech he made in Hrtkovci in May 1992, which Baricevic argues was the reason why he had to leave.
In the speech, Seselj said that "there is no room for Croats" in Hrtkovci. In the wake of the speech, the remaining Croats in the village were targeted for harassment by Seselj's supporters and others. Over the next three months, many of them were threatened with death, intimidated and forced to leave the area – part of a campaign of intimidation by nationalists which saw thousands of Croats flee Serbia's Vojvodina region.
Seselj was sentenced in 2018 to ten years in prison because of the speech. The Hague court found that it "incited violence that denigrated and violated the right to security of members of the Croatian population of Hrtkovci, thereby committing the crime of persecution".
On Friday, the latest hearing in Baricevic's case is being held in Belgrade. His lawyer Mihailo Pavlovic explained that Baricevic is suing Serbia and Seselj for compensation of around 100,000 euro for both material and non-material damages.
"Material damage refers to the difference between the values of the property left here [in Serbia] and the one obtained there [in Croatia]," Pavlovic told BIRN.
"And non-material damage is related to violation of Article 8 of the [European] Convention [of Human Rights] – the right to respect for private and family life, which is also recognised by our [Serbian] law," he added.
Asked by BIRN for a response to the allegations, Seselj claimed that his team has "evidence that Franjo Baricevic received a several times more valuable property than he had in Hrtkovci". He insisted that Baricevic has "no chance" of winning his case.
'We will drive them to the border'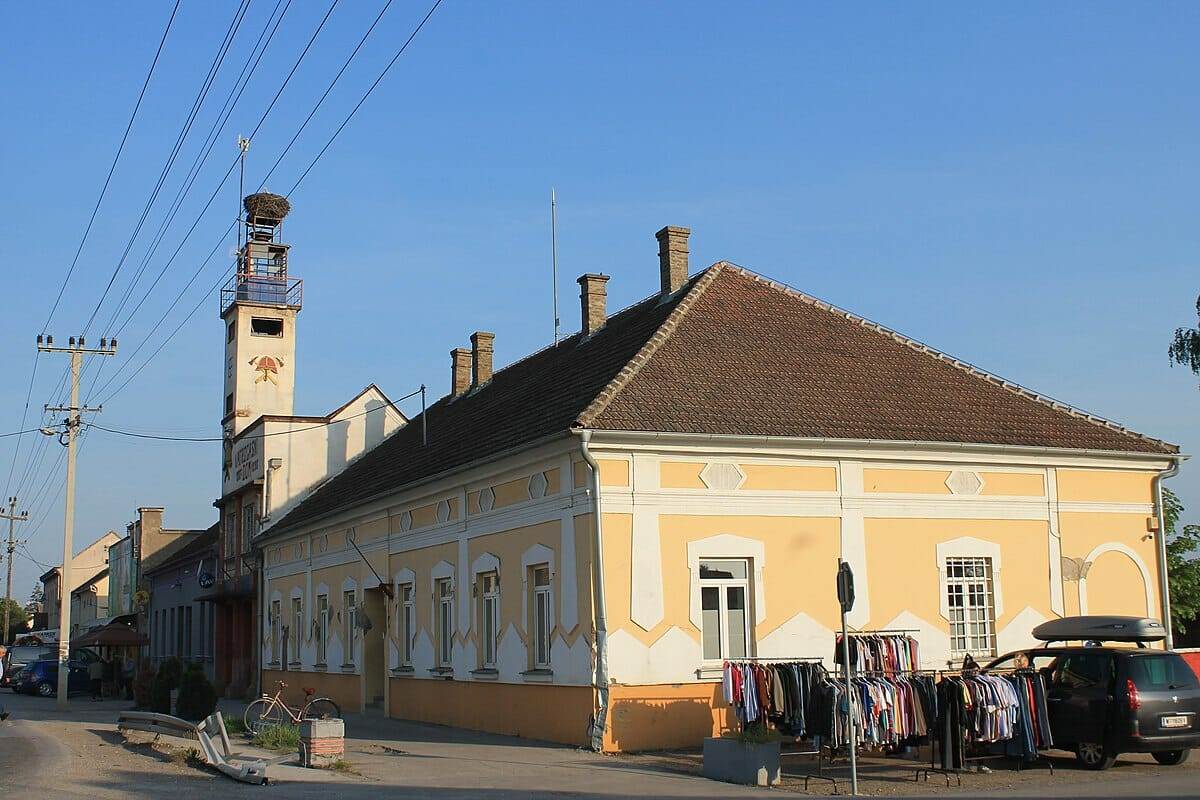 The village of Hrktovci in 2018. Photo: Wikimedia Commons/Vanilica.
The speech that Seselj made in Hrtkovci was part of a rally staged by the Serbian Radical Party during the campaign for the 1992 federal elections in Yugoslavia.
Officially, Serbia was not at war with Croatia, which was battling to secede from Yugoslavia, but Seselj focused on the conflict. At one point he said that "the only Croats for whom there is room among us" are those "who have shed blood together with us on the frontlines", who are "Croats in name only" and who have "already woken up to the fact that they are, in fact, Catholic Serbs".
"They will stay here with us, while all the rest must clear out of Serbia," Seselj declared.
He went on to talk about Serbs who had to leave Croatia, saying that "we have to give those Serbs a roof over their heads and feed the hungry mouths", but added that there is no money for new houses or resources to create new jobs.
"Very well then," he declared, "if we cannot do that, then we should give every Serbian family of refugees the address of one Croatian family." In return, he said, Serb refugees would give them the address of the home they had to flee "in Zagreb or another Croatian town".
"There will be enough buses, we will drive [the Croats] to the border of Serbian territory and they can walk onwards from there, if they do not leave beforehand of their own accord," he said.
Baricevic was one of those who left of his own accord before anything worse could happen.
He told the International Criminal Tribunal for the Former Yugoslavia that after the Serbian Radical Party rally in Hrtkovci, his daughter was stopped on her way home from school "by some people who asked her: 'Who is your father's favourite, you or your brother?  Because he can take only one of you with him to Croatia, and you know what's going to happen to the other one.'"
"And then they called me on the phone. They told me: 'What are you waiting for?  Why don't you move out?'"
Baricevic said that this happened "more than once, until I agreed to swap my house".
He left Hrtkovci on May 19 1992, a couple of days after his wife and children fled.
'Throw them out of their houses'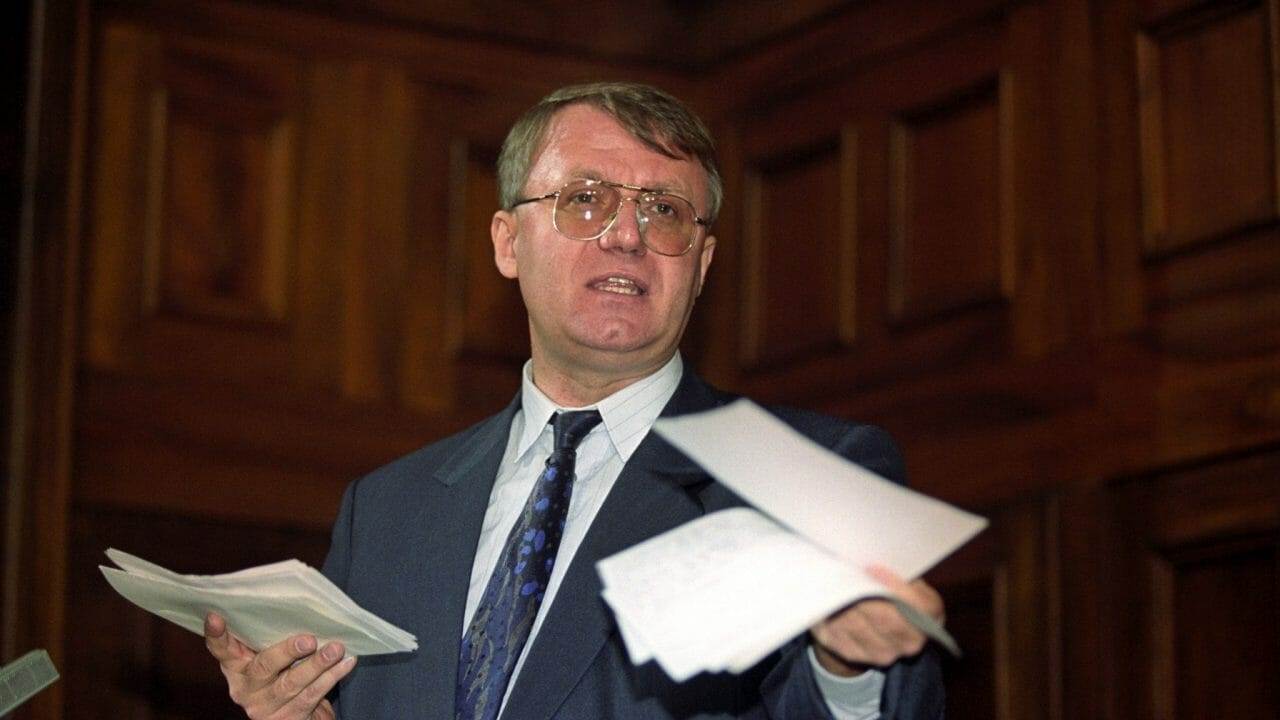 Vojislav Seselj at the Yugoslav Federal Parliament in Belgrade, December 1992. Photo: EPA/MAJA ILIC.
Seselj was initially acquitted by the Hague Tribunal in 2016 but then convicted in 2018 of inciting crimes with nationalist rhetoric in the Vojvodina region during the war in 1992.
The court's appeals chamber said in the verdict that "Seselj's speech denigrated the Croatians of Hrtkovci on the basis of their ethnicity, in violation of their right to respect for dignity as human beings".
It said that at that point, Hrtkovci was enjoying "relative peace" compared to the violent turmoil in Croatia and Bosnia and Herzegovina.
"With his speech, Seselj ended that sense of safety by infecting the village with hatred and violence, which led to the departure of Croatian civilians in the ensuing months, thereby expanding the wider attack against the non-Serbian population in Croatia and Bosnia and Herzegovina," the verdict said.
Asked by BIRN if he would give the same speech again in the same situation, Seselj responded: "Of course."
He argued that Serbia was "flooded" with refugees from Croatia at the time, and said that "one of the ways to alleviate their suffering was for some of them to exchange property with Croats from Serbia".
Baricevic's lawyer Pavlovic said his client is suing Seselj on the basis of the Hague court's verdict, and is suing Serbia because of its "inaction".
"[He is suing] the Republic of Serbia because from that verdict, a number of pieces of evidence were derived which state that the [Serbian] State Security Department was familiar with everything [that was happening]; there were official notes that they were familiar with all the incidents in Hrtkovci and that they did nothing to prevent [Baricevic's] expulsion," Pavlovic explained.
During Seselj's trial, official notes from the Serbian State Security office in Ruma about the May 6, 1992 rally were presented to the court, and also notes about the aftermath of the rally, not only in Hrtkovci but also in various other villages in the Vojvodina region.
In a report from June 4, 1992, State Security officers wrote that on May 15, three people entered the house of Marko Fumic in Hrtkovci "in our estimation, in order to kill him".
The men were arrested, but when their detention order expired, they were released again.
"We also believe that the judicial authorities should be more effective in dealing with cases of people being pressured to leave their homes, the forcible occupation of houses, possession of firearms and the like," the State Security officers' report said.
Another report described a community meeting on June 20, 1992 in Hrtkovci, at which around 300 people were present, when Ostoja Sibincic, the president of the local community assembly "said that now they had come to power and no one could stop them from achieving their goal – to expel all Croats, Hungarians and even some Serbs from Hrtkovci".
"From now and until June 28, 1992, they should put [pressure] on elderly households and throw owners out of their houses," the report said.
The report also said that "after the meeting, a paramilitary unit was established for the protection of Serbs", and that "this unit also includes a unit for the silent liquidation of Croats and Hungarians".
It added that on Sibincic's orders, a list was drawn up of all the remaining residents in Hrtkovci.
Sibincic was indicted in September 1992 for endangering the liberty and rights of citizens of another nation, nationality or ethnic group, due to multiple incidents in which he, together with others, verbally or physically attacked Croats or ethnic Hungarians, ordering them to leave Serbia, and for possession of an illegal weapon.
In May 1993, Sibincic given a suspended prison sentence. During his trial, Seselj told the court in The Hague in 2010 that Sibincic "died last year".