Villagers in Poljak, near Srebrenica, commemorated the 29th anniversary of an attack by Serb forces that left 21 people dead, including two children - for which no one has yet been prosecuted.
This post is also available in: Bosnian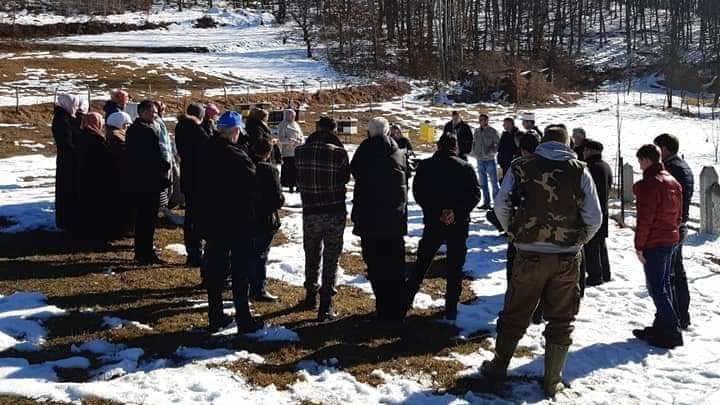 The commemoration in 2021. Photo: Organisation of Families of Martyrs and Killed Soldiers of Srebrenica Municipality.
Villagers from Poljak marked the anniversary of the attack on the village on Monday with a religious ceremony at the Srebrenica Memorial Centre followed by a visit to the memorial to killed soldiers and civilian victims of war in the village itself.
A total of 21 people were killed in the attack, including two women and two children were taken away and never seen again.
Mujesira Nukic told BIRN that the village was shelled just before dawn on January 24, 1993. She was not in the village when it was attacked, but when she arrived home that evening, she found that five members of her family had been killed, including her mother Hamida and aunt Mulka.
"[The attackers] entered the house, my uncle's house, where the two women were, and killed them – killed both of them with a knife. They were found inside the house in two separate rooms," Nukic recalled.
"When I returned to the room where my mother had been found dead – killed – there was blood on the wall, sprays of blood, as she probably moved across the room until she bled to death and fell down. My uncle was in the basement and he heard my mother and aunt, his wife, screaming and crying: 'What do you want from us, don't hurt us, we haven't done anything wrong,'" she added.
The two women who were taken away with their young children included Nukic's cousin.
"They have never been found. No one knows where they are and what happened," she said.
Her uncle, who survived the attack, was killed in 1995 in the village of Potocari during the fall of Srebrenica to Bosnian Serb forces.
Kadefa Muhic, president of the Organisation of Families of Martyrs and Killed Soldiers of Srebrenica Municipality, told BIRN that Poljak was shelled from the village of Perucac in Serbia, just across the River Drina.
She said that several shells also fell on the neighbouring village of Djurdjevac, where three people were killed the same day.
No one has ever been prosecuted for the killings.
"Knowing that someone has been sentenced for the crime would bring satisfaction to the families of the victims, so the next generations of young people could draw the lesson that crimes should not be committed and that crime does not pay, but the lack of action by the prosecution will send a message to some people, to the descendants of the perpetrators, that they could do it again without having to answer for it," Muhic said.