Serbia beat off competition from around Central and Eastern Europe to host the first Chinese tyre factory in Europe, but evidence obtained by NGOs and BIRN point to 'systematic exploitation' – potentially human trafficking – of hundreds of Vietnamese men hired to build it. Serbian authorities say they see nothing wrong.
This post is also available in: Bosnian
Serbian NGOs blew the whistle this month on the exploitation and possible human trafficking of Vietnamese workers hired to build the first Chinese car tyre factory in Europe, alleging that their passports had been confiscated and they had been housed in dirty, cramped dormitories with two toilets for 500 men and a lack of clean, warm water.
Amid the outcry, the workers were moved to temporary accommodation in Zrenjanin, but their troubles are far from over.
The terms of their contracts, signed with a subcontractor of China's Shandong Linglong Tire Co and seen by BIRN, violate a raft of rules under Serbian labour law, from working-hours to vacation days and financial penalties.
Many want to go home, but cannot afford the cost of the flight home, which they are obliged to cover if they leave early.
"These are all indicators that suggest this is a case of human trafficking," said Danilo Curcic, programme coordinator at the Initiative for Economic and Social Rights, A11, an NGO that visited the workers' accommodation along with anti-trafficking organisation ASTRA.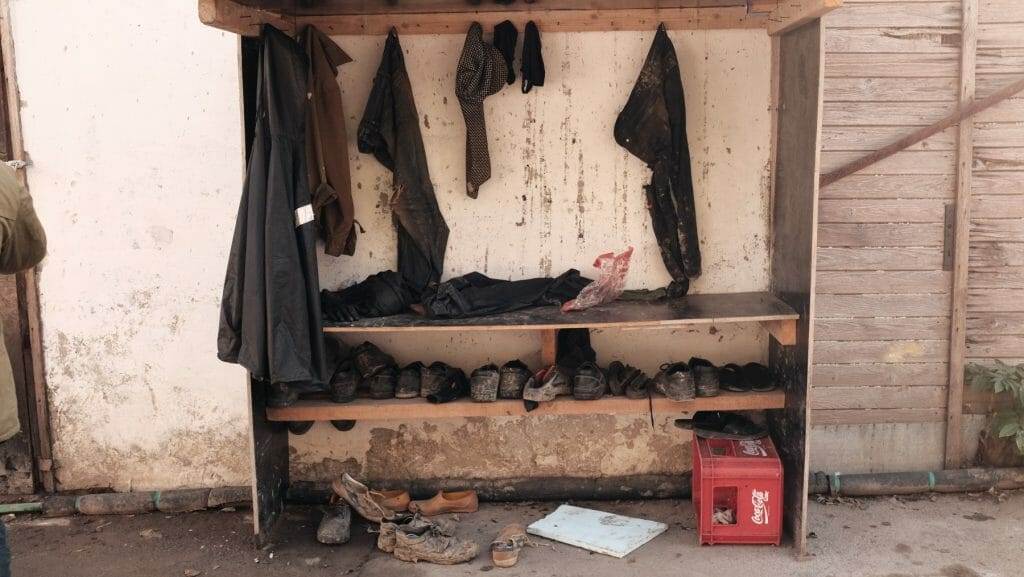 The house in Zrenjanin which Vietnamese workers are living. November 2021. Photo: A11/ Sara Nikolic
The Serbian government, which frequently courts foreign investors with generous subsidies and, in the case of Linglong, free land, says inspectors have found nothing wrong, describing the Linglong construction site as "the most monitored in Serbia."
Curcic said the government's inaction raised the question – "to what extent our country is involved in this chain of labour exploitation and potentially human trafficking?"
Kim, who spoke on condition his real name not be published, told BIRN: "We are very poor in Vietnam and we came here to earn money for our family. But the Chinese contractors have no respect for our work or our lives."
Turning a blind eye
Construction on the Linglong factory began in 2019 as one of a number of Chinese projects in Serbia that has made the country a Balkan hub for Chinese investment. Linglong said it planned to invest 800 million euros in building the plant, which will employ 1,200 people and churn out 13 million tyres per year. Even the country's top football league was renamed the 'Linglong Superliga' after the tyremaker became its sponsor.
Linglong picked Serbia over a number of other countries in Central and Eastern European, lured by the promise of 95 hectares of land – valued at 7.6 million euros – free of charge and 75 million euros in subsidies from state coffers for the recruitment of the 1,200 employees by the end of 2024, according to Serbia's Commission for the Control of State Aid.
Desperate for foreign investment, critics say the government is now turning a blind eye to labour and living conditions facing workers on major foreign investment projects, particularly Chinese, from tyres to copper.
Responding to the grim revelations, President Aleksandar Vucic told reporters: "An inspection has been sent. What do people want then? Do you want us to destroy an investment of $900 million dollars so that Zrenjanin does not progress?"
"You care about Vietnamese workers? Come on people, we know each other well; you're not worried about Serbian workers and here you are worrying about Vietnamese."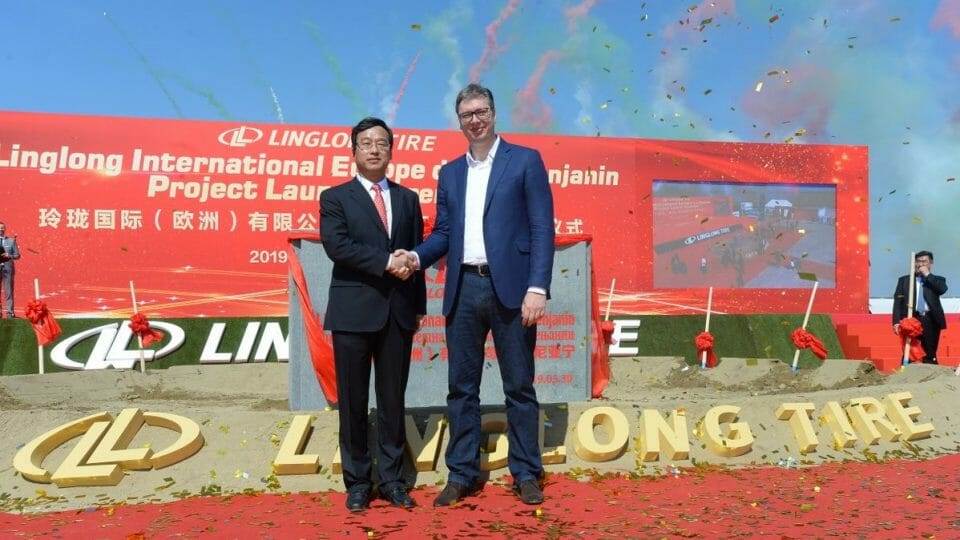 Serbian President Aleksandar Vucic with the representative of the Linglong company laying the foundation stone of the factory. March 30, 2019. Photo: Presidency of Serbia
In a statement to BIRN denying any wrongdoing, Linglong International Europe D.O.O., the Serbian-registered branch of the Linglong parent company, said that a subcontractor – China Energy Engineering Group Tianjin Electric Power Construction Co. Ltd, CEEG TEPC – was responsible for the workers.
CEEG TEPC was registered in Serbia in 2018. But it is not the only Linglong subcontractor hiring Vietnamese workers to build the factory, BIRN has found.
CEEG TEPC and another Chinese firm, SICHUAN DINGLONG ELECTRIC POWER ENGINEERING CO. LTD, registered in December 2020, have both signed identical 1-year agreement contracts with workers that, according to labour rights experts, deviate from Serbian law and international labour standards.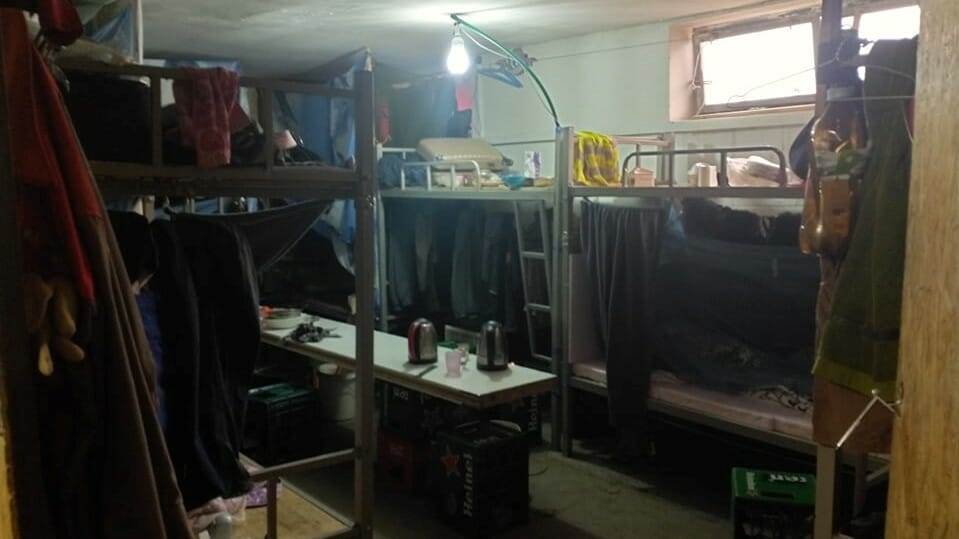 The house in Zrenjanin which Vietnamese workers are living. November 2021. Photo: Private archive/BIRN
Contracts fly in the face of Serbian law
Under the terms of the contracts seen by BIRN, workers face being fired if they try to unionise or protest; if necessary, "regular working hours" can reach 234 hours over 26 working days per month, contrary to Serbian labour law that caps working hours at 192 per month, including overtime; for the 12 months of the contract, workers are entitled to 12 days of vacation, far fewer than Serbian law requires, and can use them only after contract expires; the first month of work is treated as a probationary period, and if the worker's performance is deemed unsatisfactory, they will be classified as an "unskilled general worker" and paid less than originally agreed, which again is unlawful in Serbia.
Salaries are specified in Serbian dinars and should be the equivalent of around 700 euros per month, but since workers are paid in cash it is hard to say what they actually earn on average.
Absence from work, even due to ill-health, costs a worker around five euros per day in penalties, according to 'on-work rules' seen by BIRN. Failure to show up for work, without the permission of a manager, can result in docked wages of 150 per cent of the day rate for each day missed.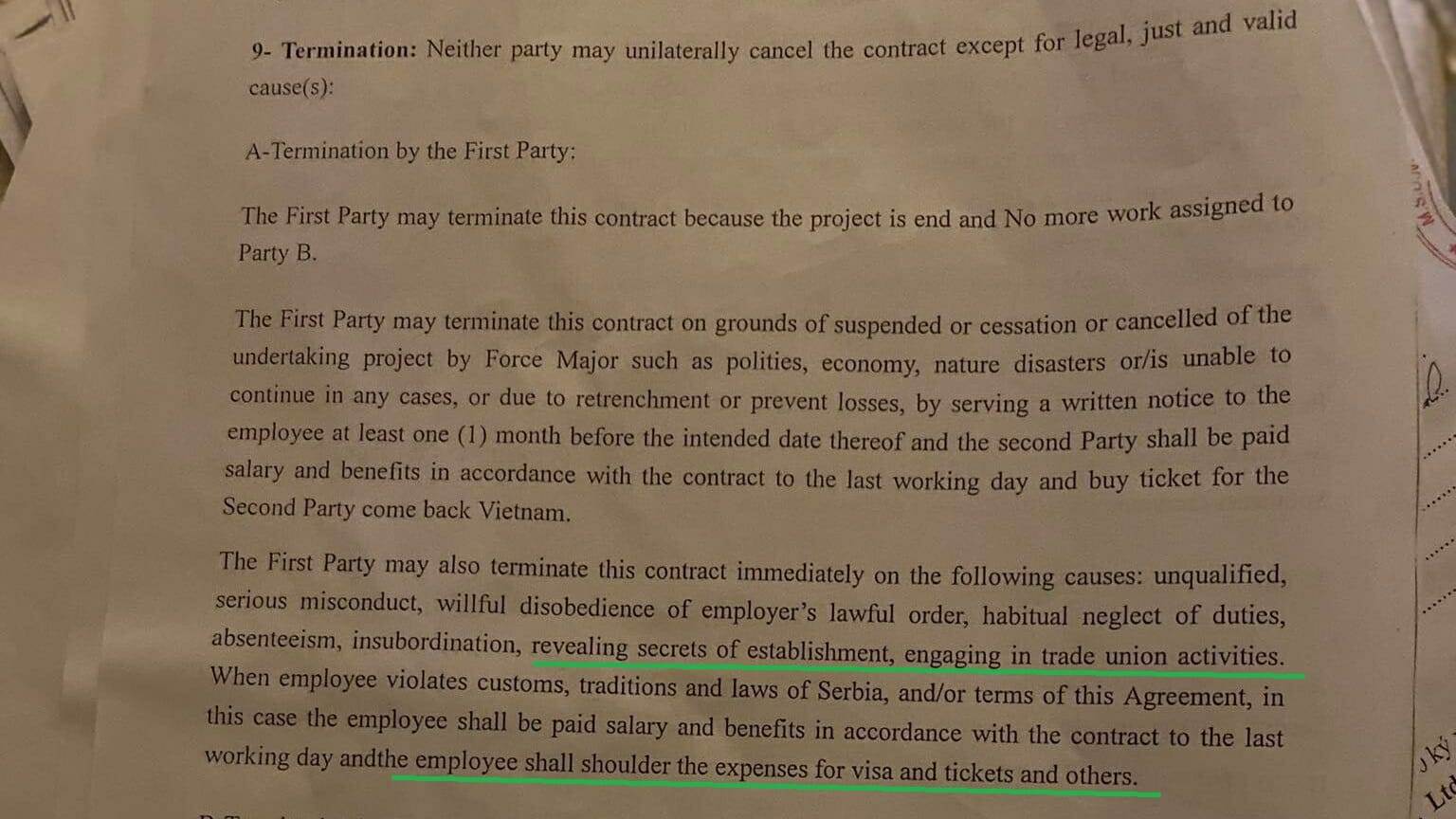 Under the terms of the contracts seen by BIRN, workers face being fired if they try to unionise or protest. Contract obtained by BIRN.
Kim said some workers showing symptoms of COVID-19 were forbidden from seeking medical assistance, despite the fact they have medical insurance under the terms of their contracts.
"We are sick, and the company does not allow us to go to the hospital," he said. "A month ago we had some people with symptoms of COVID-19. But the company forbade us from going to the doctor. They asked us to stay at home to self-isolate."
Under the contracts, if a worker is fired or asks to terminate their employment, the hiring company will not pay the cost of the worker's journey home to Vietnam.
"I myself belong to a group that has registered to return home," said Huu, another worker who also spoke on condition BIRN not publish his real name. "But the problem is, who will pay for the tickets and who will buy the tickets for us? They owe us more than a month's salary."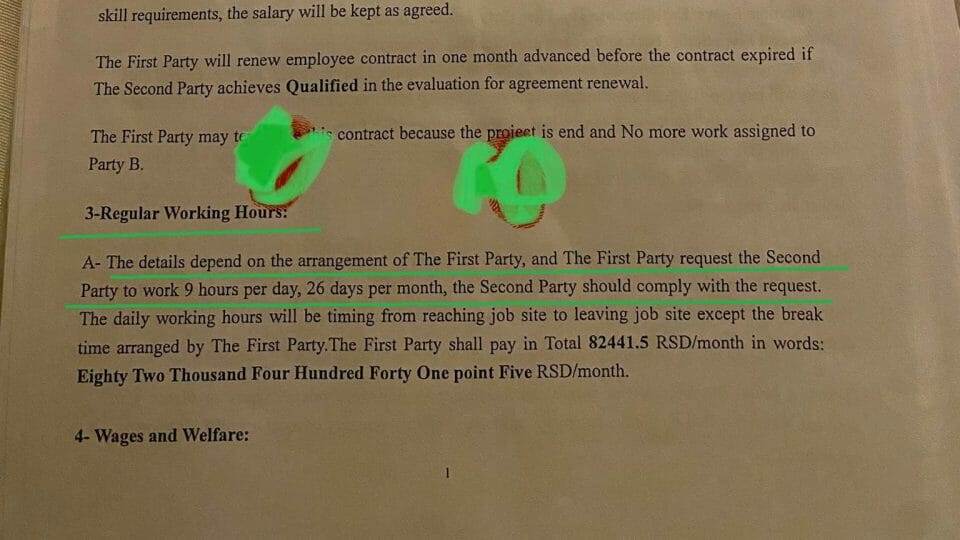 A part of the agreement between one of the Chinese companies registered in Serbia and Vietnamese worker BIRN obtained suggesting working hours can go up to 9 hours 26 days per month.
After reviewing the documents, Mario Reljanovic, a research associate at the Institute for Comparative Law in Belgrade and an expert in labour rights, told BIRN that the provisions "are against Serbian legislation."
"The working hours, anti-union threats, vacation of just 12 days, financial penalties… The obligation to pay your own expenses in case you are fired is contrary to the rules on compensation for damages under the Labour Law but also contrary to the provisions of the Law on Employment of Foreigners," said Reljanovic.
CEEG TEPC, one of the subcontractors, said in a statement that it had not violated Serbian law and that the passports of workers were taken only for the purpose of obtaining temporary residence and work permits as well as to prepare the documentation for their vaccination against COVID-19.
"The passports must be returned to the workers as soon as all the necessary permits are collected," the company said. "At any given moment, if there is a need, everyone can come for their passport. There is no talk of having someone's passport confiscated."
BIRN asked additionally about the contracts and the cost of the return trip to Vietnam but received no reply.
There is no official contact number in the Serbian business registry for SICHUAN DINGLONG ELECTRIC POWER ENGINEERING CO. LTD. The email address was either fake or unable to receive emails, according to a message BIRN received from Gmail.
Workers required to rule out protests
At roughly around 700 euros, the wages on offer to the Vietnamese workers are more than four times the average salary in Vietnam.
But to get to Serbia the workers BIRN spoke to said they had to pay more than $2,000 to a Vietnamese intermediary called SONG HY GIA LAI COMPANY LIMITED.
Before travelling, they had to sign a number of documents with the intermediary, so-called 'commitment forms' seen by BIRN.
The forms claim to explain working traditions and laws in Serbia, one of which, it states falsely, is that "strike protests in Serbia are forbidden to everyone."
Workers are required to sign that they "absolutely will not participate in strikes, demonstrations" nor "incite others to strike, protest, or quit."
"In the event I have any complaint [salary, accommodation, job…] I must continue working and at the same time I will file a petition to wait for the Employer to resolve," the document says. "While waiting for the settlement, I still have to work."
Some parts of the forms appear to have been copied from those pertaining to Islamic countries where Sharia law is followed, such as Afghanistan or Saudi Arabia. They claim that anyone caught stealing faces having their hands "cut off by the host country", or their head in the event of murder.
"We did not now Serbian laws when we signed," said Kim. "The company gave us that, so we didn't know anything."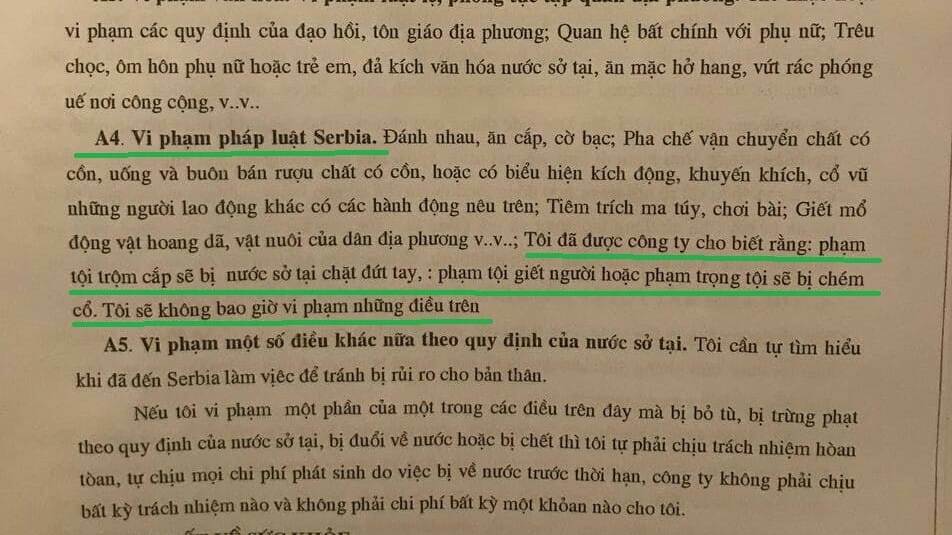 Some parts of the forms written in Vietnamese appear to have been copied from those pertaining to Islamic countries where Sharia law is followed, such as Afghanistan or Saudi Arabia. They claim that anyone caught stealing faces having their hands "cut off by the host country", or their head in the event of murder. Photo: BIRN
In signing the forms, workers also waive any help in covering the cost of their return home in the event they are fired or ask to leave early. "The company does not bear any responsibility for this risk of mine," the forms state.
According to the 'Commitment to Rules' form seen by BIRN, any worker who violates any provision of the agreement and is returned to Vietnam must compensate the company for the costs of obtaining a visa, a residence card and health check, which the company estimates at $4,000, plus cover the cost of the airfare home.
There is also a 'Commitment Not to Escape' form signed by the workers, under which they have to pay 50 million Vietnamese Dong, roughly $2,200, in the event they walk out on their workplace. The penalty is payable within six days and a worker's family member is the guarantor.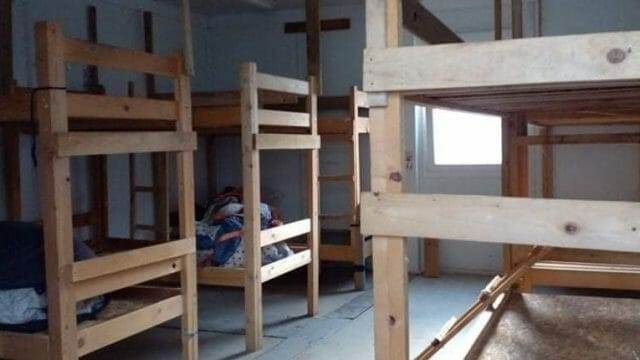 A new, allegedly improved, dormitories being made by Chinese companies for Vietnamese workers. Photo: Private archive/BIRN
Instead of action, political spin
Serbia's government has so far painted the criticism of the Linglong conditions as an attempt to smear Chinese investors and the government itself.
On November 17, the country's Labour Ministry said in a statement that all the workers are legally in Serbia and that the ministry had carried out several inspections of the Linglong site. It made no mention of their contracts and the statement is no longer on the ministry website.
The ministry did not respond to BIRN's questions concerning the findings of this story.
"Bearing in mind that the workers are employed by a company registered in Serbia, there are certainly no obstacles for labour inspectors to exercise their responsibilities fully," said Reljanovic, "i.e. to monitor working conditions and safety at work, as well as the content of the concluded employment contracts."
"Any refusal to do so in circumstances that are known amounts to a tacit renunciation of Serbia's sovereignty in favour of the employer, in this or another case."
According to sources familiar with the case, the state's Centre for the Protection of Victims of Human Trafficking is still to determine whether there is any evidence of human trafficking in this case.
Curcic, of A11, said new evidence was emerging every day "that this is a systematic case of exploitation," and he was scathing of the Serbian state's response.
"They were held in horrible conditions, although they paid to come to Serbia, and there was a whole system of punishments for their alleged wrongdoings," Curcic told BIRN.
"When all this was revealed, the competent state authorities, with practically silent statements, left it to the company to treat the workers as they thought they should. And they just moved them from place to place, restricted their movement, communication with human rights organisations…"
"Instead of initiating appropriate procedures to protect the rights of Vietnamese workers, we have spin from politicians and the institutions of Serbia."
Vietnam does not have an embassy in Serbia that the workers could turn to. They also say they have been banned from speaking to journalists. Officials from the closest Vietnamese diplomatic representation, in Romania, have visited the Linglong site, however.
"We haven't received any new notifications from them yet," said Huu. "They told us to wait. I think they are good people, but restricted from doing anything."