Ratko Mladic Tributes Spark Continuing Discord in Serbia
A banner condemning Ratko Mladic as a war criminal was torn down from a building in the Serbian city of Novi Sad, as a dispute continued to simmer over murals glorifying the Bosnian Serb military chief as a hero.
This post is also available in: Bosnian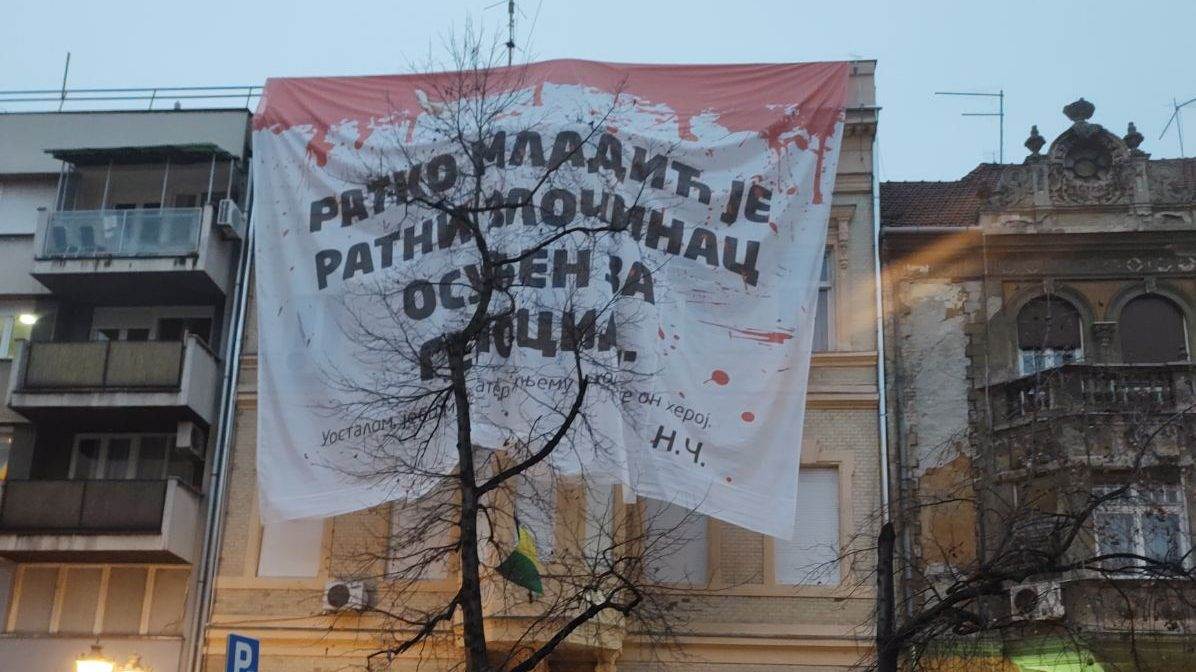 Transparent u Novom Sadu. Foto: Twitter/@XXLTulip.
Unknown perpetrators on Thursday removed a banner with the slogan "Ratko Mladic is a war criminal convicted of genocide" from the building in the Serbian city of Novi Sad which houses the offices of the League of Social Democrats of Vojvodina, LSV political party.
LSV spokesperson Aleksandar Marton said that early in the morning, a group of male right-wing extremists gathered at the building and threw eggs at the banner.
"During the day, around 1pm, they climbed up on the next building and from a terrace, from an area where the banner could be removed, they managed to pull it off and throw it on the ground," Marton told BIRN.
The large banner had been hung on the LSV building amid continuing tensions over murals glorifying Ratko Mladic in the capital Belgrade and other Serbian cities.
Human rights activists have tried to deface or remove the tributes to the Bosnian Serb war criminal, while nationalists have tried to protect them or clean them after they have been painted over.
Marton explained that the LSV put up the banner "because of all of the things that have been happening in Serbia in the last few weeks and the last few years".
"There's a very strong policy of denying crimes and, more importantly, denying court rulings," he said.
Mladic was sentenced to life imprisonment by the UN tribunal in The Hague for genocide and other wartime crimes. But Serbian and Bosnian Serb officials do not accept that the 1995 massacres of Bosniaks from Srebrenica by Bosnian Serb forces constituted genocide.
"We see what is happening in Belgrade, that people who want Serbia to respect those verdicts, to call things by their real names, those people are attacked and are targeted, so our banner was a strong message," Martin added.
Dakle: Rulja je uspela da obori trasparent sa naše zgrade. Policija ga nije zaštitila. Kao ni zastavu stranke. Važno da postoje čuvari murala usranog zločinca u Bg. U Novom Sadu, divljanja su slobodna.
Ko još jednom kaže da su fašizam i antifašizam dva ekstrema … pic.twitter.com/WTlW9PeqFw

— Nenad Čanak (@XXLTulip) November 18, 2021
LSV activists have also defaced murals and graffiti dedicated to Ratko Mladic in the Novi Sad area recently.
Meanwhile the Serbian Interior Ministry said on Thursday that police have "identified and arrested two young men, aged 17 and 18, who threw eggs at the premises of the League of Social Democrats of Vojvodina this morning".
"Misdemeanour charges will be filed against the two young men on suspicion that they committed the misdemeanour of indecent and reckless behaviour," the ministry said in press release.
The disputes over street tributes to Mladic started two weeks ago when Serbian police banned a public gathering organised by activists who wanted to paint over the mural in the Vracar neighbourhood of Belgrade. Two activists were arrested for throwing eggs on it, which caused protests.
Serbia's former prosecutor for war crimes, Vladimir Vukcevic, told N1 TV on Thursday evening that he supports the two activists' gesture.
"They did it in anger over the promotion of Ratko Mladic, who was convicted of ordering the killing of some 8,000 civilians in Bosnia. And the state, which should have provided security for the group of people who registered the gathering, banned it," Vukcevic said.
Other people have tried remove or damage the Mladic mural in the Vracar neighbourhood, but without success. Young, unidentified man in groups gather in front of it every day to protect it.
In the last two days, two more large images have been painted on the wall alongside the mural Mladic, honouring World War II-era Serb Chetnik leader Dragoslav 'Draza' Mihailovic and Zivojin Misic, a prominent Serbian military commander from World War I.