'Watch Out, Sniper' Exhibition Tells Tragic Stories of Sarajevo Siege
A multimedia exhibition created by Paul Lowe uses photography, 3-D models and witness testimonies to explore stories from Sarajevo's 'Sniper Alley' during the 1992-95 siege of the Bosnian capital.
This post is also available in: Bosnian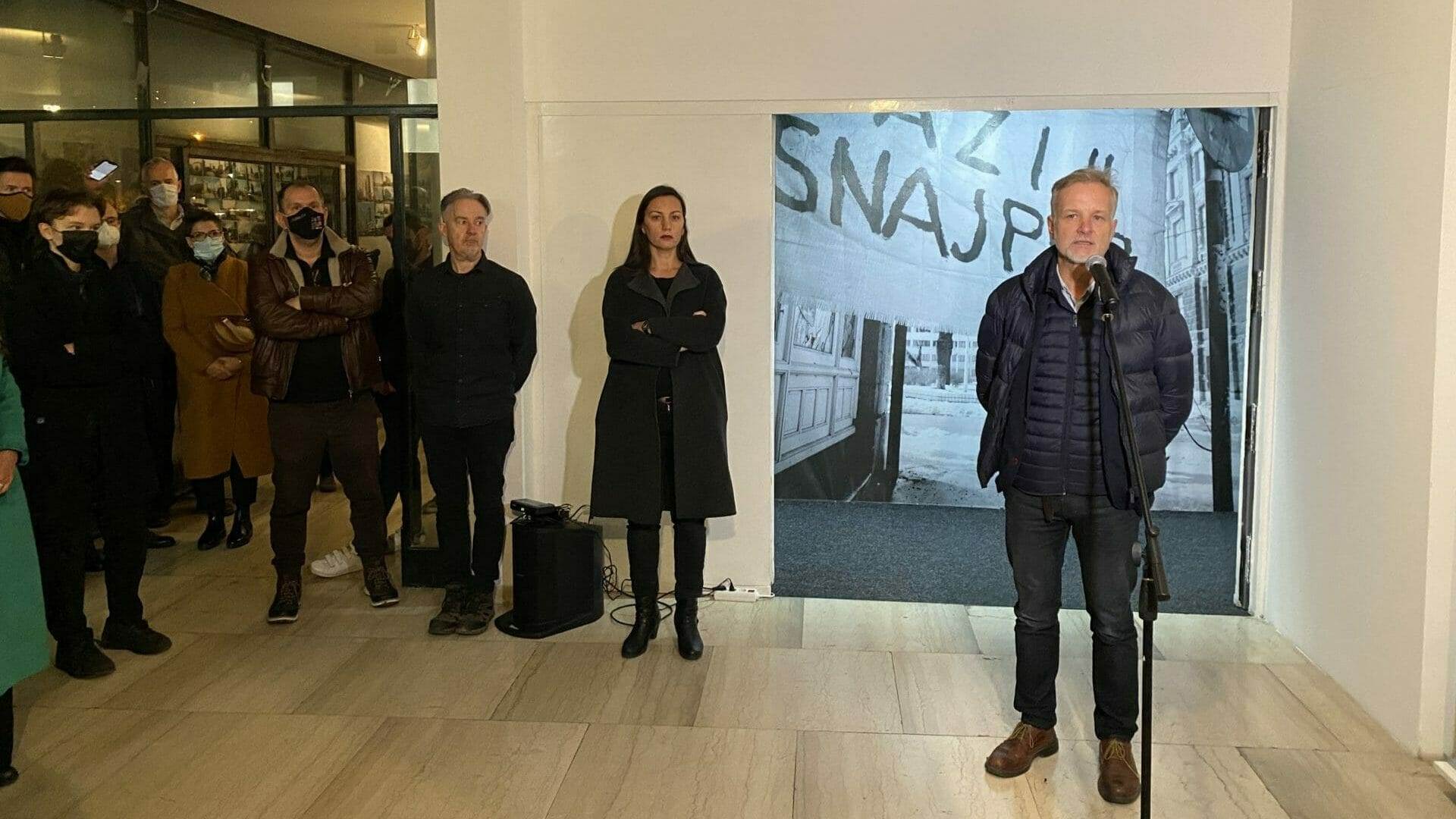 Paul Lowe. Photo: BIRN BiH
"What he talked about as a professional sniper was the tactics of sniping, about the weapons that were used, the sniping locations that the Serb forces used – literally behind this museum – and it's a really chilling account of how a professional sniper looks and how obviously these were deliberate attacks on civilians," Lowe said.
Three-dimensional models in the exhibition reconstruct the area known during the 1992-95 siege of Sarajevo as Sniper Alley, which during the Bosnian war was lined with snipers' posts, making it dangerous for civilians to traverse.
There are also images from the siege by photographers Ron Haviv, Rikard Larma, Paul Lowe, Enric Marti and Gervasio Sanchez, material telling the story of murdered schoolboy Nermin Divovic, and personal items donated by people who were in Sarajevo at the time.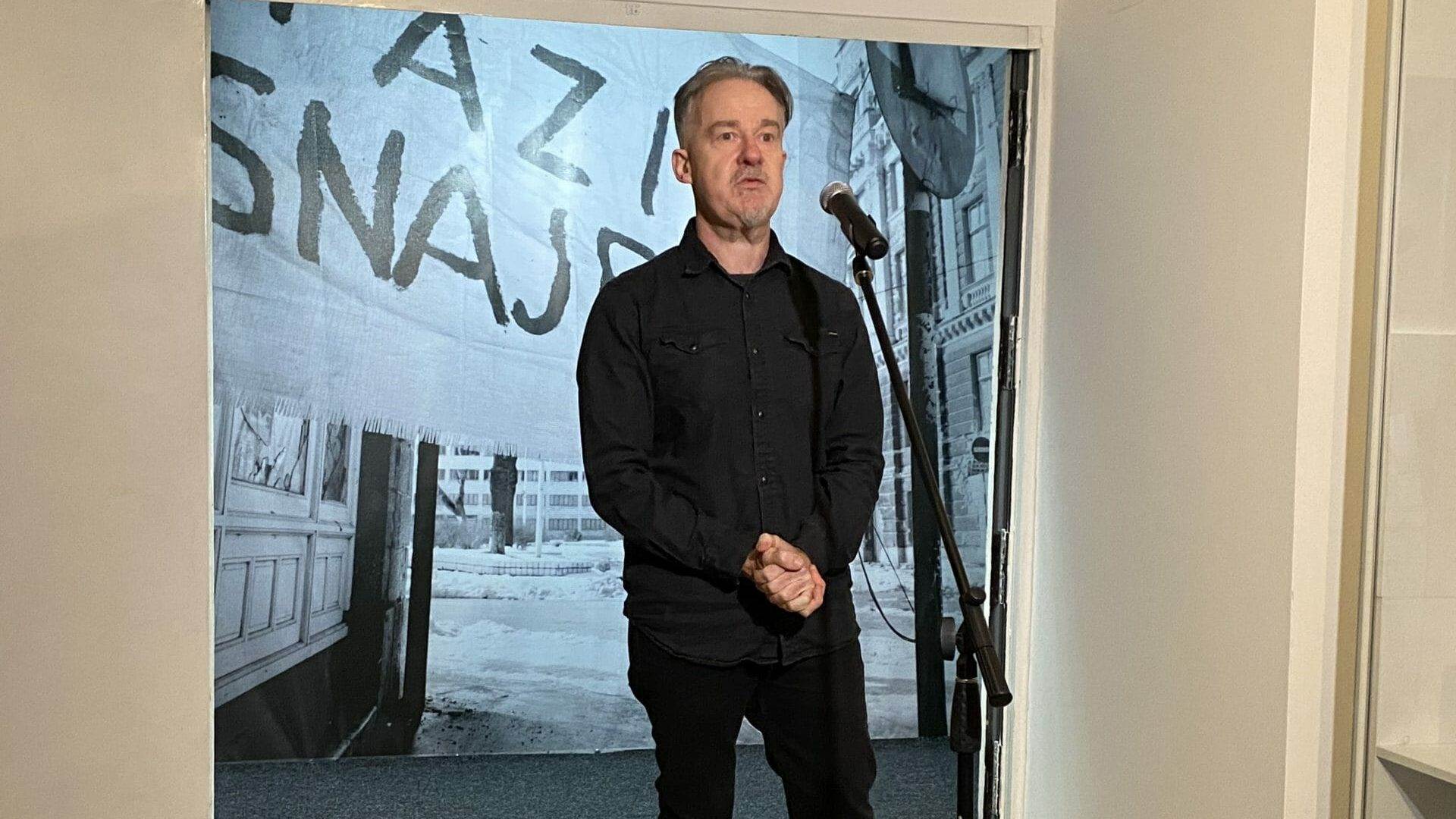 Trevor Gibson. Photo: BIRN BiH
Trevor Gibson, who was deployed as a United Nations officer in Sarajevo, donated the uniform he wore on the day that Divovic was killed.
"The reason I really agreed to pull out my uniform and to donate it to the museum like this is because I think that the museum does an incredible job in keeping at the forefront of people's attention what actually happens when the language of hate is used for the selfish interest of politicians. It ends up with real, normal people being killed," Gibson said.
Nermin Divovic was killed when he and his mother Dzenana Sokolovic were targeted by sniper fire while they were walking home after going to fetch firewood. One bullet hit Dzenana in her stomach, went through her body and hit her son in the head, killing him.
Dragomir Milosevic, who was commander of the Bosnian Serb Army's Sarajevo Romanija Corps in 1994 and 1995, was found guilty by the Hague Tribunal of bearing responsibility for the crime.
Elma Hasimbegovic, director of the Bosnian Historical Museum, said that Nermin Divovic's death was one of the many tragedies that happened in 'Sniper Alley'.
"I think what we are doing today is a kind of a promise that we will take on the task of preserving their memories and making sure, through the museum, that the story about Nermin Divovic will continue to be presented in the right way," Hasimbegovic said.
'Watch Out, Sniper' will be on display at the Historical Museum of Bosnia and Herzegovina in Sarajevo until spring next year.
The exhibition is part of BIRN's Balkan Transitional Justice granting scheme, which aims to encourage professionals in various fields to explore the archives of courts that dealt with war crime trials in the Balkans. It is also supported by the Photography and the Archive Research Centre, University of the Arts London and Foundation VII.