A memorial was unveiled to the mostly Serb victims who were killed in 1992 and 1993 at the Kazani Pit in the hills above Sarajevo on the orders of a Bosniak commander of a Bosnian Army brigade.
This post is also available in: Bosnian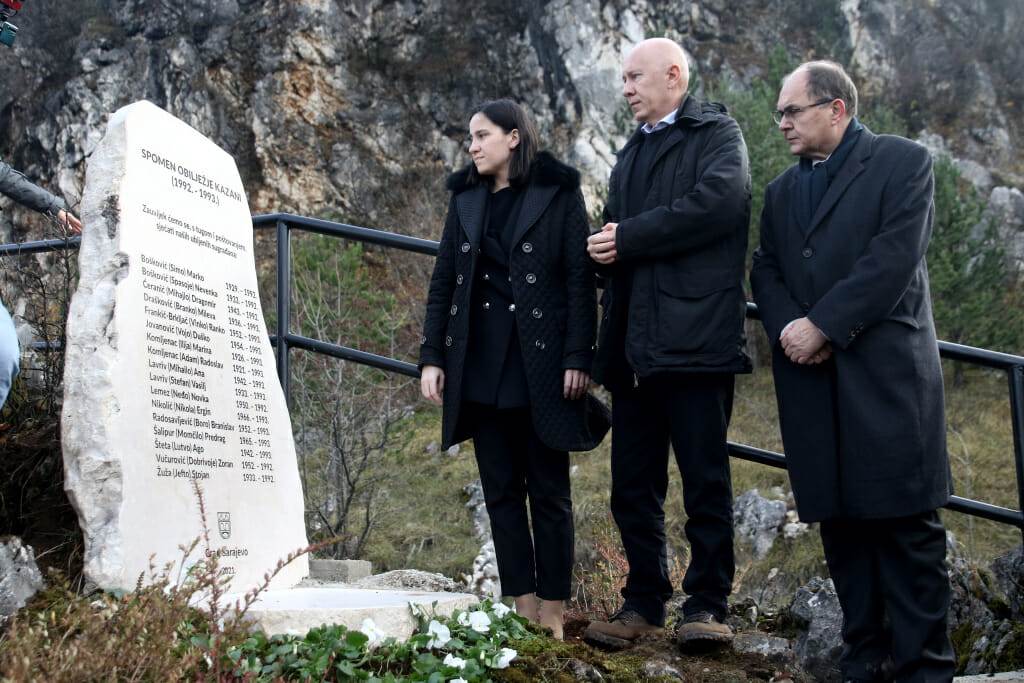 The memorial ceremony at Kazani. Photo: BIRN
Sarajevo mayor Benjamina Karic, accompanied by the top international official in Bosnia and Herzegovina, High Representative Christian Schmidt, and the vice-president of the Federation entity, Milan Dunovic, unveiled the new memorial on Monday and laid flowers next to the Kazani pit where the remains of those killed in 1992 and 1993 were found.
Karic said that all the victims of the 1992-95 siege of Sarajevo deserve respect and a dignified memorial.
"Remembering the victims and honouring them is our civilised duty," she wrote on Facebook.
After the war, the remains of 23 victims were exhumed from the Kazani pit, and 15 of them have been identified so far – two Ukrainians, two Croats, one Bosniak and ten Serbs.
The unveiling ceremony was not attended by families of the victims after a controversy about the wording on the monument, which does not name the killers in its inscription.
The inscription simply says: "We shall forever remember with sadness and respect our fellow citizens who were killed", and lists the names of the known victims.
During and just after the war, 14 members of the Tenth Mountain Brigade of the Bosnian Army were convicted of committing murders at Kazani and failing to report the criminal offence and its perpetrators.
The brigade's commander, Musan Topalovic Caco, was killed in Sarajevo during an attempt to arrest him on October 26, 1993.
Sarajevo City Council has adopted November 9 as a day of remembrance for the Kazani victims, because the exhumations of the victims' remains began on that date. However, this year's commemoration was postponed to Monday due to bad weather conditions.