Serbia Arrests Activists for Egging Ratko Mladic Mural
Police arrested two people for throwing eggs at a mural celebrating Bosnian Serb war criminal Ratko Mladic in the Serbian capital Belgrade, which the authorities have banned activists from removing.
This post is also available in: Bosnian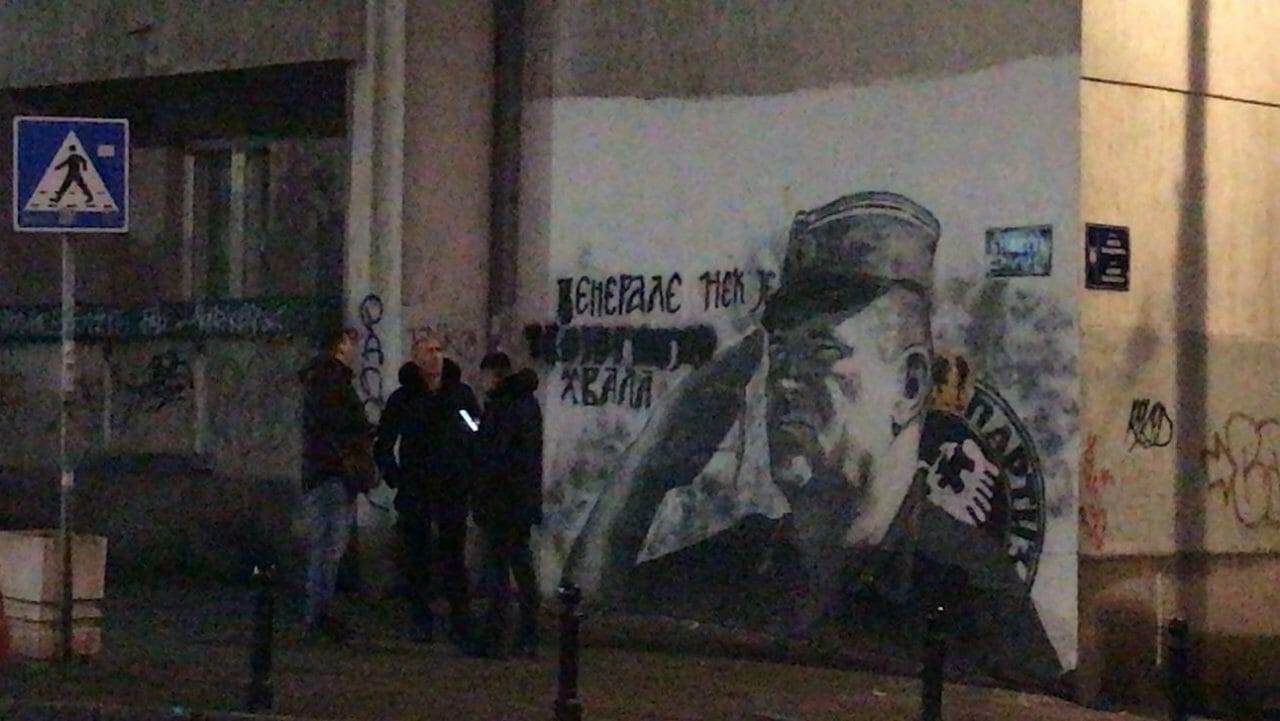 Plainclothes police by the mural of Mladic on Tuesday evening after the arrests. Photo: BIRN.
Serbian police on Tuesday arrested civic activist Aida Corovic and illustrator Jelena Jacimovic for throwing eggs at a mural of Bosnian Serb wartime general Ratko Mladic on the wall of a residential building in Belgrade.
According to video posted on Facebook by journalist Jelena Dikovic of newspaper Danas, plainclothes police officers grabbed the two women and arrested them immediately.
Police had been guarding the mural throughout the day, and according to local media, checking anyone who approached it.
The Serbian Interior Ministry insisted however that "we are not securing the mural, we are securing public peace and order".
The ministry had already banned activists from the Youth Initiative for Human Rights, a Belgrade-based NGO, from holding a public gathering on Tuesday to paint over the mural.
The ministry said in its decision on Friday that it "there may be a gathering of a large number of people who would express dissatisfaction and opposition to holding a public gathering organised by the Youth Initiative for Human Rights, which is why there is a danger of mutual physical conflict and public disorder on a larger scale". The NGO filed a lawsuit against the ministry to contest the ban.
According to Serbian media, the mural of Mladic appeared on July 23 on the wall of a residential building in the Vracar municipality, near the city centre.
A slogan on the mural says: "General, your mother should be thanked."
The building's residents tried to get municipal utility companies to remove it, but they did not.
In June this year, the Mechanism for International Criminal Tribunals in The Hague upheld Ratko Mladic's life sentence for the genocide of Bosniaks from Srebrenica, the persecution of Bosniaks and Croats across the country during the war, terrorising the population of Sarajevo with a campaign of shelling and sniping during the siege of the city, and taking UN peacekeepers hostage.