Psychoanalyst Wiola Rebecka says her new book about sexual assault during wartime highlights how rape survivors in Kosovo felt afraid to tell anyone about what happened to them, prolonging the trauma that they suffered.
This post is also available in: Bosnian
Shyhrete Tahiri-Sulejmani is recalling the moment in April 1999 during the Kosovo war when Serbian soldiers, with their faces covered, entered her home and started to rape her, as her two daughters looked on.
"From that day, I stopped cooking chicken. Looking at a naked, exposed chicken, the smell of its rawness, reminds me of the day I was raped. Even now, the scent haunts me… I still feel dirty and ashamed."
Tahiri-Sylejmani is one of the few Kosovo Albanian survivors of wartime sexual violence to have spoken out publicly about her ordeal. She followed the example of Vasfije Krasniqi-Goodman, who gave a televised interview in 2018 about how she was raped by Serbian policemen when she was 16 years old. Krasniqi-Goodman, who is now an MP, was credited as opening up discussion about the issue of wartime sexual violence in Kosovo.
Tahiri-Sylejmani gave her account to psychoanalyst Wiola Rebecka for her recently-published book, 'Rape: A History of Shame', a poignant chronicle of sorrow, stigma, trauma, post-traumatic stress disorder, transgenerational trauma and survivor syndrome. The book contains the stories of women who were raped during conflicts in various countries, including Kosovo.
Thousands of women are believed to have been victims of sexual violence inflicted by Serbian forces during the Kosovo war of 1998-99, which NATO brought to an end with a 78-day bombing campaign that ended President Slobodan Milosevic's repressive rule over what was then a Yugoslav province.
Rebecka, who is based in New York, has worked as a therapist in several conflict-affected countries – Rwanda, the Democratic Republic of Congo and Kosovo. "My work in the field as a therapist in different zones of conflict has brought me the opportunity to listen to war rape survivors' experiences," she told BIRN during a visit to Pristina.
"The images and ideas associated with rape are so intense and disturbing because we don't have the language to describe cruelty, and every rape during a war is an act of cruelty," she said.
She added that the book shows that there is something unique about the situation in Kosovo. "Based on the terrifying and previously unspeakable stories of the victims, it is clear that the climate created after the war in Kosovo, trying to hide rape or make silent victims of rape, caused irreparable damage," she explained.
'Rape was the cheapest weapon of war'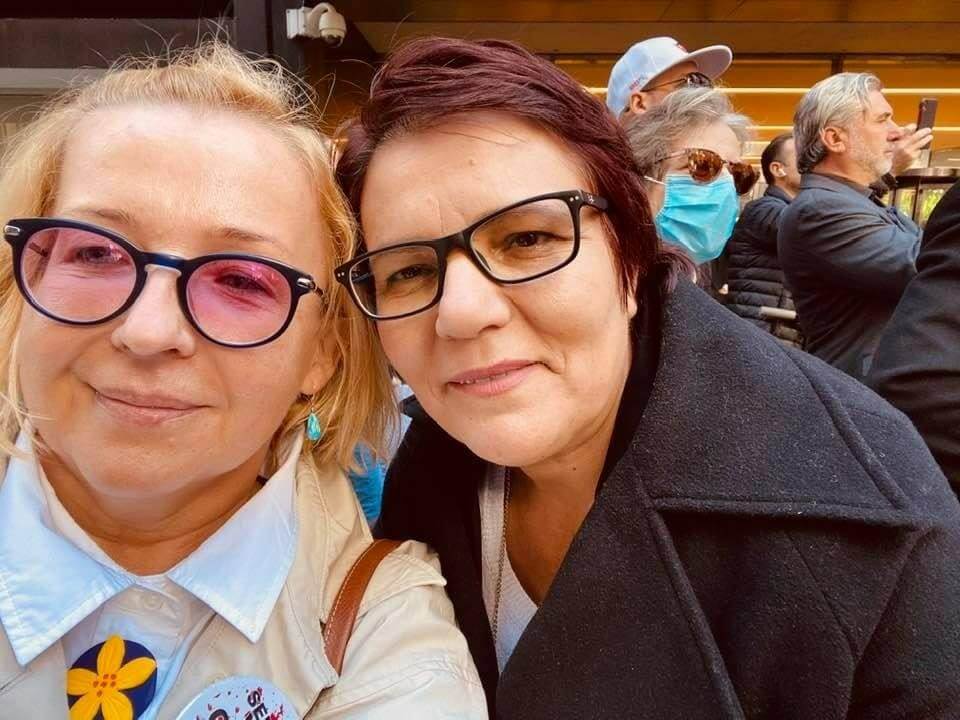 Wiola Rebecka and wartime rape survivor Shyhrete Tahiri-Sulejmani. Photo courtesy of Wiola Rebecka.
Rebecka, who is a descendant of Holocaust survivors, said that she is still dealing with intergenerational trauma inherited from her grandmother, who was raped during by drunken Russian soldiers during the liberation of the Nazi concentration camp in Ravensbruck in Germany.
"Transgenerational trauma can be seen within families where parents were traumatised, and the effects of that trauma are reverberating across generations," she said.
This can also be seen in Kosovo, she continued: "Rape was the cheapest and strongest weapon of war in Kosovo and, unfortunately, the most effective. After rape, the victim, the family of the victims and society grapple with the long-term consequences of these acts that were beyond humiliation."
She said that in Kosovo, most victims have held on to their pain in silence, alone, and their traumas have not been processed openly yet. Very few wartime rape survivors in the country have spoken out about what they suffered due to the continuing social stigma attached to sexual crimes and the fear of ostracisation by their families and communities.
"Survivors tend to struggle to find a way to tell the indescribable, and sometimes it causes a chain of problems," Rebecka said.
In February 2018, the Pristina government's Commission to Recognise and Verify Survivors of Sexual Violence during the Kosovo War began receiving applications from people seeking the official status of survivor of wartime sexual violence.
Being granted this status not only bestows official recognition of a victim's suffering, but also makes them eligible for welfare benefits, such as monthly payments of 230 euros.
But many survivors have been hesitant to apply because of the fear of stigmatisation. So far there have been 1,680 applications, of which 984 have been accepted. But more than 220 have been rejected, often because of a lack of supporting documents, showing how difficult it can be to establish facts about assaults that happened more than 20 years ago.
"What society faces here in Kosovo is still the challenge of understanding the complexity of war rape survivors' emotional and social experiences, as well as the trauma that they were struggling with," Rebecka said.