Balkan States Scramble to Evacuate Stranded Citizens From Afghanistan
Governments in the Balkans are closely monitoring the unfolding situation in Kabul and making plans to ensure the safe evacuation of remaining nationals from the aiport, which Turkish troops are helping to guard.
This post is also available in: Bosnian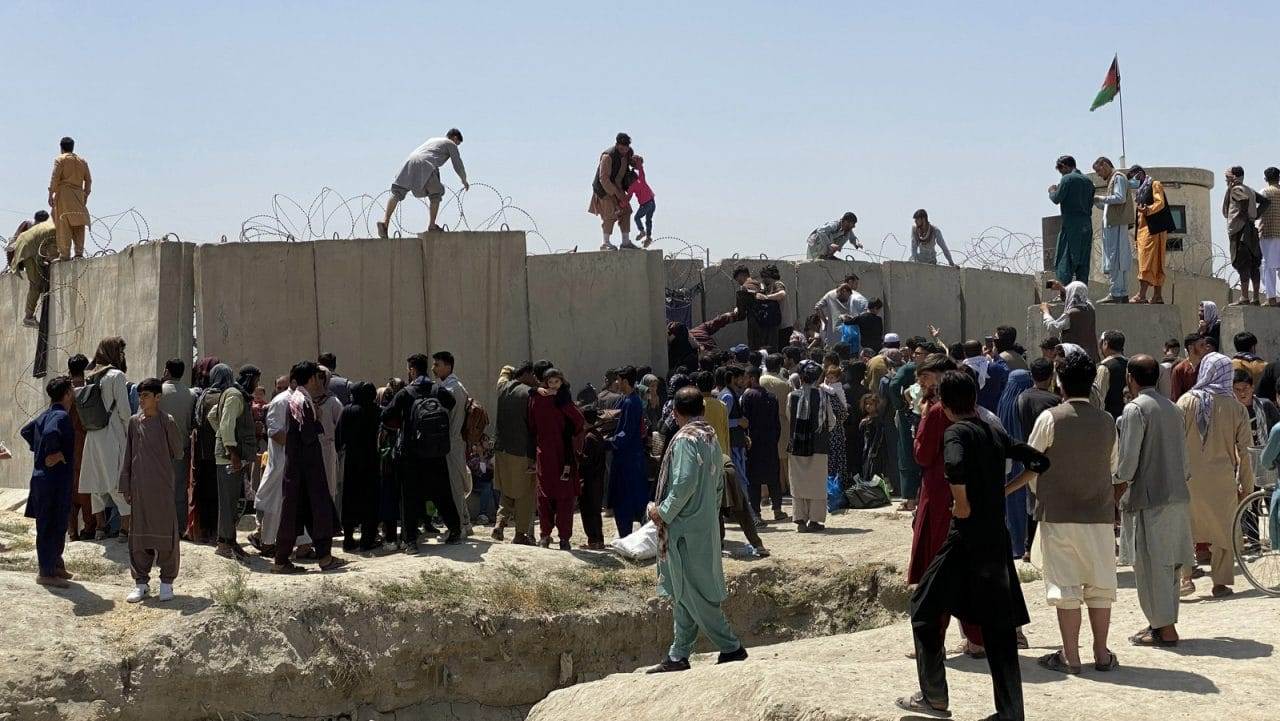 People struggle to cross the boundary wall of Kabul International Airport to flee the country, after Taliban took control of Kabul, Afghanistan, 16 August 2021. Photo: EPA-EFE/STRINGER
Balkan governments say they are ready to help evacuate their remaining citizens from Afghanistan after Taliban forces seized control of Kabul over the weekend and as the United States pulls out its remaining forces. Most Balkan nationals still in the country are presumed safe.
North Macedonia said it is working to ensure the return of some 100 nationals from Afghanistan, mostly employees in private companies, adding that it believes all these people are safe for now.
It said that while several relatives of these people had called the government, no one has yet asked for its help with evacuation, which suggests that most of them will get out on flights organised by their companies.
On Sunday, Foreign Minister Bujar Osmani talked to his Turkish Counterpart, Mevlüt Çavuşoğlu, after which he said Turkey was ready to help with evacuations if need be. Turkish troops are guarding Kabul airport.
Turkey itself has the highest number of foreigners in the country after the US and is also one of the few countries that has not closed its embassy.
On Monday, Turkish Airlines said a plane was on its way to Kabul to evacuate 324 Turkish citizens. Turkey has meanwhile sent 600 soldiers to protect the airport. There are also Turkish police and gendarmerie in Kabul.
The Turkish foreign ministry last night asked all remaining civilians in the country to communicate with the embassy on evacuation plans.
The charge d'affaires of Serbia's embassy in India, which also covers Afghanistan, Sinisa Pavic, on Sunday said no Serbian citizens had asked for evacuation from Afghanistan, though on Monday he said three of them now want to flee the country.
"As of this morning, we have information about three of our citizens who are in Afghanistan. We are in permanent contact with them and are working on their emergency evacuation, given the dramatic situation in Kabul," Pavic told Tanjug news agency.
Two Serbian citizens told N1 television that they are in contact with the Serbian embassy in India and that there is one other female citizen in Kabul.
Serbia's Foreign Ministry did not respond to BIRN's query about the total number of Serbian citizens in Kabul or about the plans about their evacuation.
Kosovo's Foreign Ministry said it had set up a helpline number (+38345492316) where citizens can be informed about evacuation guidelines. It has not said how many Kosovo citizens are in Afghanistan.
"The Kosovo government is working … on the identification of Kosovo citizens who are there [in Afghanistan] and providing help for evacuation," the ministry said, adding: "Together with our international partners, we are using all ways and means to enable a safe evacuation for everyone."
Croatian Prime Minister Andrej Plenkovic on Sunday said about 20 to 30 Croatian nationals remained in Afghanistan but that their employers had organised their return.
Foreign Minister Gordan Grlić-Radman on Monday said that, "the evascuation of our people is under way", while media reported that seven Croat nationals had arrived in Doha.
Some reportedly managed to get out on a Ukrainian plane on Monday.
"Ukrainian aircraft stationed in Afghanistan took citizens of Ukraine, the Netherlands, Croatia, Belarus, Afghanistan out of Kabul. They're safe now," Ukraine's Foreign Minister, Dmytro Kuleba, wrote on Twitter on Monday.
Bosnia and Herzegovina has said that its embassy in Pakistan, which also covers Afghanistan, has received information about five citizens in Afghanistan.
According to its information, they are all in the vicinity of Kabul airport and for now their lives are not in danger. Bosnia's Foreign Ministry said these citizens had been promised evacuation by their firms.
Romania's government urged all remaining nationals to return home last Friday. Some 60 Romanians are believed to be still in the country. The government has not issued any update since then, or disclosed any plans for their safe return.
Moldova's Foreign Ministry told BIRN that some nationals had requested help with evacuation from Afganistan. It would be "fully involved in evacuating Moldovan citizens by ensuring coordinated communication through diplomatic channels with partner countries that have a diplomatic representation in Kabul", the press office said.
Moldovan diplomats are reportedly in contact with counterparts from Romania and Ukraine, if need be, to assist Moldovan citizens. The last Moldovan aircraft operating in Afghanistan left the country on Sunday after the Taliban took control. According to the Moldovan Civil Aviation Authority, only one Moldovan aircraft contracted by the UN is still at the airport in Kabul.
Montenegro's Foreign Ministry on Monday said no Montenegrins citizen had asked for evacuation assistance from Afghanistan. It said anyone in need of help should contact the Serbian embassy in Delhi. Bulgaria and Albania have not issued any information on possible evacuation of remaining citizens from Afghanistan.
The Taliban took over Afghanistan's capital on Sunday and declared the long civil war over. The US-backed government has collapsed. Many countries, led by the United States are evacuating people from Kabul airport.