The recently-published verdict in the trial of wartime Serbian security chiefs Jovica Stanisic and Franko Simatovic shows how despite its denials, the Serbian state supported fighting units that committed crimes during the wars in Croatia and Bosnia.
This post is also available in: Bosnian
The first, the ruling that sentenced wartime Bosnian Serb Army chief Ratko Mladic to life in prison for genocide and other crimes, grabbed more of the headlines. The second, in the case of senior wartime Serbian State Security officials Jovica Stanisic and Franko Simatovic, received less coverage but was also highly significant.
The Stanisic and Simatovic verdict, which was finally published in full last week, was the first-ever conviction of top Serbian wartime officials for crimes during the wars that broke out during the break-up of Yugoslavia.
The verdict also confirmed more details that establish connections between Serbia, as a state, and the conflicts in Croatia and Bosnia and Herzegovina in the early 1990s. Serbia has long denied any direct involvement.
The UN's International Residual Mechanism for Criminal Tribunals sentenced Stanisic and Simatovic to 12 years in prison each for aiding and abetting crimes committed by a State Security Service special fighting unit in the Bosanski Samac area during the Bosnian war in 1992, but acquitted them of responsibility for other crimes committed by Serb units elsewhere in Bosnia and in Croatia.
This was a first-instance verdict, and Stanisic and Simatovic can appeal. However, the ruling confirmed that Serbia was involved, mainly through its police and security services, in the conflicts in Croatia and Bosnia and Herzegovina, and that Serbian President Slobodan Milosevic was part of the criminal enterprise to oust Croats and Bosniaks from parts of both countries.
It also confirmed, for the first time in an international court verdict, some of the crimes committed in both countries by Serbian warlord Zeljko 'Arkan' Raznatovic and his paramilitaries.
Natasa Kandic, the founder of the Belgrade-based Humanitarian Law Centre, said the verdict gave the clearest picture so far of Serbia's role in crimes in both wars.
"Now, for the first time, it is clear that Serbia has been declared responsible for the crimes that were committed related to the removal of Croats and Muslims from parts of Croatia and Bosnia," Kandic told BIRN.
A joint criminal enterprise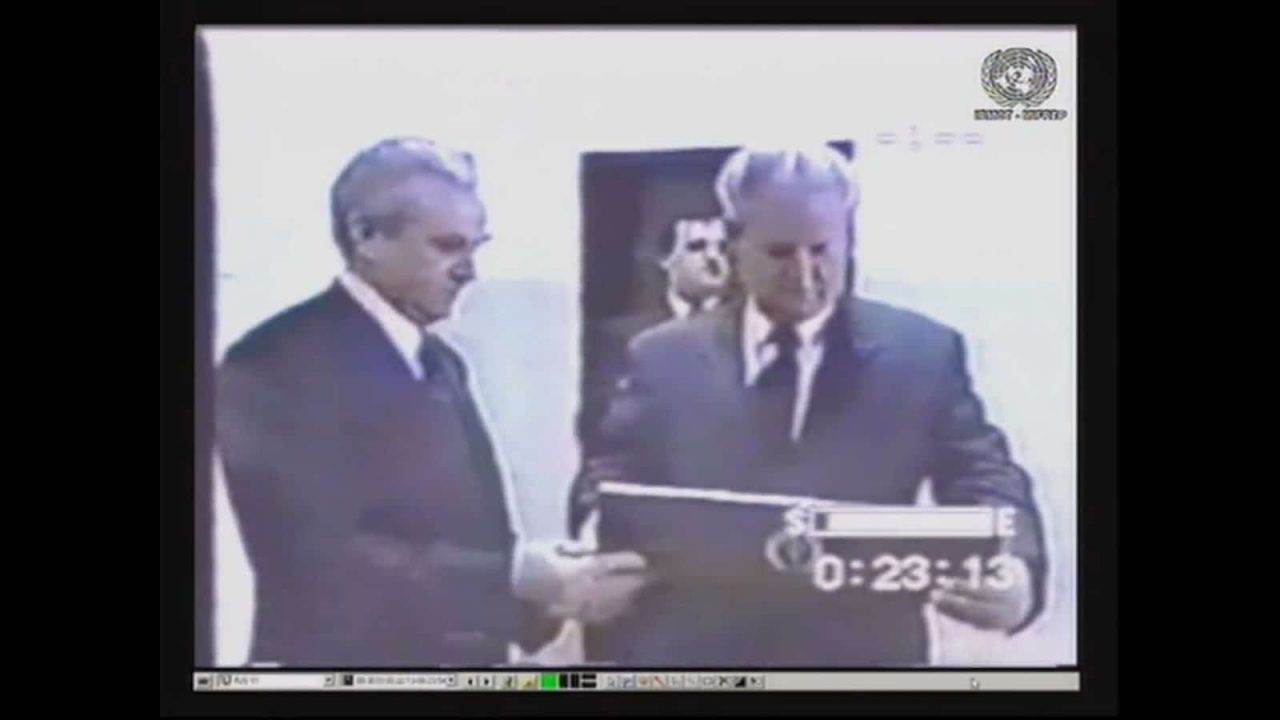 Video image showing Jovica Stanisic (left) and Slobodan Milosevic at the State Security Special Operations Unit centre in Kula, Serbia in 1997. Screenshot: MICT.
The verdict said that "from at least August 1991 … a common criminal purpose existed to forcibly and permanently remove, through the commission of the crimes of persecution, murder, deportation and inhumane acts (forcible transfers), the majority of non-Serbs, principally Croats, Bosnian Muslim and Bosnian Croats, from large areas of Croatia and Bosnia and Herzegovina".
Starting with an attack by Serb forces on the Croatian village of Kijevo in August 1991, it said that "a clear pattern emerges of crimes and acts of violence committed by Serb forces … resulting in the mass exodus of the non-Serb population from the area".
During and after such attacks by Serb forces in Croatia, "Croat property was looted, houses were torched, churches and schools were destroyed, and Croat civilians were mistreated, detained, beaten, expelled, or killed… Villages were razed to the ground and emptied of their Croat residents," the verdict said.
The court said that a similar pattern of violence could be seen in other parts of Croatia, and continued during Serb forces' takeovers of the municipalities of Bijeljina, Zvornik, Bosanski Samac, Doboj, and Sanski Most in Bosnia and Herzegovina in the spring of 1992.
What the court described as a "common criminal purpose" was shared by the senior political, military, and police leadership in Serbia, the rebel Croatian Serb leaderships of the Serbian Autonomous Oblast of Krajina and Republic of Serbian Krajina, and of the Serb-led Republika Srpska area of Bosnia.
Among those named as participants in what the court called a joint criminal enterprise were Serbian President Slobodan Milosevic, Bonsian Serb political leaders Radovan Karadzic, Momcilo Krajisnik and Biljana Plavsic, Croatian Serb leaders Goran Hadzic and Milan Martic, plus Mladic, Arkan and others.
Kandic noted that this represents a change from the verdicts in the trials of Mladic and Karadzic for wartime crimes in Bosnia and Herzegovina "because there were no officials [from Serbia] among the participants in the joint criminal enterprise" named in those rulings.
But a court statement issued after the Stanisic and Simatovic verdict made it clear that there were Serbian officials "who shared the intention to organise the removal of non-Serbs from certain territories of Croatia and Bosnia", she said.
She argued that "now Serbia is in the same position in which Croatia found itself with the verdict against Prlic". The Hague court's verdict convicting Jadranko Prlic and five other political and military officials of the unrecognised wartime Croat-led statelet of Herzeg-Bosnia established that the Croatian state was implicated in crimes committed during the Bosnian war.
Support for Croatian Serb rebels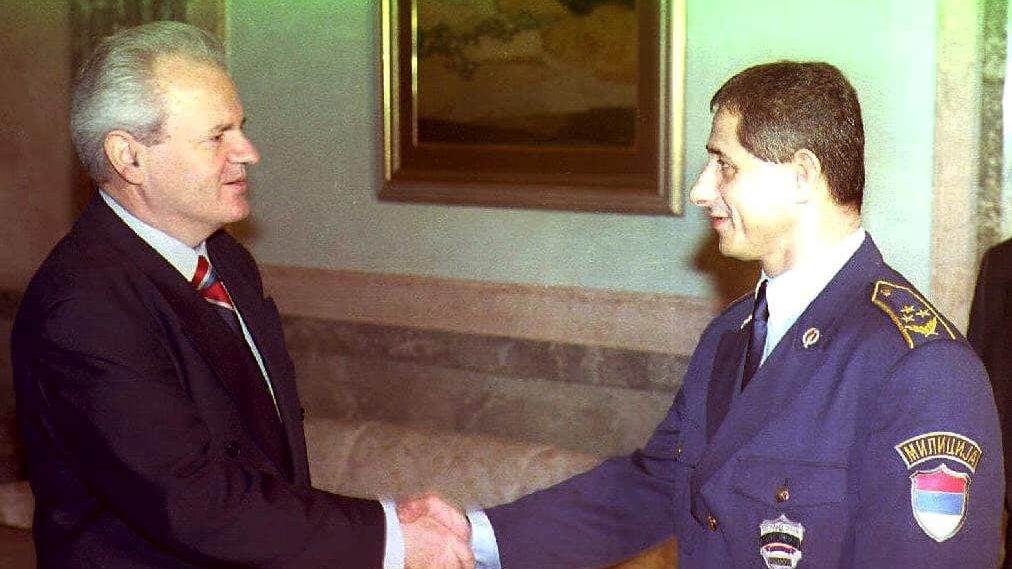 Slobodan Milosevic (left) with Serbian Deputy Interior Minister Radovan 'Badza' Stojicic in Belgrade in 1997. Photo: EPA-PHOTO/STR/
The verdict said that Serbian State Security Service chiefs Stanisic and Simatovic set up a special fighting unit by August or September 1991 from recruits who were trained at Golubic in Croatia.
Golubic served as a training base for several hundred local Serb police, territorial defence fighters and volunteers from May to end of July or early August 1991, it added. The main instructor was a Serb called Dragan Vasiljkovic, known as Captain Dragan, and some other instructors were operatives or employees of Serbian State Security.
Iva Vukusic, a lecturer at the Centre for Conflict Studies at Utrecht University in the Netherlands, told the Justice Info website that the verdict illuminated Serbia's tactics in supporting armed Serb units outside its borders.
"You create plausible deniability, this idea that you outsource violence to actors that are seemingly independent in order to stay far away from it and say: 'We have nothing to do with it,'" Vukusic said.
The verdict found that Stanisic and Simatovic both aided the Serbian Autonomous Oblast of Krajina, a rebel Serb entity within Croatia that existed from December 1990 to December 1991 and opposed the Croatian authorities' attempts to win independence from Yugoslavia.
The court said that both defendants were involved in providing the Croatian Serb rebel police of the Autonomous Oblast of Krajina with "weapons, communication equipment, and some limited technical assistance" to use in their fight, as well as some financial support, and that Stanisic exerted influence over its leader, Milan Martic.
Serbia was also involved in establishing and assisting a second entity that was set up by rebel Serbs within Croatia, the Serbian Autonomous Oblast of Eastern Slavonia, Baranja and Western Srem, the court found, but through the Serbian Interior Ministry's Public Security Service rather than through the State Security Service.
"The evidence indicates that the driving force behind the formation of the SAO SBWS [Serbian Autonomous Oblast of Eastern Slavonia, Baranja and Western Srem] Territorial Defence was Badza [Radovan Stojicic] who, throughout the period of 1991 to 1995, belonged to the Serbian Public Security Service," the verdict said.
But it cautioned that the court was "not satisfied beyond reasonable doubt that there is sufficient evidence to suggest that Stanisic was Badza's superior or had the authority to issue orders to him".
The court established that on August 5, 1991, Badza arrived in the Serbian Autonomous Oblast of Eastern Slavonia, Baranja and Western Srem "as a representative of the Serbian Public Security Service" and that Croatian Serb rebel leader Goran Hadzic appointed him as the commander of the entity's Territorial Defence.
Confirmation of Arkan's crimes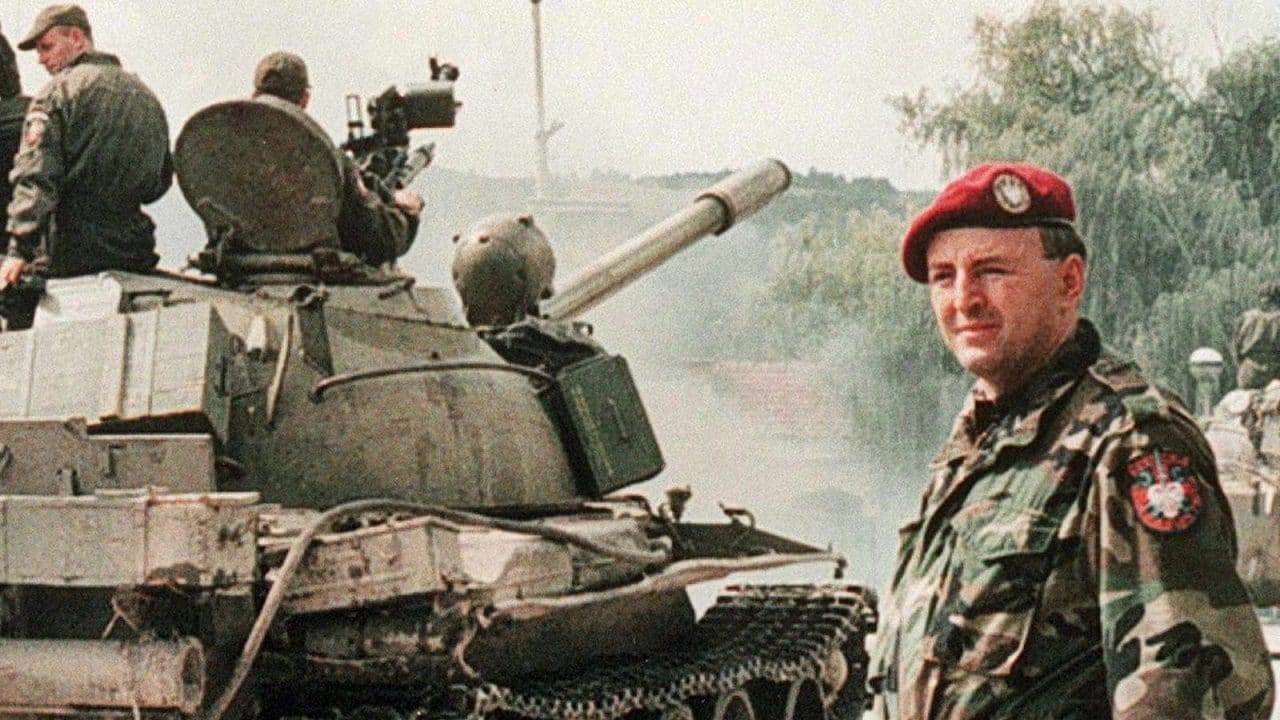 Zeljko 'Arkan' Raznatovic in Sanski Most in Bosnia in September 1995. Photo: EPA PHOTO/FILES.
As well as Badza, another well-known figure arrived from Belgrade to aid the Serbian Autonomous Oblast of Eastern Slavonia, Baranja and Western Srem – Arkan and his Serbian Volunteer Guard, a notorious paramilitary unit also known as Arkan's Tigers.
The court said it had been proven "beyond reasonable doubt" that the Tigers killed 57 non-Serb civilians in the Croatian villages of Dalj and Erdut between September and December 1991. The crimes were committed with the participation of Goran Hazdic and other members of the local Croatian Serb Territorial Defence force.
The verdict further confirmed that Arkan's men participated in the three-month siege of the Croatian town of Vukovar in 1991. Following the attack on Vukovar, Yugoslav People's Army troops, Croatian Serb rebel Territorial Defence fighters and Arkan's paramilitaries then "killed, expelled, arbitrarily arrested and detained non-Serbs, and looted their property".
It also said that Arkan's men then went to Bosnia and Herzegovina "and joined certain local Serbs in Bijeljina to forcibly take control over the town and, in the process, killed at least 48 civilians, mostly non-Serbs".
After Bijeljina fall, they continued, together with other paramilitary units and local Serb forces "to engage in criminal activities, such as lootings, rapes, mistreatment, and killings of non-Serbs in the municipality, causing many non-Serbs to flee". The Tigers' participation in an attack on Zvornik in April 1992 was also confirmed.
Arkan was indicted in 1997 for killing over 60 people in Sanski Most in Bosnia and Herzegovina in September 1995, but was shot dead in Belgrade in January 2000 before the case ever reached court.
The Tigers' crimes had been listed in the Hague prosecution's indictments of Milosevic and Hadzic, but both men died before the verdicts in their trials. The judgment in the Stanisic and Simatovic case saw the crimes confirmed by an international court verdict for the first time.
Proving Serbia's role in Bosnia and Herzegovina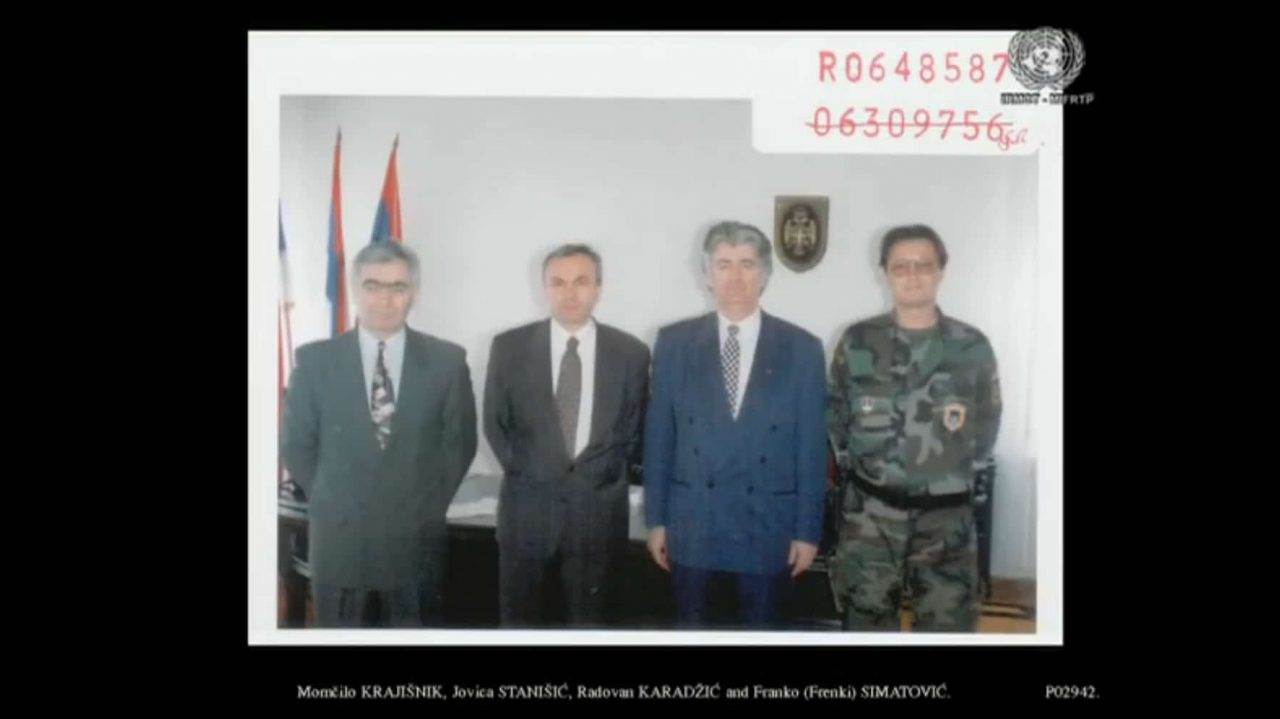 A 1990s photograph of Momcilo Krajisnik, Jovica Stanisic, Radovan Karadzic and Franko Simatovic that was shown in court during closing arguments in the trial in April. Photo: MICT.
The only specific crimes for which Stanisic and Simatovic were convicted happened after the takeover of Bosanski Samac in Bosnia and Herzegovina by Serb forces in April 1992.
Kandic said that the verdict confirmed that the Red Berets and White Eagles units were involved in the crimes and that the judges made it "completely clear that they come from Serbia and that they are police units of the Republic of Serbia".
The verdict also noted that the crimes in Bosanski Samac "did not occur as an isolated incident, but formed part of a pattern of crimes accompanying the takeover of territory by Serb forces in Bosnia and Herzegovina".
Stanisic and Simatovic "were undoubtedly aware of the campaign of forcible displacement targeting non-Serbs in Croatia and Bosnia and Herzegovina and of the shared intent of the members of the joint criminal enterprise", it said.
The court found that they were "responsible for aiding and abetting the crimes of persecution, murder, deportation, and forcible transfer committed by Serb forces in Bosanski Samac".
Further establishing their involvement in the Bosnian conflict, the verdict said that Stanisic was "in direct and frequent contact" with Bosnian Serb leader Radovan Karadzic in 1991 in the lead-up to and after the establishment of Republika Srpska, and that "in some instances, Stanisic facilitated contact between Karadzic and Milosevic".
Serbian State Security was well-informed about what was going on in both the Bosnian and Croatian wars, the judgment explained, and "had access to a vast amount of information about events on the ground in Croatia and Bosnia and Herzegovina, including on the commission of crimes".
It quoted an intercepted conversation from January 1992, when Stanisic was recorded telling Karadzic: "I don't know how much you know, but we know everything."
Establishing the facts about Serbia's involvement through admissions like this by its security chiefs, Stanisic and Simatovic, could prove to be the verdict's most significant legacy.
Verdict confirms victims' names
The verdict in the trial of Jovica Stanisic and Franko Simatovic included the confirmed names of victims of war crimes that were committed in a series of locations in Croatia and Bosnia and Herzegovina from 1991 to 1995:
Dubica (Croatia), October 21, 1991
Veronika (Vera) Stankovic, Pavao Kropf, Barbara Kropf, Ruza Dikulic, Sofija Dikulic, Stjepan Dikulic, Ana Dikulic, Anka Piktija, Ivan Trninic, Terezija Trninic, Nikola Loncaric, Marija Djukic, Antun Svracic, Marija Svracic, Josip Antolovic, Juraj Feric, Kata Feric, Anka (Ana) Feric, Marija Delic, Katarina Vladic, Mara Soric, Mijo Covic, Reza Krivajic, Antun Krivajic, Stjepan (Stefo) Sabljar, Antun Djurinovic, Josip (Jozo) Karanovic, Marija Jukic, Ivan Kulisic, Terezija (Reza) Alavancic, Katarina Alavancic, Antun Djukic, Antun Mucavac, Filip Jukic, Ivo Pezo, Sofija Pezo, Ivo Trninic, Kata Trninic, Marija [estic, Ana Tepic, Dusan Tepic, Marija Batinovic, and Mijo Krnic.
Poljanak, Vukovici, Lipovaca and Saborsko (Croatia), August to November 1991
Milan Loncar, Ivan (Ivica) Loncar, Ivica Vukovic, Nikola Vukovic, Vjekoslav Vukovic, Lucija Vukovic, Milka Vukovic, Dane Vukovic (son of Polde), Dane Vukovic (son of Mate), Josip (Joso) Matovina, Nikola Matovina, Nikola Vukovic, Franjo Brozincevic, Marija Brozincevic, Katarina Cindric, Mate Brozincevic, Mirko Brozincevic, Mira Brozincevic, Roza Brozincevic, Milan Bicanic, Ivan Vukovic, Nikola Bicanic, Juraj Strk, Jure Vukovic (born in 1929), Jure Vukovic (born in 1930), Petar Bicanic, Jeka/Jela Vukovic and Ana Bicanic.
Skabrnja, Nadin (Croatia), November 18 and 19, 1991
Stana Vickovic, Josip Miljanic, Krsto Segaric, Vice Segaric, Lucia (Luca) Segaric, Joso Brkic, Marija Brkic, Marko Brkic, Zeljko Curkovic, Mile Pavicic, Petar (Peso) Pavicic, Ljubo Perica, Ivan Razov, Kata (Soka) Rogic, Grgica (Maja) Segaric, Rade Segaric, Jozo Miljanic, Slavka Miljanic, Ilija Razov, Petar Juric, Niko Pavicic, Josip Perica, Jela Razov, Nikola Rogic, Mara Zilic, Roko Zilic, Grgo Juric, Tadija Zilic, Ante Razov, Vladimir Horvat, Gaspar Perica, Ivica Segaric, and Marko Rogic.
Bruska (Croatia), December 21, 1991
Sveto (Svetozar) Draca, Draginja (Drasa) Marinovic, Dragan (Josip) Marinovic, Dusko (Dusan) Marinovic, Ika Marinovic, Krsto (Krste) Marinovic, Masa (Manda) Marinovic, Petar Marinovic, Roko Marinovic, and Stana Marinovic.
Dalj (Croatia), September 21, 1991
Zoran Andjal, Haso Brajic, Zeljko Filipcic, Ivan Forjan, Darko Kusic, Cedomir Predojevic, Drazen Stimec, Ivan Zelember, Pavo (Pavao) Zemljak, and Vladimir Zemljak.
Dalj (Croatia), October 4 to 5, 1991
Erne (Ernest) Baca, Josip Balog, Mile Grbesic, Elvis Hadzic, Rudolf Jukic, Ivica Krkalo, Iles Lukac, Franjo Mesaric, Josip Mikec, Pero (Petar) Milic, Zvonko Mlinarevic, Vinko Oroz, Pero Rasic, Djordje Radaljevic, Karlo Raic, Zlatko Rastija, Ranko Soldo, Stanislav Strmecki, Pavo Sarac, Tibor Siles, Mihaljo Simun, Janos Siles, Marinko Somodjvarac, Mihalj Tolas, Danijel Tomicic, and Ivan Tomicic.
Erdut (Croatia), November 1991 to June 1992
Josip Bence, Pavao (Pavo) Beres, Antun Kalozi, Nikola Kalozi (born in 1952), Nikola Kalozi (born in 1922), Ivan Mihaljev, Franjo Pap (born in 1960), Mihajlo Pap, Josip Senasi, Stjepan Senasi, Franjo Pap (born in 1934), Julijana Pap, Natalija Rakin, and Marija Senasi.
Erdut (Croatia), November 11, 1991
Jakov (Jakob) Barbaric, Tomo Curic, Josip Debic, Ivan Kucan, and Josip Vanicek.
Erdut (Croatia), December 26, 1991
Manda Maj and Josip Zoretic
Zvornik (Bosnia and Herzegovina), on or about April 8, 1992
Hajrudin Delic, Sead Hidic, Senad Hidic, Mevludin (Semsudin) Ahmetovic, Nusret Ahmetovic, Samir Bilalic, Senad Bilalic, Sabit Bilalic, Ivo Kojic, Dedo Krticic, Fahrudin Alajbegovic, and Edhem Hadzic.
Bosanski Samac (Crkvina) (Bosnia and Herzegovina), on or about May 7, 1992
Ivan Agatic, Jozo Antunovic, Dzemal Balic, Luka Blazanovic, Niko Brandic, Miro Corkovic, Luka Gregurevic, Husein Hrnic, Sead Hurtic, Izet Kahrimanovic, Franjo Mandic, Ilija Matic, Nezir Nadzak, Josip Orsolic, Selim Purak, and Ivo Tuzlak.
Doboj (Bosnia and Herzegovina), July 12, 1992
Esref (Esef) Ahmic, Hasan Ahmic, Senad Ahmic, Zijad Ahmic, Ramiz Hamidovic, Safet Hamidovic, Muhamed Husanovic, Hasib Kadic, Ante Kalem, Halid Mujanovic, Meho Mujanovic, Arif Omercic, Hasib Omercic, Mehmed Omercic, Becir Sehic, and Muhamed Zecevic.
Trnovo (Bosnia and Herzegovina), July 1995
Safet Fejzic, Azmir Alispahic, Smajil Ibrahimovic, Sidik Salkic, Juso Delic, and Dino Salihovic.
Sanski Most (Bosnia and Herzegovina), on or about September 20, 1995
Hasan Topic, Mesud Smailagic, Osman Muratovic, Safet Sehic, Mehmed Sehic, Midhad Sabic, Idriz Omerspahic, Mehmed Tahudzic, Dervic Sehic, Abdulah Behremovic and Nijaz Topalovic.
Sasine (Bosnia and Herzegovina), on or about September 21, 1995
Senad Aganovic, Fevzija Alagic, Munevera Alagic (Resic), Remzija Alagic, Kadir Alibabic, Osman Arapovic, Mehmedalija Bajric, Senad Bajric, Meho Bajrovic (Hajrovic), Hajrudin Behar, Elvir Behremovic, Ibrahim Behremovic, Jahija Besic, Muharem Botonjic, Drago Buha, Irfan Cekic, Dervis Ceric, Eniz Ceric, Aziz Dautovic, Ermin Drobic, Ibrahim Drobic, Muharem Drobic, Ekrem Dzafic, Sefko Dzananovic, Enes Dzinic, Ernes Hajric, Avdo Halimovic, Mehmed Hasanovic, Osman Hasic, Vedad Hromalic (Romalic), Ago Jakupovic, Fadil Jakupovic, Fehim Jakupovic, Idriz Jakupovic, Muharem Jakupovic, Safet Jakupovic, Muharem Kamber, Osman Kamber, Zijad Kamber, Ismet Karabeg, Hakija Kasumovic, Beco Kumalic, Husein Kurbegovic, Rifet Kursumovic, Mehmed Kurtovic, Adem Lasic, Muharem Mahic, Karanfil Music, Arif Omic, Taib Omic, Ibrahim Pasagic, Avdo Pasalic, Muharem Sekic, Ibrahim Sinanovic, Adnan Talic, Besim Talic, Djemal Talic, Haris Talic, Husein Talic, Ibraga Talic, Muhamed Talic, Rasim Talic, Sefko Talic and Sulejman Talic.