In the absence of legal cooperation with Serbia, Kosovo has changed its legislation to make it easier to try suspects in their absence - but sceptics say this doesn't necessarily mean that more war criminals will go to jail.
This post is also available in: Bosnian
Ademi was accused of involvement in forcing ethnic Albanian citizens from their homes and killing at least 12 people. He was arrested and kept in custody until February 2000, when he escaped.
The court decided to try him in absentia. After an appeal against the ruling, the Supreme Court ruled that the trial could proceed in the defendant's absence, and Ademi was sentenced to 20 years in prison.
In another case dating from 1999, Bozur Bisevac, a Serb from Mitrovica, was charged with setting fire to houses, shooting at villagers and forcing them to flee their homes. In August 2000, Bisevac also escaped from jail, but the court continued to try him in absentia.
But then in January 2001, the head of the UN's mission in Kosovo, UNMIK, which at that time had executive and legislative power in the country, adopted a regulation prohibiting trials in absentia "for serious violations of international humanitarian law". After it came into force, the court abandoned the prosecution of Bisevac.
Ademi was jailed, and Bisevac was never arrested again.
UNMIK Regulation 2001/1 stated that "no person may be tried in absentia as defined in the applicable Yugoslav Criminal Code or the Rome Statute of the International Criminal Court" that was issued in July 1998.
After 2009, almost all of UNMIK's regulations were repealed or superseded by proper laws, but trials in absentia were not included in Kosovo's legal framework.
Then in 2019, in an attempt to boost prosecutions of war crimes, the Kosovo Assembly adopted an amendment to the Criminal Procedure Code to allow trials in absentia in cases involving the offences against international humanitarian law and international criminal law that were committed between January 1990 and June 1999.
These were years in which Kosovo Albanians were struggling for liberation from Serbian rule, and the amendments were mostly intended to deal with cases of war crimes committed in Kosovo during the 1998-99 armed conflict.
Despite the changes, in the two years that followed, no one was prosecuted or convicted in absentia, and recently the Kosovo Assembly amended the Criminal Procedure Code again.
In June this year, the Venice Commission, a Council of Europe advisory body on constitutional law, said that the new provisions "are largely in line with the European Convention on Human Rights and Fundamental Freedoms as interpreted by the Strasbourg court and international standards".
Based on the new amendments, there is no need for a defendant to be sought in the state where he or she is believed to be before putting him or her on trial. A summons for questioning to an absent suspect will also not have to be sent out five times before the case proceeds any further.
Vasfije Krasniqi Goodman, who was a victim of rape during the war and who became a MP this year, believes that the amendments will help to increase prosecutions of the wartime sexual violence cases.
"I think prosecution and sentencing in absentia might be a good opportunity to confirm via a trial in court that rape as a war crime has happened. Such procedures [trial in absentia] are also in accordance with positive European law," Krasniqi Goodman told BIRN.
"Rape is the most unprosecuted crime in Kosovo and trials in absentia would encourage victims to come forward," she added.
Kosovo-Serbia impasse prevents justice being done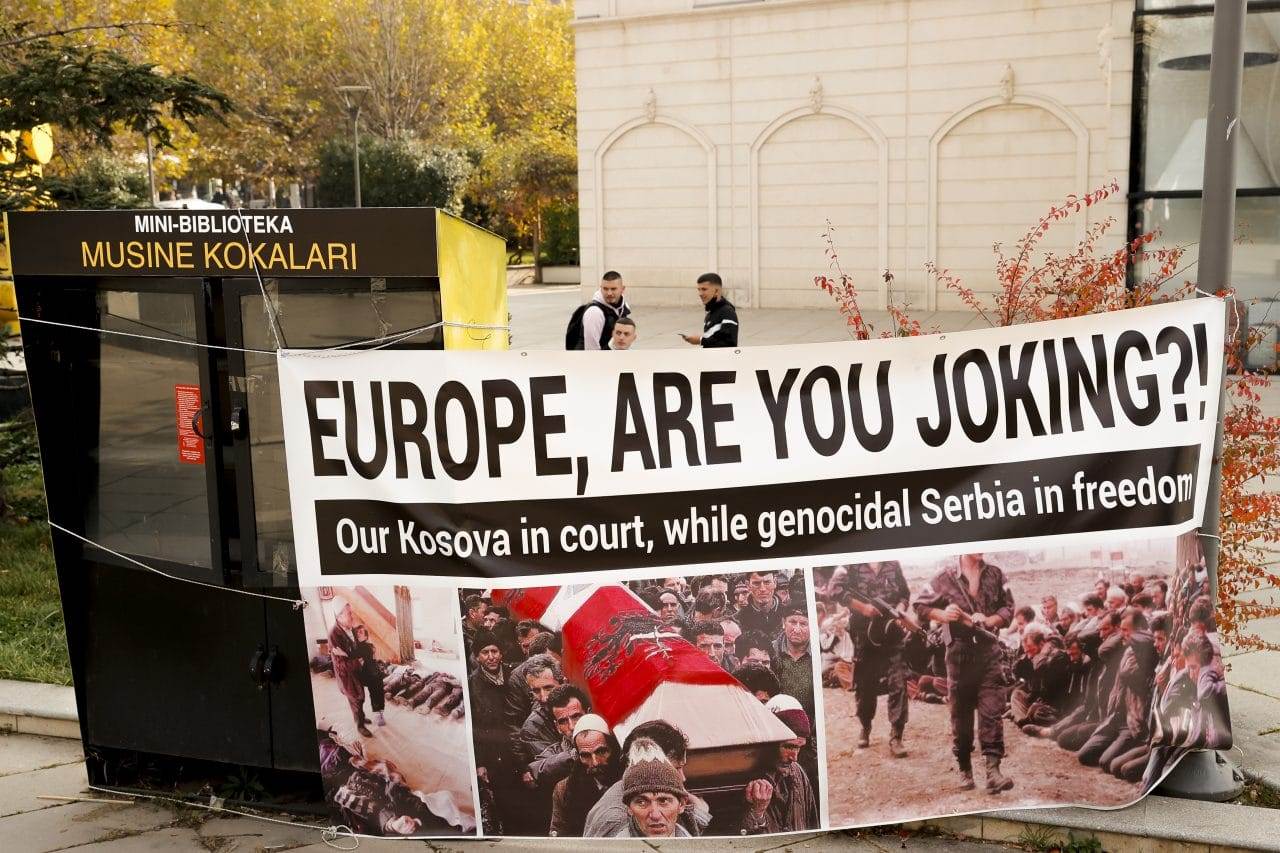 A banner supporting former Kosovo's President and other members of the Kosovo Liberation Army (KLA) is placed on the main square in Pristina. Foto: EPA-EFE/VALDRIN XHEMAJ
Trials in absentia are used by some EU countries, but not by other European states that consider such proceedings to be a violation of the defendant's right to be present to answer the charges against them. The majority of international tribunals have required the defendant to be present, although suspects have been tried in absentia at the Special Tribunal for Lebanon.
Kosovo has the specific problem, however, that many of those wanted for trial for wartime crimes live in Serbia, which does not recognise Kosovo's independence or legal system, and will not extradite suspects to stand trial. This means that any Serb who has been charged with such crimes is unlikely to be brought to court in they remain in Serbia.
Amer Alija from the Humanitarian Law Centre Kosovo, which has spent years documenting crimes committed during the war, stressed the need to establish legal cooperation with Serbia in order to bring cases to trial.
Alija said that the issue should be addressed within the context of the ongoing EU-mediated negotiations to normalise relations between Kosovo and Serbia.
"The government of Kosovo should insist on including legal cooperation on the agenda of the negotiations with Serbia, because it is the main condition for the effective prosecution of war crimes and delivering justice to the victims," he told BIRN.
"With the new amendments [to try defendants in their absence], there could be more indictments of individuals who will be inaccessible to the judicial authorities of Kosovo. But there will be no positive change in the serving of sentences by people who are convicted in absentia," he pointed.
Lars-Gunnar Wigemark, the head of the EU's rule-of-law mission in Kosovo, EULEX, welcomed the legal change.
"Trials in absentia will allow Kosovo authorities to take forward the numerous investigations carried out by EULEX for war crimes allegedly committed by individuals who are still at large, including suspects known to be living in Serbia," Wigemark said.
But he added that they should only be permitted if the defendant's right to a fair trial is ensured.
"Trials in absentia under the new Kosovo legislation should only be permitted in exceptional circumstances and provided that effective procedural safeguards for defendants are in place," he said.
Islam Qerimi, a professor at the University of Mitrovica's law faculty, also said that he thought that trials in absentia were only acceptable in very specific circumstances.
"A trial in absentia is permissible in a case in which the accused is continually disrupting the trial, or during the hearing at which the charges are confirmed," Qerimi told BIRN.
In Serbia, the War Crimes Prosecution has used trials in absentia to prosecute Kosovo Liberation Army, KLA guerrillas, convicting several of them of terrorism in their absence.
But without any legal cooperation or mutual agreement on extradition between Pristina and Belgrade, many other cases are likely to remain untried and unpunished.
"Without cooperation between Kosovo and Serbia, there will be great difficulties in successfully prosecuting war crime cases," said Drita Hajdari, the head of the War Crimes Department at Kosovo's Special Prosecution Office.