After Croatia's victory over rebel Serbs in Operation Storm in August 1995, President Franjo Tudjman set off on a triumphalist cross-country railway journey, staging celebratory rallies along the way - with harsh words for the refugees who fled.
This post is also available in: Bosnian
"Gentlemen, I want to talk a little bit more about [our] promotional focus, given the advantages gained from Storm," Tudjman said as he opened the session.
He also announced the reopening of the Zagreb-Split railway line was imminent after it had been closed during the 1991-95 war because a part of Croatian territory was controlled by rebel Croatian Serbs, aided by the Yugoslav People's Army and Serbian paramilitaries.
Tudjman told his colleagues that he wanted the reopening to have "political significance".
"In my opinion, that train should depart from Zagreb, hailed by [residents of] Zagreb… and be welcomed in Split with a party, a rally," Tudjman was quoted as saying in transcripts of the meeting obtained by International Criminal Tribunal for the Former Yugoslavia, which were used in the trial of Croatian wartime generals Ante Gotovina, Mladen Markac and Ivan Cermak.
As Tudjman envisaged, the ceremonial reopening of the railway took place on August 26 as he and high-profile guests took what he called his Freedom Train from Zagreb in the north to the coastal city of Split in the south.
The Freedom Train made a series of stops along the way for Tudjman to revel in his victory, praise the Croatian Army for liberating territory from Serb rebel forces during Operation Storm and to promise economic prosperity in a country devastated by war.
Croatian political analyst Zarko Puhovski said it was a triumphalist campaign, comparing it to ancient Roman tradition of holding a high-profile ceremony to sanctify a military success, "which was intended to connect the [state] leadership with the people in a feeling of triumph over the defeated enemy".
But amid Tudjman's jubilant declarations, there were harsh words for the defeated Serbs – and a day before the Freedom Train began its journey, elderly Serb civilians were also killed during clean-up operations by special police units that the authorities claimed were intended to subdue any remaining armed resistance.
'Ruined but beautiful' Croatia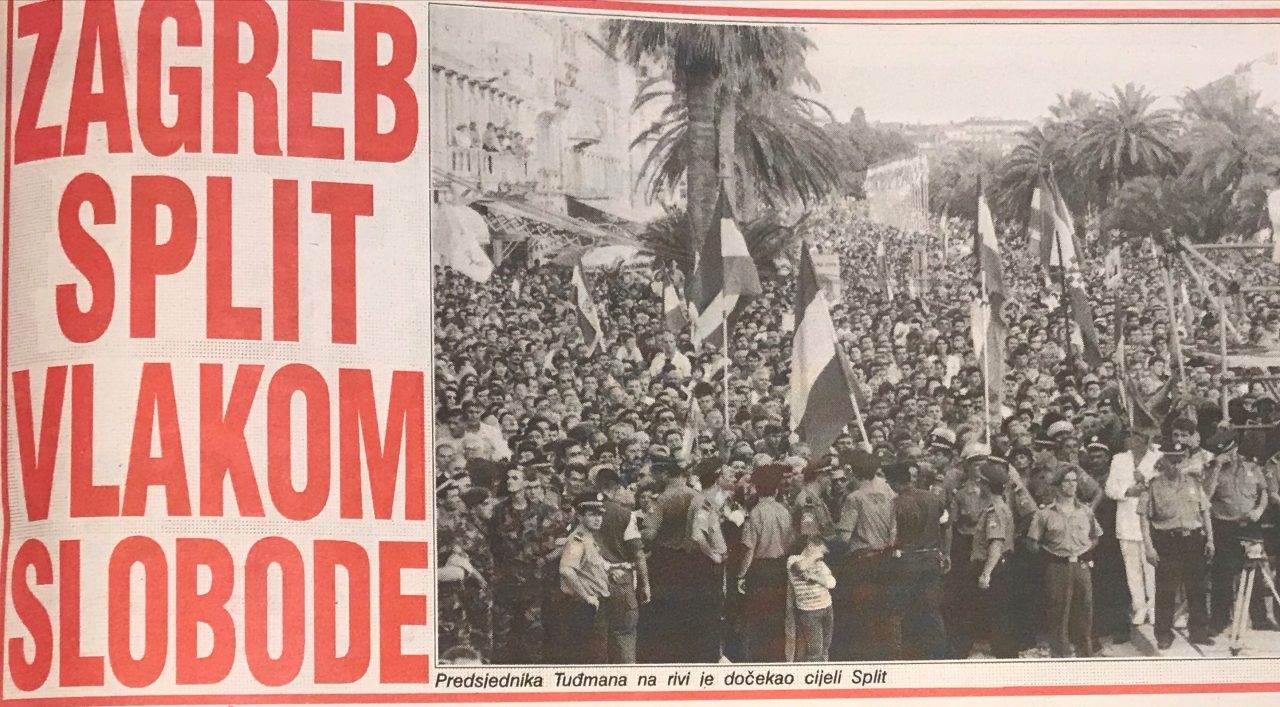 Report about Tudjman's Freedom Train journey with a photo of the rally in Split, published in Croatian newspaper Vjesnik in August 1995. Photo: BIRN.
Operation Storm, which began on August 4, 1995, saw Croatian forces oust the Republic of Serbian Krajina, a self-proclaimed statelet that rebel Serbs had established on part of Croatian territory back in 1991, in opposition to Zagreb's declaration of independence from Yugoslavia.
Operation Storm is celebrated in Croatia each year as a crucial victory, and as a key factor that ensured the country's existence as an independent state.
However, in a series of attacks during and after the operation, over 600 mostly elderly Serb civilians were killed, according to Croatian Helsinki Committee. Around 200,000 Serb refugees also fled the territory that was liberated from the rebels.
But Croats were euphoric, and Tihomir Ponos, a historian and researcher at the Archive of Serbs in Croatia, told BIRN that Tudjman's rail journey might have been more precisely named if the authorities had called it the Victory Train, "because it really… symbolised the victory of Croatia in August 1995".
On August 26 at around 8am, Tudjman and the other passengers boarded the train in Zagreb. In its 20 or so carriages were state officials and political party leaders, Croats who had returned after being displaced by the war, businessmen, public figures and a large group of reporters. Stops were scheduled that day in Karlovac, Gospic, Knin and Split.
"At that time, [the authorities] wanted, not [only] symbolically, but to really show that continental Croatia and [coastal] Dalmatia were reunited," Ponos said.
In a speech at Zagreb railway station before the train departed, Tudjman called on the transport minister and state-owned company Croatian Railways to provide Croatian pensioners with train tickets free of charge.
"Let them see and look at ruined but also beautiful Croatia. Let them go to the Croatian sea, which foreign tourists were afraid to visit [during the war], but from next year, they will certainly flock from all over Europe and from all over the world," Tudjman told the crowd.
The price of a ticket to ride the Freedom Train was considered at the time to be high because the money was being donated to children of soldiers killed in the war. During the trip, there was also a charity auction of pictures by well-known Croatian painters.
The guests were also entertained by traditional music bands, Slavonian tamburica players and a Dalmatian a cappella vocal ensemble.
Helicopters and fighter jets flew along the route, and according to a journalist for Vjesnik newspaper, who travelled on the train, "all of us passengers, we felt safe".
Ponos said the journey was portrayed as a symbol of territorial reunification and economic reintegration, after which an economic upswing would follow, although he noted that "we didn't experience this in the years that followed".
Tudjman also announced that remaining Serb rebel-held parts of Croatia and the flashpoint town of Vukovar would be taken back.
'Bon voyage' to the Serbs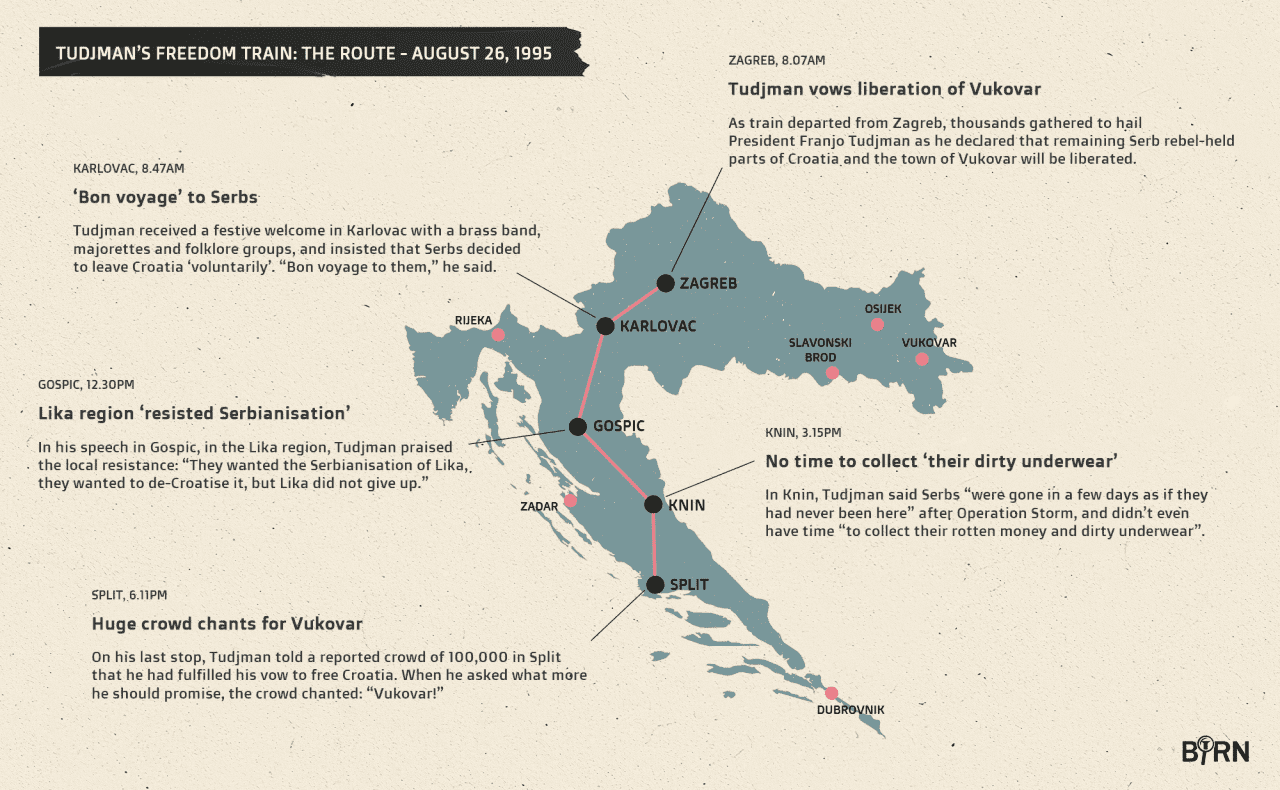 Graphic: BIRN/Igor Vujcic.
Vjesnik reported that the Freedom Train "is restoring life, hope and optimism". But some observers said that that the stunt also made clear that some Croatian citizens, particularly Serbs who had lived in the area that was seized back from the rebels during Operation Storm, were not welcome in post-war society.
Puhovski said that the "triumphalist" journey was supposed to show that there were no more "enemies" left in Croatia.
He recalled how, in his speeches along the route, Tudjman occasionally stated that "winners need to understand the limitations of their victory", but that on several occasions, "he was caught up by the atmosphere, so really ugly words could be heard against the defeated, with elements of hatred".
At his first stop in Karlovac, where residents of the town had prepared a festive rally, Tudjman said that the Serb refugees had "voluntarily" decided to leave Croatia after Operation Storm even though, he insisted, their human rights were guaranteed.
"Bon voyage to them," he declared, to applause from the audience.
The third stop on the journey, in the town of Knin, was particularly symbolic as it had been Serb rebel stronghold until the Republic of Sebian Krajina was ousted in Operation Storm. Knin was also known as capital of the medieval Kingdom of Croatia, as Tudjman noted in his speech there.
"Knin was the capital of the Kingdom of Croatia… until 1522, when it was conquered by the Turkish Ottoman conquerors, and until those who were in our Croatian Knin until yesterday came arrived. But today, it is Croatian Knin and it will never go back to what it was when they were spreading cancer in the middle of Croatia that was destroying the Croatian nation," he told the crowd.
He said that after Operation Storm, the Serbs who had lived in Knin "were gone in a few days as if they had never been here". They didn't even have time "to collect their rotten money and dirty underwear", he added.
At the start of Operation Storm, on August 4, 1995, Tudjman had made an appeal to Croatian Serbs living in the rebel-held areas, saying that if they did not take "an active part in the rebellion", they could remain in their homes "without fear for their lives and property, and welcome the Croatian authorities, with the guarantee that all civil rights will be given to them".
But Ponos said that Tudjman's speech in Knin showed how Croatian Serbs were not likely to be convinced by promises like this. Instead of people whose rights would be guaranteed, they were seen as "as a cancer spreading in Croatia, which threatened Croatia and its survival", he argued.
Ponos added that another issue was whether Serbs were able to hear the first Tudjman message because it was broadcast via Croatian media.
Puhovski argued that Tudjman's invitation to Serbs to stay was only made in order to avoid criticism from the international community.
Only later, in 1997-98, did the Croatian authorities started talking about possible returns of Serb refugees, but at the beginning they acted "as it was clear that these people would not return". That's why Croats felt free to "rush" to usurp refugee Serbs' properties, Puhovski said.
The matter of the 200,000 Serbs who had fled the country was little discussed in the wake of the victory, Ponos said.
"Such questions weren't asked at the time, or if someone asked them, they weren't much noticed in public. And if someone was noticed, then he would probably be declared an enemy," he explained.
'Optimal security conditions'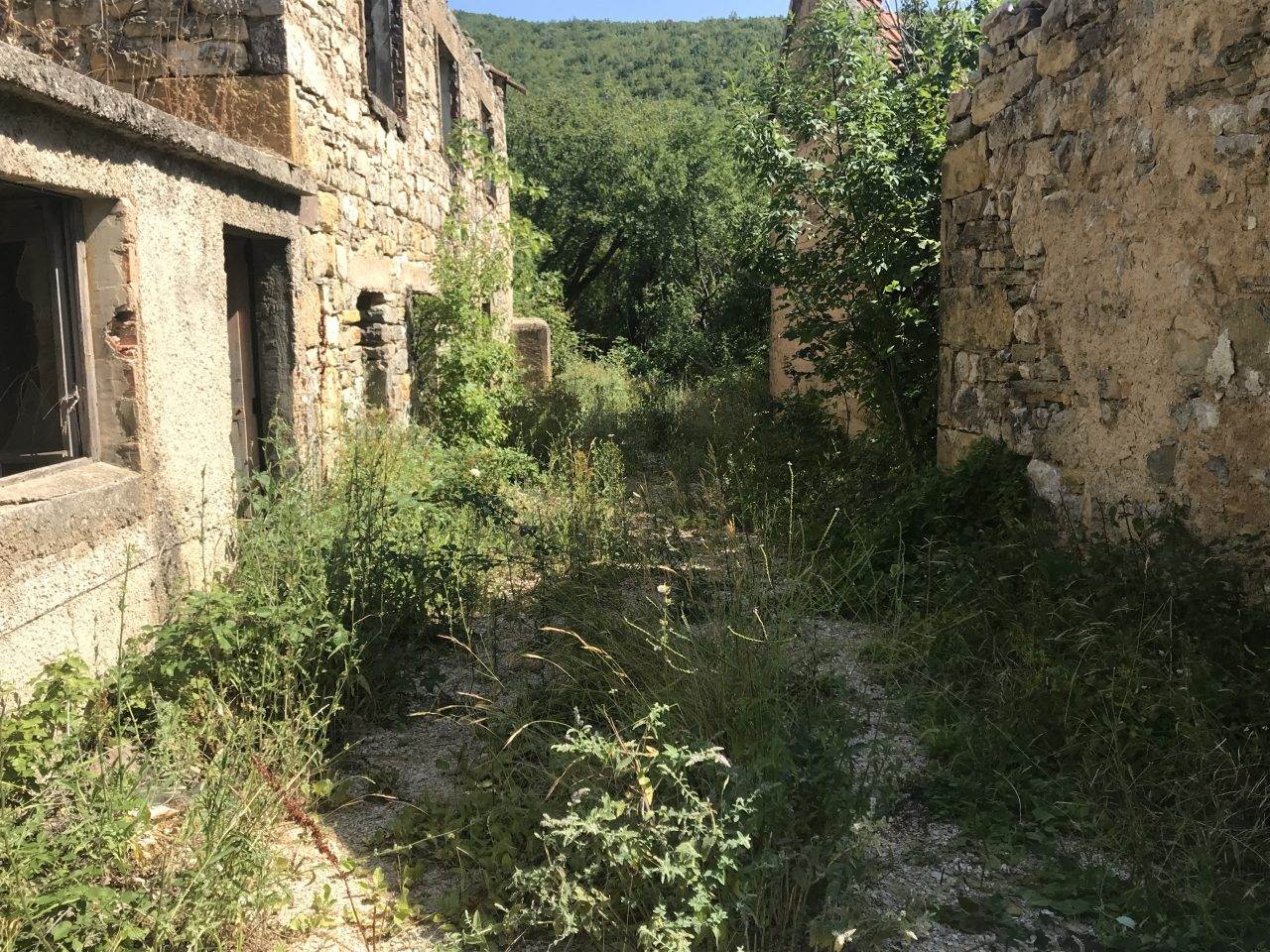 Houses stand alongside ruins of homes in the hamlet of Grubori, where Serbs were targeted by special police forces in August 1995. Photo: BIRN.
The Freedom Train trip, and the speeches made by Tudjman at the various stops along the route, were examined by International Criminal Tribunal for the Former Yugoslavia in the trial of Croatian wartime generals Gotovina, Markac and Cermak, who were tried for allegedly participating in a joint criminal enterprise to commit crimes against humanity against Croatian Serbs during Operation Storm.
The Hague Tribunal's trial chamber noted that many of Tudjman's speeches, including the ones in Karlovac and Knin on August 26, 1995, have "some, although limited, importance when assessing Tudjman's policy with regard to the Serb minority in Croatia".
The tribunal also said that at the time of Tudjman's speech in Knin, Operation Storm was over but Croatian military forces and special police units continued to be active in the Krajina area in particular, conducting clean-up operations against remaining rebels.
"Furthermore, these forces continued to target the Krajina Serb civilian population… Croatian military forces and Special Police committed a large number of murders, inhumane acts, cruel treatment, and acts of destruction and plunder against Krajina Serb civilians throughout August and September 1995," the first-instance verdict said.
The Croatian generals were accused of planning, organising or participating in murders, persecution, deportations and destruction of property aimed at "the permanent removal of the Serb population from the Krajina region".
Gotovina and Markac were convicted under the first-instance verdict, while Cermak was found not guilty. However, the two convicted generals were then acquitted on appeal.
Among the crimes examined by the tribunal was the incident just a day before the Freedom Train passed nearby, in the hamlet of Grubori, near Knin, on August 25, 1995, when special police forces killed six elderly Serb civilians, the eldest of whom was around 80.
"In anticipation of President Tudjman's train trip… the MUP [police] and Defence Ministry carried out a joint security action named 'Knin 95'," said the first-instance verdict.
Hague court records showed that a few days before the Freedom Train journey, on August 23, Croatian Interior Minister Ivan Jarnjak issued a decision on setting up Operation Knin 95 to create "security conditions as optimal as possible" for Tudjman's rail trip, because the journey has "outstanding importance for the international reputation of Croatia, its traffic connections, and economic development".
"It is going to take place under very complex security conditions bearing in mind that around two-thirds of the route run through what were until recently occupied territories of Croatia, let alone the fact that in some parts of the liberated territory, there are still fragments of Chetnik [Serb nationalist] paramilitary terrorist groups," Jarnjak told police officials.
"Representatives of foreign media, who tend to write tendentiously about the outcome of Operation Storm, are also present in that area," he added.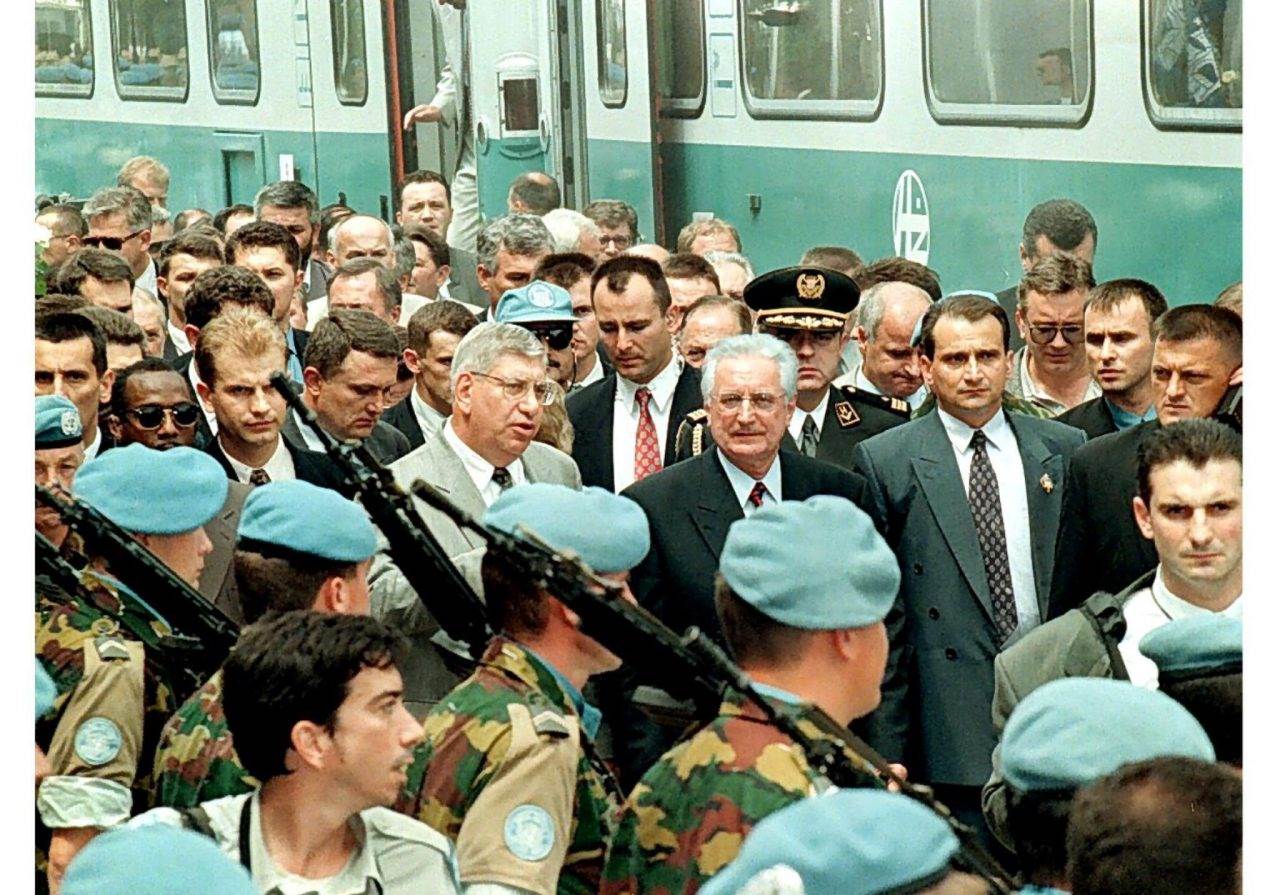 Franjo Tudjman is welcomed by Jacques Klein, the UN administrator of Eastern Slavonia, as the Croatian president arrives in Vukovar, the last Serb-held part of Croatia, in June 1997, on a second cross-country rail trip. Photo: EPA/Antonio Bat.
Stjepan Zinic, a specialist training instructor with the Lucko special police unit, testified that on August 25, 1995, the unit took part in 'mopping-up' operations to provide security for the Freedom Train in the area around Grubori.
The Hague Tribunal concluded that after the murders of the elderly Serbs in Grubori, a story was invented that the Croatian police anti-terrorist units had clashed with Serb soldiers. However, no one has ever been convicted of the crimes there.
In September 2019, the Croatian Supreme Court upheld a verdict acquitting former policemen Frano Drljo and Bozo Krajina of committing a war crime in Grubori. The men, both former members of the Lucko anti-terrorist unit, were cleared because of a lack of evidence.
The court noted that there was a firm vow of silence among members of the Lucko unit, some of whom filed false reports about the operation, including a report about alleged armed resistance by remaining Serb troops.
Ponos noted that while the war crime in Grubori was connected to the Freedom Train, it was not the only such incident after Operation Storm. "Similar, comparable crimes against Serb civilians, very often elderly people, took place before and after that," he said.
Tudjman considered the Freedom Train a success, telling Slobodna Dalmacija newspaper that it had offered "proof that Croatian freedom has definitely been strengthened, in the sense that no one can threaten it from Croatian territory anymore".
In June 1997, Tudjman repeated the stunt, staging a similar journey from Zagreb to Vukovar after an agreement was made to gradually reintegrate the Eastern Slavonia area into Croatian government control. He called his second railway excursion the Peace Train and, in the presence of UN officials, this time he tempered his triumphalist statements with rhetorical gestures towards coexistence.