This week, while Croatia celebrates its victory in 1995's Operation Storm and Serbia mourns the victims, nationalists on both sides will be seeking to profit politically from one of the war's most traumatic events, says sociologist Marijana Stojcic.
This post is also available in: Bosnian
Marijana Stojcic, a sociologist and researcher from the Belgrade-based Centre for Public History, believes that the rival official narratives about Operation Storm in the two countries, created and supported by nationalists, are being used to achieve political goals.
"When we talk about Storm, we actually have the same event which has different functions [in each country]," Stojcic told BIRN in an interview.
Operation Storm, which saw Croatian forces oust the rebel Serbs' self-proclaimed statelet, the Republic of Serbian Krajina, is celebrated in Croatia each year on August 5 as a crucial victory, and as a key factor that ensured the country's existence as an independent state.
However, in a series of attacks during and after the operation, over 600 mostly elderly Serb civilians were killed, according to Croatian Helsinki Committee. Around 200,000 Serb refugees left the territory liberated in August 1995.
For this reason, the anniversary is painful for the country's remaining Serbs, while in Serbia, August 5 is marked in sorrow as Remembrance Day for those who were killed or expelled.
The commemorations in both countries are often marred by nationalist rhetoric, and Stojcic noted that this is causing great harm to local, often mixed communities.
"The key thing with Serbian nationalism, and, it seems to me, about Croatian nationalism as well, is the belief that Serbs and Croats cannot really live together, that they never could live together and never will be able to they live together," she explained.
'A narrative of martyrdom and victimhood'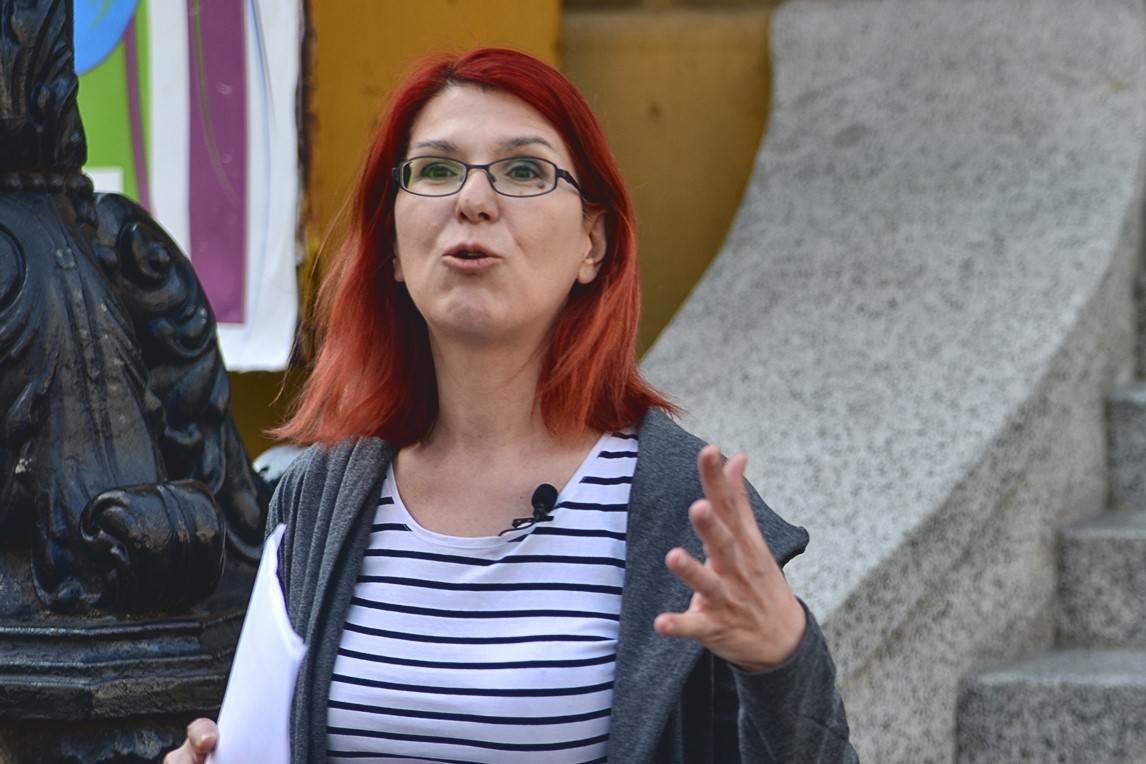 Marijana Stojcic. Photo: Vladimir Opsenica/Centre for Public History, CPI.
Due to the COVID-19 pandemic, last year's 25th anniversary commemoration of Operation Storm in Serbia was marked with a lower-profile ceremony by Serbia and the Serb-dominated part of Bosnia and Herzegovina, Republika Srpska.
It was held on the Sremska Raca Bridge over the Sava River on the border between Serbia and Bosnia and Herzegovina, where convoys of refugees fleeing Operation Storm entered Serbia in August 1995. A tableau, intended for media coverage, was staged on the bridge, with actors dressed as refugees sitting in Yugoslav-era cars and on tractors.
The Serb member of the tripartite Bosnian presidency, Milorad Dodik, said that Storm was "a piece in a mosaic of evil which was aimed specifically at the disappearance of Serbs and has been implemented throughout the last century". Serbian President Aleksandar Vucic also drew parallels with the killings of Serbs in World War II.
Stojcic said that while in Croatia, Storm is a "part of a victory narrative", in her home country, Serbia, it is part of a myth about the country being the victim of iniquity throughout its history.
"That narrative was established during the 1990s [war years in the former Yugoslavia]… It is a narrative about martyrdom, about being endangered, one in which throughout their history, Serbs have actually been the perennial victims of the injustices of others and [their] efforts to destroy the Serbs," she said.
She noted how even earlier, in the 1980s, before the break-up of Yugoslavia, Serbian politicians began to emphasise the suffering of Serbs during the Independent State of Croatia, NDH, a World War II-era fascist puppet state led by the Ustasa movement, which passed racial laws targeting Serbs, Jews and Roma people and ran a system of concentration camps.
"But very quickly the Ustasas were actually identified with the Croats, with the Croatian people, creating that image of a homogeneous, hostile collective whose only motivating force was actually pathological hatred towards the Serbs," she said.
In Serbia, political leaders are seeking to "equalise what happened in [Operation] Storm with the suffering of Serbs under the NDH", she added.
She also argued that the Serbian officials' narrative about Operation Storm is characterised by "selectivity", and excludes Serb-led offensives against Croats earlier in the war, like the three-month siege and violent capture of the Croatian town of Vukovar by the Yugoslav People's Army and Serbian paramilitaries.
"[Storm] is presented as a pogrom of Serbs in 1995, when the largest part of the Serb population was expelled from Croatia to Serbia, for no reason. It is a very decontextualised narrative in which from 1991 to 1995, nothing happened," she explained.
"It means there was no Vukovar, no bombing of Dalmatian towns [by Serb forces], no [detention] camps for Croats, no ethnic cleansing carried out against Croats," she continued.
Another difficult issue for Serbia is the way it treated the refugee Serbs who fled Croatia in huge columns in August 1995. They were not allowed to enter Belgrade, and most were housed in poor conditions in old hotels and disused public buildings, or lodged with relatives and friends, according to the Humanitarian Law Centre NGO.
Stojcic said that the refugees did not get appropriate support in Serbia "even though the official narrative was 'we are helping Serbs from other parts of Yugoslavia who are in danger'".
A report by the Belgrade-based Humanitarian Law Centre said that thousands of Serb refugees during the 1990s wars in Croatia and Bosnia were also arrested in Serbia, taken back to the conflict zones and forcibly mobilised as fighters. "That really was a hunt for people," Stojcic said.
She said that many refugees were housed in substandard temporary accommodation – so-called 'collective centres' – and that some of them remained there for many years.
She recalled one media report from 2015: "It was August, [the local media] were reporting about Storm… and they were interviewing a man who lives in a collective centre somewhere in the south of Serbia," she said, appalled by the fact that 20 years after the war, a man was "still in a collective centre where there are no windows, no water and electricity".
"That's a great picture of how nationalist regimes care for ordinary people," she concluded.
'Symbolic steps are not enough'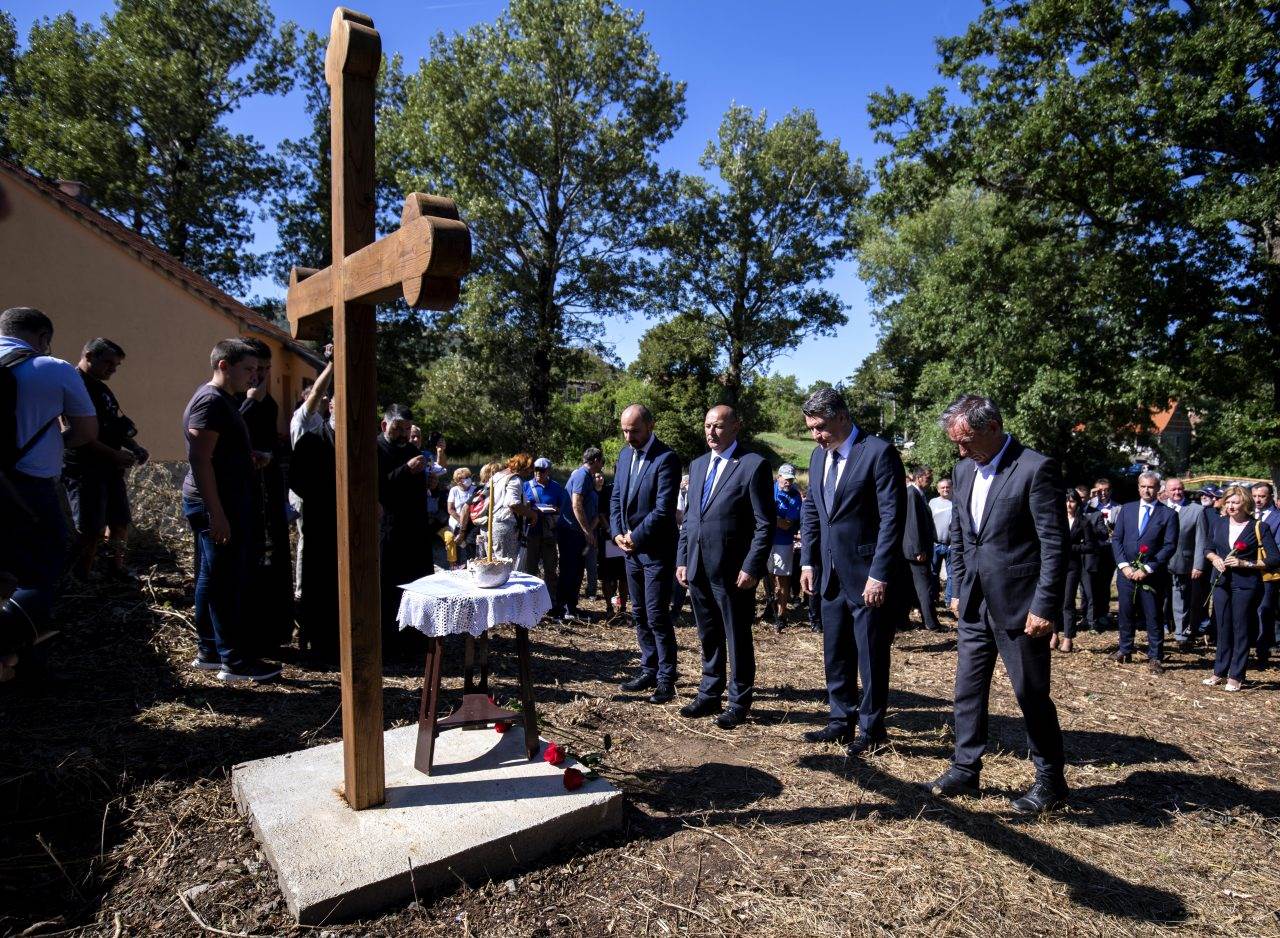 Croatian Deputy Prime Minister Boris Milosevic, War Veterans Minister Tomo Medved, Croatian President Zoran Milanovic and president of the Serbian National Council, Milorad Pupovac, attend a memorial ceremony for Serbs killed in the village of Grubori in August 2020. Photo: EPA-EFE/MIRO LELAS.
In previous years, with the notable exception of 2020, Operation Storm commemorations in Croatia have been marred by nationalistic rhetoric and hate speech.
In 2015, a concert by the Croatian nationalist singer Marko Perkovic 'Thompson' was held at a football stadium in the town of Knin, organised by the local authorities as the closing event of the Storm anniversary celebration.
Many in the 80,000-strong crowd chanted "Kill a Serb" and the slogan of Ustasa movement, "Za dom spremni" ("Ready for the homeland").
Stojcic observed that "enemies" are usually an important topic at commemorative events in the region.
"It seems to me that… the talk about victories and celebrations is more like a warning that 'others' are dangerous for us, and that we must constantly be vigilant," she said.
She argued that the key thing is to reflect the complexity of what happened and not to reduce it to a one-dimensional myth – "[for example] that Storm was an operation without any blemishes, or to reduce Storm to a criminal act".
She said that for a significant part of the population in Croatia, it was the moment when they could return to their homes after being expelled just because they were Croats. But she stressed that the Serb victims should not be overlooked either.
She cited the example of Deputy Prime Minister Boris Milosevic from the Independent Democratic Serb Party, which represents Croatia's Serb minority, who shared his family's wartime story last year on social networks.
"His father was a soldier in the Croatian Army, [but] his grandmother was killed by a Croatian soldier during Operation Storm. I think that the story itself, which is deeply personal, actually draws attention to the complexity of all these events," Stojcic said.
Milosevic attended the Croatian state celebration of Operation Storm last year despite calls from political leaders in Serbia for him not to participate. He said could not forgive the crimes that were committed, but was ready for "any type of gesture that I think would improve the position of my community".
Croatian Prime Minister Andrej Plenkovic, leader of the conservative Croatian Democratic Union, HDZ, told the ceremony that Operation Storm was Croatia's "greatest victory", but he also expressed sympathy for all the victims, "not only Croats but also Serbs".
Top state officials also joined representatives of the country's Serb minority in commemoration of the anniversary of a massacre in the hamlet of Grubori and in the village of Varivode – two of several violent incidents in the wake of Operation Storm.
Stojcic said she thinks that notes of reconciliation could be heard around the anniversary in Croatia last year, which are "symbolically very important".
But she also argued that there is still a lot of work for the Croatian authorities to do, such as practical solutions for the problems of Serb post-war returnees to the country, but also dealing with crimes that happened during the 1990s wars, or having a clear stance about the use of Ustasa insignia in public.
"Symbolic steps are necessary, but they are not enough – it is important what happens after that," she said.