Bosnia and Herzegovina's top international official, High Representative Valentin Inzko, used his power to impose amendments to the country's criminal code to ban the denial of genocide and the glorification of war criminals.
This post is also available in: Bosnian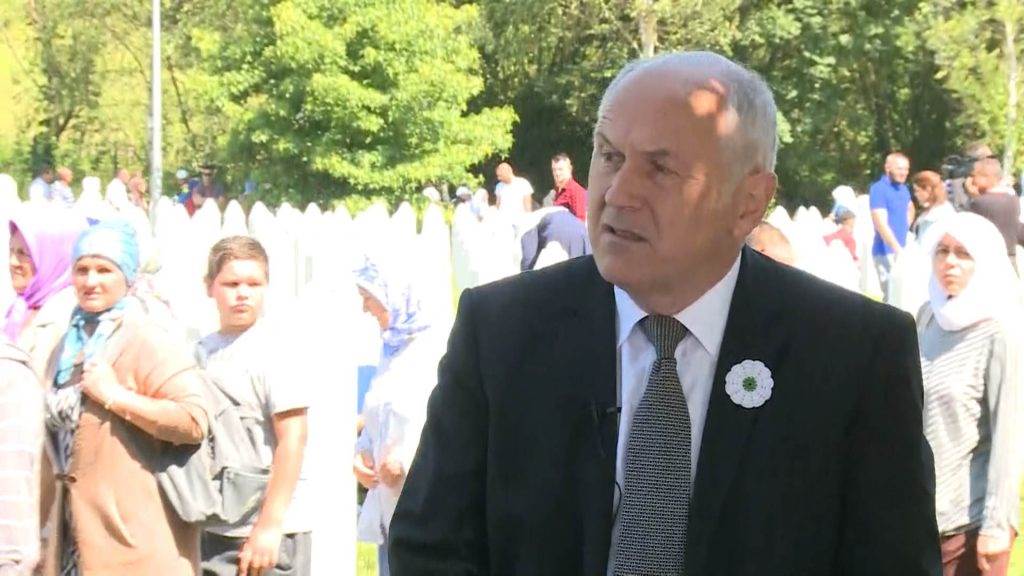 Valentin Inzko at the Srebrenica Memorial Centre. Photo courtesy of N1.
Valentin Inzko announced on Friday that he has imposed an amendment to Bosnia and Herzegovina's criminal code to outlaw the public denial, condoning, trivialisation or justification of genocide, crimes against humanity or war crimes when this is done in a way that is "likely to incite to violence or hatred".
Transgressors can be punished with prison sentences ranging from six months to five years, said the internationally-appointed High Representative, whose role is overseeing the implementation of the peace deal that ended the 1992-95 Bosnian war.
Inzko said he was imposing the changes because he was "deeply concerned that prominent individuals and public authorities in Bosnia and Herzegovina continue to deny that acts of genocide, crimes against humanity and war crimes were committed during the armed conflict".
He also said he was concerned that "individuals and public authorities publicly question the legitimacy of judgements issued by the International Criminal Tribunal for the former Yugoslavia and the Court of Bosnia and Herzegovina and that individuals and public authorities honour or praise convicted war criminals".
Inzko announced that he has also imposed an amendment to the criminal code to outlaw public incitement to violence on the grounds of race, colour, religion, descent or national or ethnic origin. The penalties can range from three months to three years in prison.
He further declared that "public dissemination or distribution of tracts, pictures or other material" denying genocide can be jailed for a minimum of one year.
Giving any recognition, award, honour or privilege to a person convicted of genocide, crimes against humanity or war crimes can be jailed for a term not less than three years, he added.
The same punishment is envisaged for people who name a street, square, park, bridge, institution, building, municipality or city after anyone convicted of these crimes, he added.
Inzko is imposing the changes under the so-called 'Bonn powers', which allow the High Representative to over-ride Bosnian politicians' obstruction of legislation if it is vital to maintaining the peace.
He said he was making the move because the denial of genocide and war crimes "creates a significant difficulty" for the civilian implementation of the Dayton peace agreement, and that because "all legislative initiatives brought before the parliamentary assembly of Bosnia and Herzegovina to address this issue have been blocked".
The legislative changes will be controversial as political leaders in Bosnia's Serb-dominated entity, Republika Srpska, do not accept that the Srebrenica massacres constituted genocide. They have also called for the High Representative's position to be abolished.