Thirty years ago, on the first day of Slovenia's war for independence from Yugoslavia, helicopter pilot Toni Mrlak was shot down before he was able to defect - and his death has been the subject of political dispute ever since.
This post is also available in: Bosnian
One was brought down over the settlement of Ig, close to the capital Ljubljana, and the other over Rozna Dolina, a settlement in the south-west part of the capital, as Slovenia became the first of the six Yugoslav republics to formally leave the federal state.
Both helicopters belonged to the Yugoslav People's Army, JNA, but the one that was shot down above Rozna Dolina, an SA-341 Gazelle, was unarmed and was being used to take bread to JNA soldiers.
The helicopter crashed and burned, and the loaves of bread were scattered over the road. Both the pilot, a Slovenian called Toni Mrlak, and his co-pilot Bojance Sibinovski, a Macedonian, died on the spot.
The so-called 'Ten-Day War' between Slovenian Territorial Defence forces and the JNA broke out after Ljubljana declared independence and continued until July 7, 1991, when the Brijuni Accords which ended the conflict were signed.
During the conflict, many Slovenian soldiers quit the ethnically-mixed JNA and went to join their country's independence struggle. It emerged later that helicopter pilot Mrlak was also planning to defect from the Yugoslav side, but was killed before he could do it.
Today, a memorial honouring Mrlak as a fighter for Slovenian independence stands in Rozna Dolina, even though, over the past 30 years, there has been much debate about his role, including attempts by right-wingers to portray him as an 'aggressor' against Slovenia.
Many observers are convinced that the helicopter piloted by Mrlak was shot down for propaganda purposes, so that the Slovenian military leadership could show that it could fight the powerful JNA and thus motivate other Slovenian independence fighters.
Mrlak's family fought for years to prove this, and his sister-in-law, famous Slovenian actress Draga Potocnjak, even wrote a book about it.
Employing theatrical rhetoric, Potocnjak compared Mrlak's death to a Greek tragedy.
"[He was] a positive hero, a positive man who shouldn't have died, but one way or another, everything was done in an attempt to ensure that he died," Potocnjak told BIRN.
'He was organising the defection of several pilots'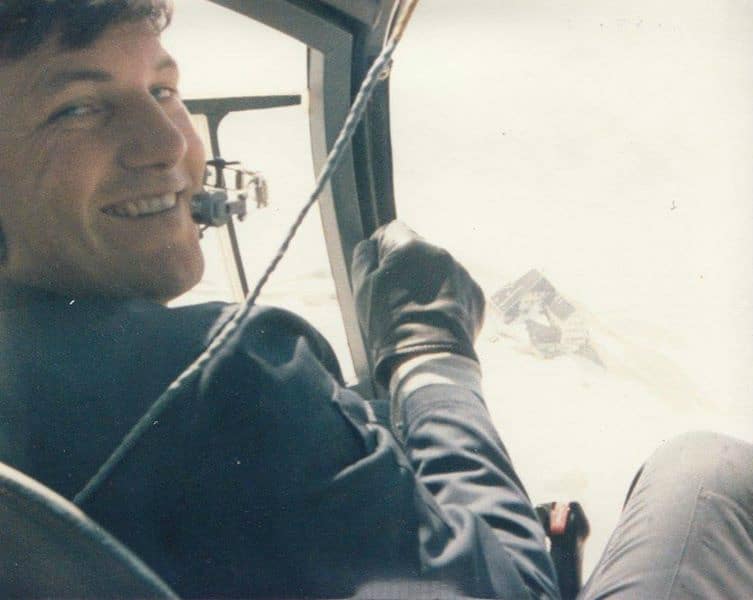 Toni Mrlak. Photo courtesy of Tomaz Mrlak.
"Toni Mrlak was – to sum it up in one sentence – a very unconventional soldier. He was a lover of flying. His father was also a military pilot," Potocnjak said.
She described him as smart, very brave and given to plain speaking while talking to his superiors.
Potocnjak meticulously reconstructed the day of his death in her book, 'Skrito Povelje' ('Hidden Command'), which was published in 2013. She said it took her more than five years to collect the necessary documents and conduct more than 120 interviews.
She found that Mrlak decided to take the task of transporting the bread from the military bakery to the JNA barracks even though it was originally intended for a younger pilot.
She also noted that because he had been cooperating with the Slovenian authorities since August 1990, he felt safe doing this.
"He really didn't think that 'his people' [Slovenian troops], so to speak, could open fire at him," Potocnjak said.
The French-designed, Yugoslav-produced Gazelle light transport helicopter can be used as a lightweight attack vehicle, but this particular one was visibly unarmed.
Potocnjak said that before his death, Mrlak was planning to organise the defection to the Slovenian side of pilots in three helicopters.
His connection in Ljubljana was his uncle Elo Rijavec, from the logistics administration of the Slovenian Defence Ministry, and Jelko Kacin, who was Information Minister during the 1991 conflict and is now state secretary in charge of COVID-19 vaccination coordination.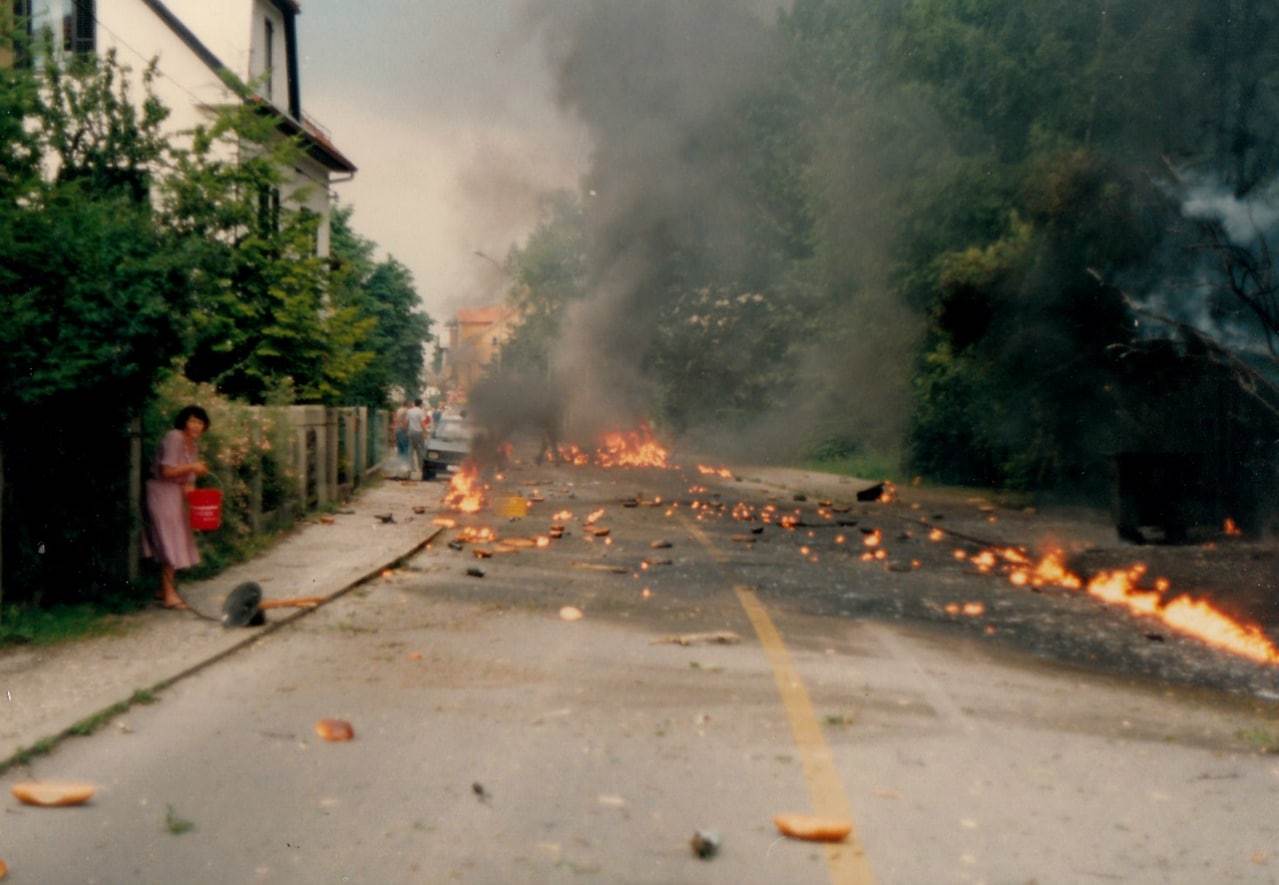 The place where the helicopter piloted by Toni Mrlak crashed on June 27, 1991. Photo courtesy of Tomaz Mrlak.
Kacin, who has rarely spoken publicly about the incident confirmed to BIRN that these arrangements existed but that contact with Mrlak was interrupted when he changed jobs.
"Pilot Mrlak was organising the defection of several pilots from that unit… I negotiated with him long before that, before the war broke out, [but] I went to another position and [Mrlak's] unit was relocated… so our side lost contact with them," Kacin said.
On June 28, 1991, the day after Mrlak was shot down, his colleagues Joze Kalan and Bogomir Sustar managed to achieve what he was unable to, and crossed over to the Slovenian side with two helicopters.
Sustar told BIRN that Mrlak asked them before the war whether they were ready to side with Slovenia if armed conflict began.
"Imagine how much he was risking, he could have been reported by one of us," Sustar said.
Potocnjak and others who spoke to BIRN claim that the shooting down of Mrlak's Gazelle was necessary for the Territorial Defence to present itself as a success and to motivate other fighters.
But Sustar said that there was no reason to attack an unarmed helicopter. "It's hard [to talk about it] after so many years, but I think he was a victim of politics," he said.
Historian Bozo Repe said he believes that the helicopter was shot down "for propaganda reasons".
"The then Defence Minister Janez Jansa and the military leadership did everything to prove that they were capable of neutralising JNA helicopters," Repe told BIRN.
He said that in the post-war decades, Mrlak's death has been the subject of "endless controversies and ideological confrontations", and that the official attitude towards the pilot's demise "depends on who currently rules in Slovenia".
Battle continues for control over history

Loaves of bread on the spot where the helicopter piloted by Toni Mrlak crashed. Photo courtesy of Tomaz Mrlak.
Veteran journalist Blaz Zgaga, known for his investigations of arms trafficking in the Balkans in 1990s, said that today's Slovenian government, led by right-wing Prime Minister Janez Jansa, who was defence minister at the time of Mrlak's death in 1991, doesn't miss any opportunity to talk about the war and emphasise Jansa's role in bringing independence to the country.
"The more years that have passed since 1991, the more these events are mythologised, and it is being said that Slovenia, instead of being a normal, modern, contemporary society, is turning more to its past than its future," Zgaga said.
Historian Repe noted that "there were no war crimes in Slovenia, at least in the sense we know in the later wars in Yugoslavia".
"The reason lies in the briefness of the [ten-day] war, but also in the fact that it was not a war based on hatred between nations or a struggle for territory," he said.
The JNA and Serbia made some war crimes accusations against Slovenia, he added, but there were also lawsuits against some JNA commanders which ended in acquittals in the Slovenian courts.
"Today in Slovenia, as elsewhere in the countries of the former Yugoslavia, there is a fierce struggle to interpret the disintegration of the state," Repe explained.
He added that in recent decades, such narratives have served to distract public attention in Slovenia away from various corruption scandals "which began with the sale of weapons to Croatia and Bosnia and Herzegovina in 1991, while Janez Jansa was defence minister".
He argued that the war in Slovenia "was not a classic war". The goal of the JNA was to occupy the border crossings which independence-seeking Slovenia had declared its own and where Slovenian national symbols had been installed.
"In many cases, [the JNA] succeeded… [but] after these first interventions, the Slovenian defence forces were generally well-organised and re-occupied most of the crossings," he said.
"In many places, mayors played an important role in successfully negotiating with local JNA commanders, and people in many places stood in front of armoured vehicles to stop them," he continued.
Repe said that the exact number of victims in the conflict has never been determined, while sometimes both sides counted some victims as 'theirs': "Toni Mrlak is just such an example."
According to Repe, there were probably 65 fatalities: 37 JNA soldiers, 12 members of the Slovenian Territorial Defence and police forces, and 16 civilians, of whom ten were foreigners.
'A psychological turning point'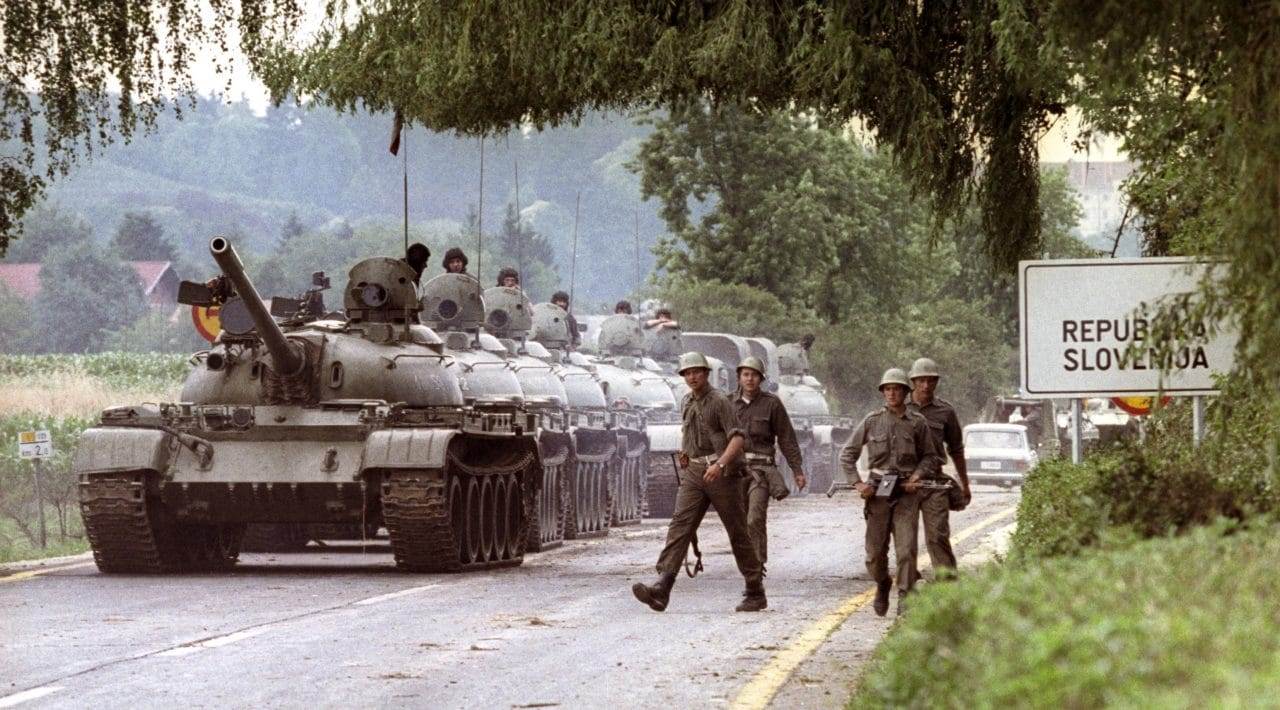 A column of Yugoslav tanks at the border between Croatia and Slovenia on July 3, 1991. Photo: EPA/MIKE PERSSON.
It was 2000 when Mrlak was posthumously granted the status of a fighter for Slovenia's independence, after persistent efforts by the pilot's family. But they still believe that justice has not been served.
In October 2016, Ljubljana District Court dismissed a request for an inquiry, filed by the pilot's widow Emilija Mrlak, into two unknown shooters and former Slovenian army officer Anton Krkovic, who issued the order to fire on the helicopter. Emilija Mrlak is convinced that Krkovic should not have issued the order.
Ahead of the hearing in 2016, Krkovic told media that he did not know who was piloting the helicopter.
"We did not shoot at Mrlak, but at a JNA helicopter," Krkovic stressed, adding that he did not know that Mrlak wanted to defect to the Slovenian side.
"This is a story that was invented afterwards," he insisted.
Jansa supported Krkovic, who was also his co-defendant in a corrupt arms sale case, the so-called 'Patria affair', saying that Krkovic was persecuted for doing his duty.
"According to that logic, they could persecute around 50,000 people who responded to the call to defend the homeland," Jansa said in 2016.
"For several years now, this nonsense has been appearing in connection with the shooting down of this helicopter. As minister of defence, I… never heard that Mr Mrlak intended to defect. I only heard about it in 1992, but I didn't see any evidence of that," he claimed.
However, in June 1992, a year after the Ten-Day War, when asked about the downing of the helicopter, Jansa told the Slovenian public broadcaster: "It was a psychological turning point, especially in the sense that the Territorial Defence and police realised that the enemy was not invulnerable in the air. We did not have helicopters, tanks, and cannons of larger calibres, only a few missiles."
Jansa added that "unfortunately there was a Slovene in the helicopter, with whom we had contact before".
Slovenian right-wing politicians have claimed that the legal case against Krkovic was an attempt to tarnish the war for independence.
Potocnjak said that such criticism has dogged the family since Mrlak's death, and had even affected his children.
She said that her sister, Mrlak's widow, decided not to go any further with the case because of the pressure on her.
"My sister said, if there was a mistake [by the military leadership], and if they would at least apologise, she would forgive them, we can say," Potocnjak said.
"However, it wasn't a mistake – they wanted that propaganda, they wanted a big explosion… they wanted blood."