From the 'Mesopotamia' in Belgrade to a damp hotel near the Hungarian border, BIRN lifts the lid on a lucrative smuggling operation that keeps migrants and refugees moving across the Balkans, lining the pockets of state security agents along the way.
This post is also available in: Bosnian (Bosnian)
But according to Serbian intelligence sources and refugees crossing the country en route to Western Europe, the Mesopotamia provides another service too, one that's not listed on the menu.
"We go there and I leave him the money," said Abdullah [not his real name], describing the mechanism by which refugees procure the service of smugglers via third parties at the Mesopotamia to get them across Serbia's borders with the European Union, just as he once did.
"The money is in my name and there is a code. When you arrive at your destination you send the code to the guy in the 'office' and he knows exactly who needs to come to take the money."
"It's insurance that the smuggler will not take the money before delivering." If the police push you back, your money is still safe.
According to five sources, as well as notes seen by BIRN written by an informant of Serbia's Military Intelligence Agency, VOA, who was allegedly also involved in smuggling, the Mesopotamia is the Serbian branch of a string of 'offices' or 'banks' along the route from the Middle East to Western Europe taken by refugees and migrants fleeing war, poverty and repression.
These offices provide an essential service in what has become a multi-million euro people-smuggling industry, one in which trust is in short supply and purportedly independent third parties act as vital middlemen between desperate migrants and refugees and the often ruthless smugglers who hold the key to their successful passage to a new life in the West.
Those trying to cross the border leave payments of thousands of euros with the middlemen, who hand it over to the smugglers on proof of arrival.
"The Mesopotamia is like an office of that third party," said Abdullah, who paid 3,500 euros to cross and spoke only on condition his real name not be published.
The migrant-smuggling business in the Western Balkans is worth at least 50 million euros a year, according to a report published in May by the Geneva-based Global Initiative against Transnational Organised Crime.
This is the inside story of how it all works, revealing not only the mechanisms involved but also the apparent complicity of members of the Serbian security services.
Envelope stuffed with 500-euro bills
Bordering European Union members Croatia and Hungary, Serbia is a major transit country on the migrant and refugee route. A total of 30,216 entered the country in 2019, according to the United Nations Refugee Agency, almost double the number registered in 2018.
As of the end of March, official reception centres housed roughly 4,460, and hundreds more are in squats, hostels or private homes, waiting for their chance to cross the border, commonly known among migrants and refugees as 'the game'.
But a razor-wire fence on the Hungarian border to the north and the heavy-handed, sometimes violent tactics employed by Croatian police to the West have given rise to a lucrative smuggling industry.
Horror stories are common, the illegal status of refugees and migrants meaning they are vulnerable to fraud and exploitation, prostitution, rape, physical abuse and kidnapping.
"I heard terrible things," said a translator working for a human rights NGO dealing with refugees and who also spoke on condition of anonymity.
"Some people were exploited by smugglers and guides. Some Iranian girls had to sleep with them in order to pay the travel expenses. There were rapes during border crossings in forests (…)when road guides deliberately separated girls from men."
"A lot of them also told me that when a family has paid for the trip, some of the smugglers kidnap their other children and ask for more money. Until they pay, they won't release them."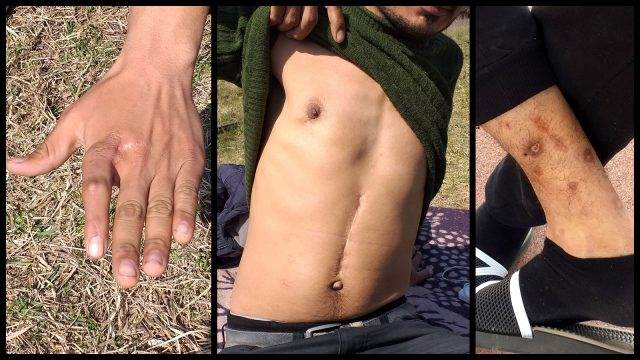 Refugees and migrants BIRN spoke to complained of police violence on the border and also showed the scars from war conflicts in their countries. Photo: Sasa Dragojlo
The Mesopotamia is part of an informal system of insurance.
According to multiple sources, it is controlled by a 41 year-old Turkish citizen called Ahmet Tuna, who registered 'Tuna tekstil d.o.o.' in Serbia in May 2018 and which officially operates the Istanbul Fast Food and Hostel Mittani. The Mesopotamia is a separate legal entity registered under the ownership of Serbian citizen Snezana Radulovic, who did not respond to an emailed request for comment. But migrant and insider sources say that it is in fact controlled by Tuna. All three establishments are located in the same gritty district of the Serbian capital near the old railway station and the river Sava.
BIRN found another company registered in the name of Tuna's mother in law in Subotica with a branch in Sombor, two northern Serbian towns close to the borders with Croatia and Hungary where refugees and migrants congregate before trying to cross the frontier with the aid of smugglers. Contacted by BIRN, Ahmet's wife Tabita Tuna confirmed that she and her husband are the owners of the company in Subotica and Tuna Tekstil in Belgrade, but denied any involvement in migrant smuggling or that they run the Mesopotamia.
"I have no information about that. We don't do such business," Tabita Tuna told BIRN. "Nobody has left any money with us. Migrants just eat and sleep in our places and that's it."
"I don't even know who owns Mesopotamia," she added.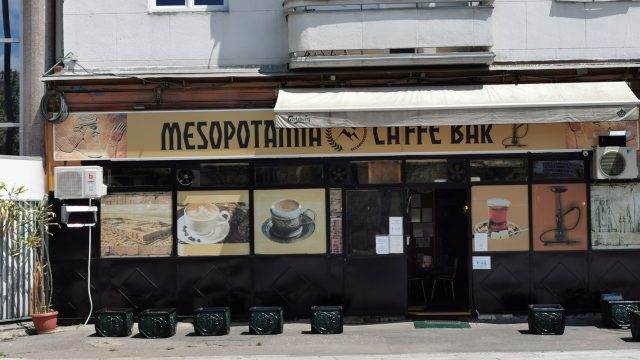 The Mesopotamia café in the center of Belgrade. Photo: BIRN
Notes made by an informant of the Serbian VOA, seen by BIRN, describe precisely what happens when a smuggler arrives to pick up their earnings.
According to the informant, identified by the initials V.S, on entering the Mesopotamia, the smuggler is escorted to the nearby Istanbul Fast Food, owned by Tuna, where they have to give a three or four-digit code that matches the one given to the refugee or migrant by the third party. The smuggler is constantly watched, wrote V.S.
V.S. describes witnessing the handover of an envelope bearing Arabic writing and the figure '50,000'. The envelope was stuffed with 500 euro bills, he wrote.
Deals are also made in the Mesopotamia for transport across Croatia, V.S. claimed.
"They bragged on a video taken in the Mesopotamia bar how they sent 42 people to Vienna, Austria in a truck with Croatian licence plates," V.S. wrote. "When they [asylum seekers] arrived and called back from Vienna, they paid 110,000 euros to a Croat."
V.S. was arrested for involvement in the smuggling network but was never prosecuted, police and security agency sources told BIRN.
It's an insurance system that does not always work.
"It's a risk," said Abdullah, "because he [the third party] can always take the money and run. That happened when I was in Athens. A guy who was supposed to look after the money ran away with 300,000 euros."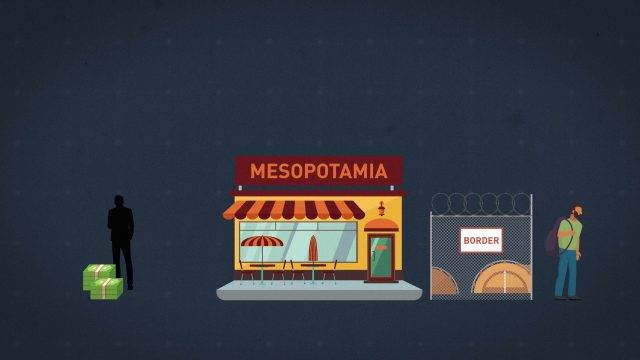 Those trying to cross the border leave payments of thousands of euros with the middlemen, who hand it over to the smugglers on proof of arrival. Photo: BIRN
State security agents take a 'cut'
Before a refugee or migrant leaves any cash at the Mesopotamia, they have to find a smuggler.
Serious smuggling networks are transnational, operating in more than one country along the route.
When a deal is struck, the smuggler serves as 'navigator' for the rest of the journey, putting the 'client' in touch with 'associates' along the way.
Like in any other service in the digital age, satisfied customers post recommendations or warnings on Facebook, Telegram or WhatsApp. In some social media groups accessed by BIRN, smugglers offer passage across borders by foot, car or truck, offer passports, work permits, driving licences, house rentals and even help in opening businesses in the EU.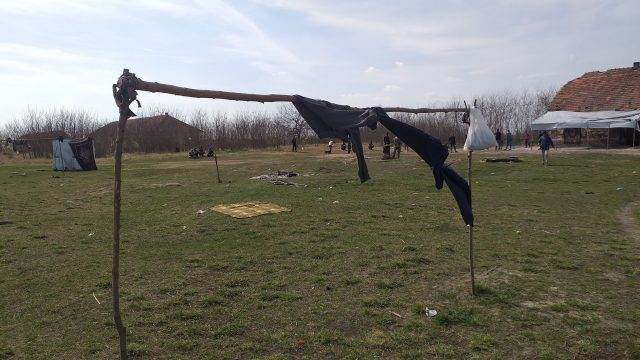 The refugees and migrants found temporary shelter in an abandoned houses close to the Horgos border crossing with Hungary. Photo: Sasa Dragojlo
Despite the creation of a task-force to tackle people smuggling, according to a BIRN analysis of court cases since February 2017, the police and prosecution have made little headway in bringing the kingpins to justice.
Between February 2017 and March 2021, police arrested 210 individuals from 24 organised groups suspected of people smuggling, confiscating some 245,000 euros and 34 vehicles. A closer look at each case, however, shows that most of those arrested were footsoldiers – taxi or bus drivers trying to top up their earnings, petty criminals and regular citizens tempted by the promise of a quick buck.
Dragan Cesto, Serbia's deputy special prosecutor and head of the migrant smuggling task-force, told BIRN that he is aware that the amount of money is not enormous and that the bosses are not being put behind bars, but that he can work only with the evidence collected.
"Whether they are footsoldiers or not, I work with the evidence we have and to prove a criminal act. It is the same when it comes to the amount of money. I know there is much more money in circulation, but we cannot always prove it," Cesto told BIRN.
On the other hand, a Syrian man identified by sources by the initials O.J., has evaded arrest despite the fact that numerous sources – migrants and refugees, NGO experts and a security service source – told BIRN he is one of the chief smugglers in Serbia.
As a refugee from Syria, where civil war has been raging for a decade, O.J. stands a better chance than others of accessing the EU. Yet he has spent the past four and a half years in Serbia, usually only a transit country for the vast majority of refugees and migrants.
"The only reason he stays here is that he is doing better in Serbia than he would in the West," said one of the sources who identified him as a major smuggler.
A source close to O.J., who spoke on condition of anonymity, said he in fact enjoys the protection of Serbia's Security Intelligence Agency, BIA.
"He has a lot of connections, including with BIA," the source told BIRN. "They told him they know everything, but it's fine as long as he helps them. When they are looking for someone, he has to help them find them. I think he also gives them a cut."
Such a 'cut' could be considerable. According to the source's estimations, O.J.'s smuggling network takes in around 150,000 euros a month, equivalent to roughly 61 per cent of the total amount seized by the state task-force in the space of four years.
A security service source, who declined to be named, also said that O.J. enjoys the protection of BIA, which has two representatives sitting on the state task-force to combat people smuggling.
A number of other refugees told BIRN they too had been approached by BIA agents requesting collaboration, which the refugees said they refused.
Some migrants involved in smuggling also enjoy the protection of police structures. A BIA agent, who spoke on condition of anonymity, cited the case of a Syrian smuggler identified by the initials A.S. and who he said was released after it emerged he was collaborating with the Serbian police.
"Everybody was pissed off because of that," the agent said.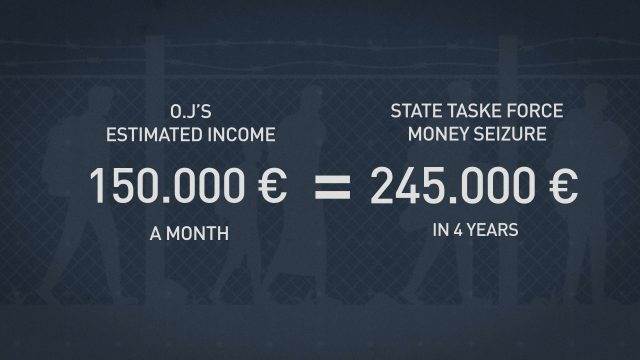 Syrian smuggler O.J.'s network takes in around 150,000 euros a month, equivalent to roughly 61 per cent of the total amount seized by the state task-force in the space of four years. Photo: BIRN
Asked about the security services' ties with migrant smugglers, the deputy prosecutor, Cesto, said he had no knowledge but did not exclude the possibility.
"If I knew about that I would resign immediately," he told BIRN. "It is possible that is happening, I cannot exclude that, but if I knew that and kept quiet, that would be in conflict with my professional morals."
Gordana Vukasin of Group 484, an NGO that deals with migration, told BIRN: "We are witnesses to the fact that the arrests they make do not stop the smuggling of people, which indicates that there are more serious players in the game and that everyone else is just a replaceable link in the chain."
The translator BIRN spoke to said: "The people arrested are mainly drivers. It's a public secret. It's impossible that the security forces in this country do not know."
In a northern hotel, rising damp and a tense wait
The VOA informant's notes identify Sombor, in the northwestern corner of Serbia near the border with both Croatia and Hungary, as a smuggling hub, a claim several refugees and migrants confirmed.
The town and its surroundings of some 90,000 people features a number of hostels catering exclusively to refugees and migrants, one of them a nameless, out-of-the-way establishment controlled by Ahmet Tuna.
But numerous sources identified the hotel Beli Dvor on the outskirts of Sombor as the main place to find smugglers. The VOA associate also identified the hotel as a favourite hangout of one of the main smugglers, and Abdullah mentioned the location in his description of how the operation works.
"A guy in Belgrade goes with you to the bus station, after which you buy a ticket and go to Sombor. In Sombor, another guy waits for you and takes you to the George hotel or Doctor Hostel," George being a reference to Djordje Knezevic, the owner of the Beli Dvor.
"Then you wait there until a third person takes you to the border. After you cross the border, there's another guy to take you."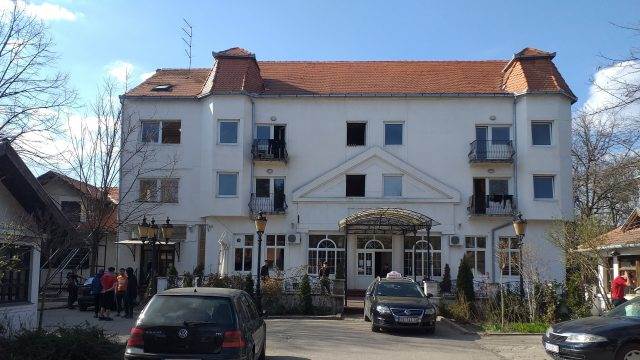 The numerous sources identified the hotel Beli Dvor on the outskirts of Sombor as the main place to find smugglers. Photo: Sasa Dragojlo
Refugees and migrants BIRN spoke to at the Beli Dvor complained of police violence on the border and showed the scars of previous attempts to cross. Their rooms were crowded, some with only mattresses on the floor and visible signs of mould.
Knezevic confronted this reporter, asking who gave him permission to enter and demanding he leave. Subsequently reached by phone, Knezevic confirmed that smugglers frequented his hostel but denied any personal involvement.
"When I saw that I was losing control of them, I threw them out recently," he told BIRN. Knezevic said his hostel was chosen by smugglers because of its location outside of the town, making it easier to control the migrants and their border crossings. "But there are no smugglers at my place any more, I decided to sleep calmer," he said.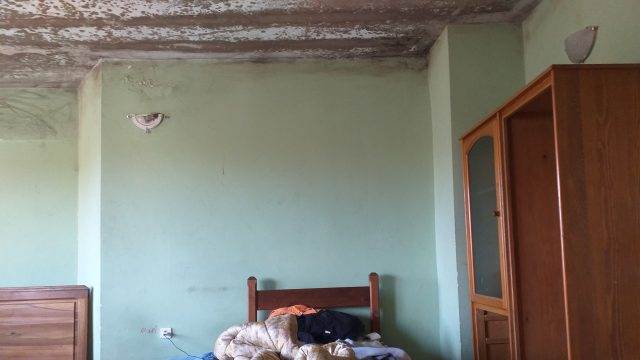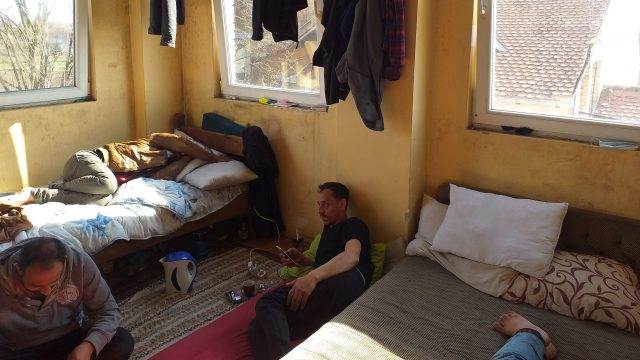 The rooms in Beli Dvor were crowded, some with only mattresses on the floor and visible signs of damp. Photo: Sasa Dragojlo
In the grounds of the hotel, taxi drivers waiting for a fare said migrants and refugees had become one of their main sources of income since COVID-19 restrictions robbed them of their usual clients. They said they only drove them close to the border, nothing else.
Once there, refugees and migrants use boats to cross the Danube, run through woodland and use wire cutters or ladders to breach the border fence. Or they conceal themselves in trucks.
The unlucky ones allege police took their money and mobile phones, forced them to strip, burned them and set dogs on them.
"Hungarian police beat me hard even though I didn't resist," said 33 year-old Afghan Rashid Mustafa, describing the moment he was apprehended two kilometres inside Hungary.
"They forced me to kneel and kicked me after I lost consciousness for a second. I hurt my elbow badly," he said, and showed this reporter the medical assessment he later received.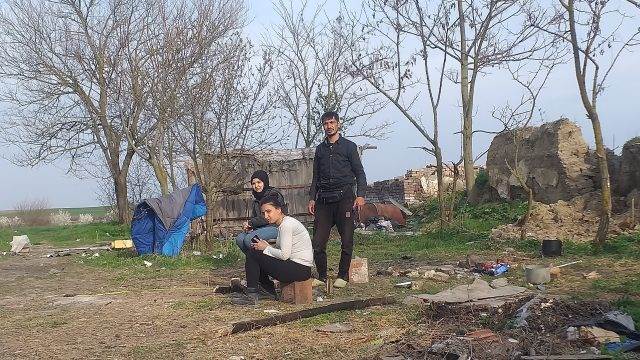 A 33 year-old Afghan Rashid Mustafa in the Serbian village of Rabe, near the borders with Hungary and Romania. Photo: Sasa Dragojlo
In Subotica, just short of the Hungarian border, two Kurds from Syria found temporary shelter in an abandoned house close to the railway station, where one of them, 25 year-old Sarman lifted his clothes to reveal a long, vertical scar he said was caused by shrapnel seven years ago in Syria.
He and his compatriot, 48 year-old Sleman Hamad, said they had each left 3,500 euros at the Mesopotamia in Belgrade and were waiting to cross the border.
"We don't have anything to eat, but we have to cross, that is the only thing that matters," said Hamad.
Given the scale of such operations, insiders say it is hard to believe they can pass undetected by Serbian authorities.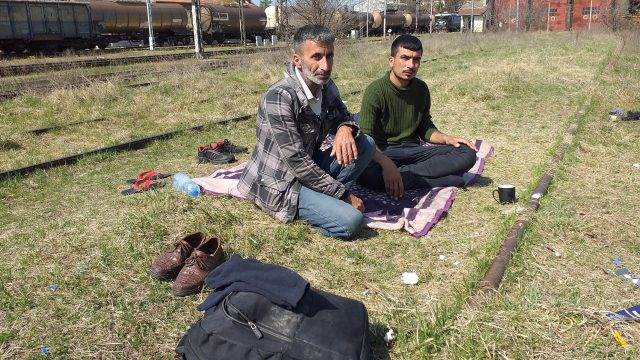 In Subotica, just short of the Hungarian border, Salman and Hamad, two Kurds from Syria, found temporary shelter in an abandoned house close to the railway station. Photo: Sasa Dragojlo
In his notes, V.S. describes an arrangement between police officers in Subotica and Afghan smugglers, with the former charging up to 600 euros to allow passage for a single migrant along a 50 metre tunnel dug to Kelebia on the Hungarian side of the border from Subotica.
"The daily profit was between 15 and 20,000 euros," V.S. wrote.
The only true risk is taken by the refugees and migrants themselves. One Syrian refugee told BIRN that smugglers are fighting among themselves for control of the best border-points as well as beating refugees who try to cross without their services.
"If you try to cross without them, they will find you," he said.
Then there are the police, whose heavy-handed tactics have been widely reported.
"When the police catch us they take all our money and phones and push us back," said a 19 year-old Syrian who gave his name as Hussein. Speaking in a hostel in Sombor, Hussein said he had spent the past few months in Serbia, having left 7,000 euros with a 'third party' in an 'office' in Turkey. On his arrival in Germany, the money will be released to his smuggler, but nothing is guaranteed.
"I don't have any real plan," he said. "I am trying the 'game' every day, looking for my chance."