Human rights activists in Kosovo are preparing to open a museum focusing on children's experiences of the 1998-99 war and are asking people to give them personal items and testimonies from their childhood for exhibition.
This post is also available in: Bosnian
About a week beforehand, NATO had launched air strikes intended to make Yugoslav President Slobodan Milosevic pull his forces out of Kosovo. But Milosevic stepped up his campaign against Kosovo Liberation Army guerrillas and ethnic Albanian civilians, sparking a mass exodus of refugees.
Although not even a teenager, Hajdini had secretly learned to drive the family tractor in the yard of his house in Bellopoje while older relatives weren't around.
It was a skill that proved vital when it turned out that he was the only one among those who were fleeing the shelling who could actually drive it.
"In this war scenario, there was no other choice. None of the adults could drive the tractor so I jumped in and drove it through many villages in mountainous areas," Hajdini told BIRN.
Most of those who remained behind, including some of his relatives, were killed and their bodies thrown into wells.
"For some days, when we made any stop, I kept trying to read anything. I was trying to divert my attention from stories of dead people in wells," he recalled.
Hajdini is now a professor of International and Strategic Management at the University of Vienna, and he wants to give the book he was reading as he fled the war, 'Hasta la Vista', a novel by Albanian novelist Petro Marko about the Spanish Civil War in the 1930s, to the Kosovo War Childhood Museum, which is expected to open this year in Pristina.
The museum, which is being established by the Youth Initiative for Human Rights NGO and supported by USAID, will include the testimonies, personal belongings and diaries of people who were children during the war, looking at the impact that the experience had on their lives.
"This will be a museum of a generation that experienced the war, and it sheds light on one of the darkest sides of collective memory," Marigona Shabiu, the Youth Initiative for Human Rights' executive director, told BIRN.
"It has an educational aim, to contribute to greater understanding for society as a whole," she added.
'People can learn the personal truth'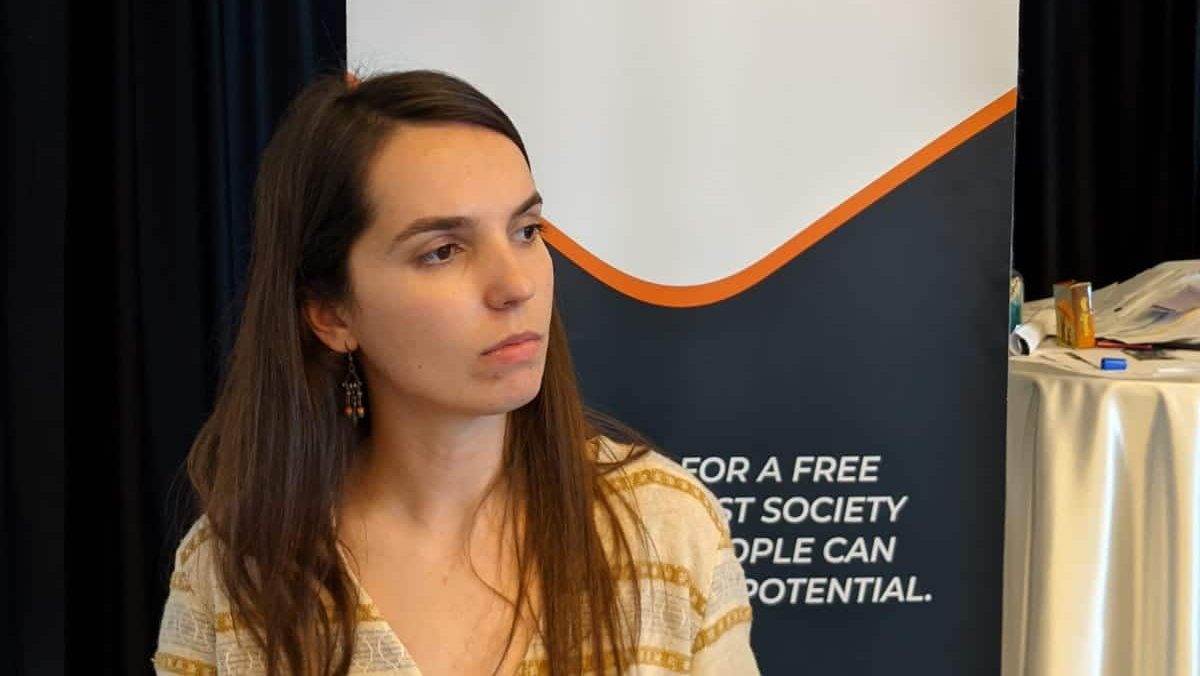 Marigona Shabiu of the Youth Initiative for Human Rights, which is organising the museum project. Photo: Youth Initiative for Human Rights.
The Kosovo War Childhood Museum follows a successful exhibition in 2019 in Pristina called 'Once Upon a Time and Never Again', which commemorated around 600 children who were killed during the war with a display that included photographs and personal items like clothes, shoes, toys, notebooks, report cards and school bags.
The new museum will be situated within the National Library of Kosovo in Pristina. So far the Youth Initiative for Human Rights has collected dozens of personal items from all over the country and recorded many hours of audio testimonies that document people's wartime experiences.
"By reading their stories and seeing their clothes that they had at the time of the attacks, displacement or sheltering in refugee camps, people can learn the personal truth about the war," Shabiu said.
She suggested that the new museum can contribute to reconciliation in a society where relations between ethnic Albanians and Serbs are still scarred by the war.
"Children's stories about what we experienced as a society will help bring people closer. They expose things that were not given space, for instance about how a Serb neighbour helped an Albanian neighbour or vice versa," she said.
For more than two decades since the war ended, memorialisation in Kosovo has been dominated by ideas of wartime heroism and the glorification of Kosovo Liberation Army guerrillas who were killed while fighting for freedom from Serbian rule, which has left less space to acknowledge the suffering of civilian war victims and to recognise their enduring traumas.
"It's still hard for many of them, particularly those who have lost their family members and have seen the atrocities first-hand, to cope with the trauma of war," Shabiu said.