This post is also available in: Bosnian
Herman Janez was just a child in 1942 when Italian fascist troops set the village of Stari Kot in Slovenia on fire and took his family away to Kampor, an Italian-run concentration camp on the Croatian island of Rab.
"I turned seven on July 16, 1942, and in the autumn, I was going to go into the first grade [of school]… My peers – I think there were seven of us – instead of going to primary school, we went to Rab," Janez told BIRN.
He and his family were detained on the island for four months, and then spent ten months in another fascist-run camp, Gonars in north-east Italy.
Janez, who is now 85 and lives in Slovenia, has spent his whole adult life researching Kampor's history. After World War II, he often went back to the island, walked around and searched for documents. He said he has been there 70 times.
"I travelled to Rab for the first time [after the war] in September 1953… One has to grow up both physically and mentally to understand all that," he said.
Rab is a now popular tourist island, but although the concentration camp is little-known among the public in Croatia, Italy or Slovenia these days, some historians have been striving to preserve the memory of what happened there.
Topografia per la Storia, an Italian organisation that researches Italian fascist-run detention sites from World War II, recently launched a crowdfunding campaign to support further research into the history of Kampor.
It is seeking to fund research work in the Italian, Slovenian and Croatian archives, and to create a website dedicated to the history of the camp and a database with the names of all its internees.
'How can a human become a beast?'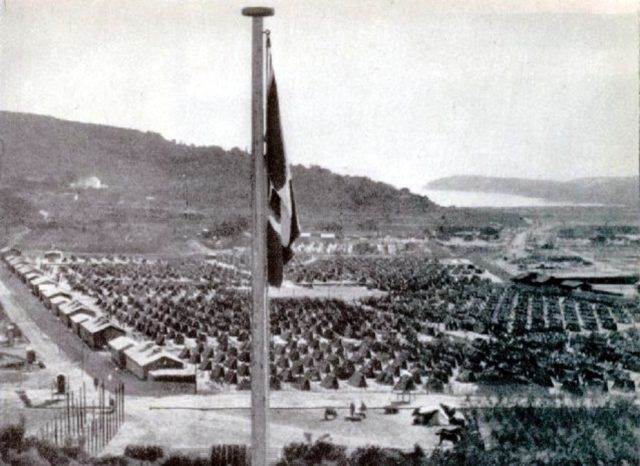 A view across the Rab concentration camp, with tents for the prisoners. Photo: Wikimedia Commons/Unknown photographer.
Kampor, which was established during World War II after Italy annexed parts of Slovenia, areas of the Adriatic coast and islands that are now part of Croatian and Montenegrin territory, was one of the harshest Italian concentration camps.
It is estimated that the camp held 10,000 to 15,000 people in total – Slovenian, Croatian and Jewish prisoners.
Janez recalled the hunger and thirst he experienced there as a boy: "If you got one cup of rice, it was a really big thing… There was no water, [but] one has to understand that the island of Rab at that time had 376 [natural water] sources," he said.
"I wonder how a human can become a beast, an animal, so he treats humans and children like that?" he asked.
Until the first wooden barracks huts were built at the camp, the internees had to sleep in tents.
"It was terrible when it rained – it rained through the tent," Janez recalled.
An improvised hospital was eventually set up at a nearby hotel, but before that, pregnant inmates had to give birth to their children in the tents amid the poor hygienic conditions and lack of water.
Janez, with the help of a former nurse who worked at the camp, discovered that around 55 children were born there, and that only eight or nine of them survived.
Kampor was split into the so-called 'men's camp' and the 'women's camp', which housed female prisoners, children and the elderly. In the spring of 1943, when the first groups of Jews began to arrive at the camp, a 'Jewish camp' was also built.
Janez was separated from his father, who was put in the men's camp while he was with the children. Both his father and grandfather died at Kampor. His mother, he said, had "fortunately" died a year earlier.
"For me, everything that was worthwhile in life was left behind on Rab," Janez said.
He visited the cemetery where the prisoners who died at Kampor were buried many times, but it saddens him that he has not been able to find the exact spot where his father and grandfather were buried.
"Before leaving the cemetery, I always turned back, saying: 'You are here, and I don't know where,'" he said.
'The camp is an Italian story'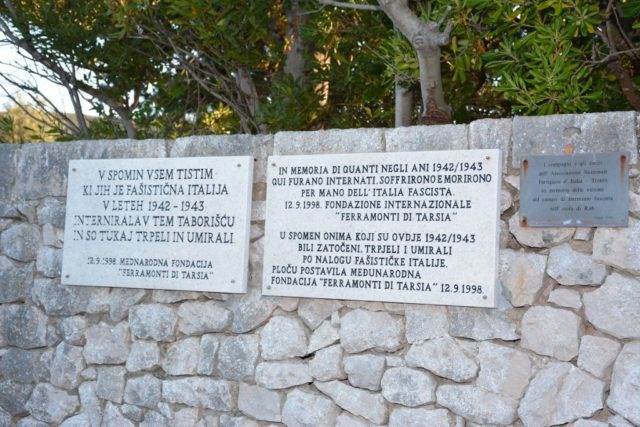 Memorial plaque to the victims of the Kampor camp, installed in 1998, written in Slovenian, Italian and Croatian. Photo: Croatian Presidency/Drazen Volaric.
Eric Gobetti, an Italian historian, told BIRN that "fascist crimes, in general, are not known in Italy", and nor is the history of Kampor.
"The Italians have, in their imagination, a vision of a 'good Italian'," Gobetti said, explaining that there is a widespread opinion that during World War II, the Italians under fascist dictator Benito Mussolini were not as brutal as their German allies.
Gobetti said that people in Italy associate the notion of a concentration camp with Nazi Germany, but not fascist Italy.
"When we talk about fascist camps and the camp on Rab, people are surprised, not only students but also adults," he said.
This is why Gobetti got involved in the project with Topografia per la Storia entitled 'Camp on Rab: An Italian Story' to fund more research and create public resources about Kampor.
They are also planning a memorial trip to Rab next year, on the eve of the 80th anniversary of the camp's opening.
Gobetti explained that documents related to the camp are stored in various places – some are in military archives in Rome, while some are in Slovenian or Croatian state archives.
"It is not known the exact number of people who died in the camp and the total number of those who entered the camp, and that is exactly why we started this project," he said, adding that it is particularly difficult to obtain documents in Italy as the authorities "do not favour investigations about that"
He said it is estimated that around 1,400 people died at Kampor, mostly of starvation or disease.
"There are many documents that suggest that the Italian generals knew about the conditions in which the people lived but did nothing about it," he added.
He said that 100,000 'Yugoslavs' were interned in fascist camps. Detention sites like Kampor were also established in Italy, Albania and elsewhere in Croatia.
Italian fascist leader Benito Mussolini came to power in 1922, but even before that, there was anti-Slavic propaganda in Italy. In 1920, in a speech in the Croatian town of Pula, Mussolini stated that the Slavic race was "inferior and barbarian".
Fascist camps set up near the Adriatic were intended to sever contacts between the Slovenian and Croatian population and the local Partisans, members of the Yugoslav anti-fascist resistance movement led by Josip Broz Tito.
Civilians were initially taken to the camp so they could not provide support to the Partisans, Gobetti said, and then later in 1943, around 3,000 Jews were arrested and interned there.
Following the Italian capitulation, the camp guards and Italian soldiers left the island of Rab and a joint force of local Partisan fighters and Partisan inmates liberated Kampor in September 1943.
The camp was a free territory for some time, but then was taken over by the Germans. Jews who stayed in the camp because they were too weak to leave or join the Partisans were captured by the Germans and sent to the concentration camp at Auschwitz.
Tourism in history's shadow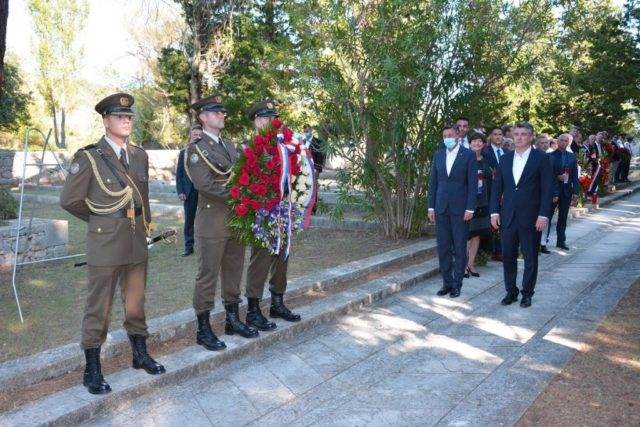 Slovenian President Borut Pahor and Croatian President Zoran Milanovic commemorate the 77th anniversary of the liberation of Kampor. Photo: Croatian Presidency/Drazen Volaric.
As well as invading the Kingdom of Yugoslavia during World War II and annexing parts of Slovenia and some areas of the Adriatic coast, the Axis powers, which included Italy, established the Independent State of Croatia in 1941 with the help of their Croatian collaborators, the Ustasa movement.
The main Ustasa concentration camp, Jasenovac, where over 83,000 Serbs, Roma, Jews and anti-fascists died, is well-known to the Croatian public, but Kampor on the island of Rab is not.
Ivo Baric, a retired professor of pedagogy and a well-known anti-fascist activist from Rab who has also devoted a good part of his life to exploring the camp, said that while the island is a popular summer tourist destination, its dark history has been all but forgotten.
"It is interesting that children from Rab had never heard of that camp, nor had their parents ever told them anything about that camp," Baric, who has guided around 300 groups of pupils, students and tourists around the former camp, told BIRN.
Each year in September, on the anniversary of the liberation of the camp's inmates, a commemoration is held on the island. In September 2020, Slovenian President Borut Pahor and his Croatian counterpart Zoran Milanovic went to the ceremony – the first time that officials from the two neighbouring countries have attended the event together.
"Every time on the day of the liberation of the camp, a lot of Slovenes come here, but fewer Croats – interestingly, Croats do not have much interest in the camp," Baric noted.
He also suffered during WWII. His family home on the island of Iz was burned down in 1944 by the Nazis and then his family fled to a refugee camp in the liberated part of Italy.
He first visited the camp on Rab after completing his studies, and it made a significant impression on his life.
"Since then, I have been attached to that part of history," he said. "I want as many people as possible to know."