Pandemic Halts Major Bosnian War Crime Trials for a Year
War crime cases involving a large number of defendants have been on hold for more than a year because of measures imposed to prevent large gatherings spreading the coronavirus, raising concerns that justice is suffering as a result.
This post is also available in: Bosnian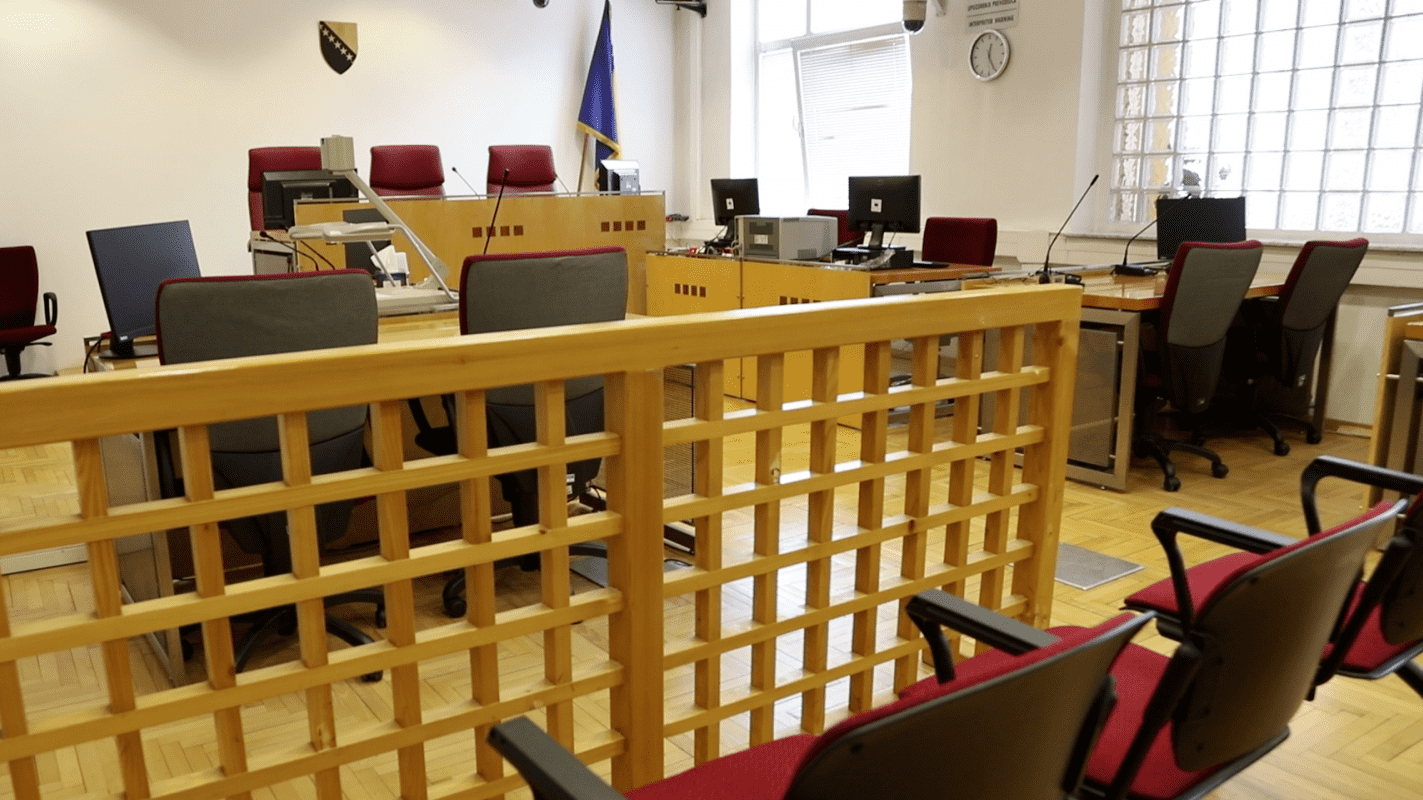 The Bosnian state court. Photo: Bosnian state court
More than a year has passed since large-scale trials for crimes committed during the war in Bosnia were put on hold at the state court in Sarajevo due to safety measures to curb the coronavirus pandemic, and there is no indication of when they might resume, BIRN has learned.
Hearings in cases involving five or more defendants have not been scheduled because the Bosnian court claims it lacks space to hold the trials safely, even after plastic separators were put up in the biggest courtroom to reduce the possibility of infections.
"We know that this is a long-running process, which is further dragged out by this, but for the time being we have no other solution but to wait for the situation to stabilise," judge Minka Kreho, president of the Crime Section of the Bosnian state court, told BIRN.
Suggestions that cases with a large amount of defendants could be split up into smaller trials were rejected by the court.
Bosnia's Law on Criminal Proceedings of Bosnia and Herzegovina says that six months after the last hearing, parties to the proceedings have the right to request a restart to the trial, which would cause a significant problem as court proceedings already drag on for too long.
Lejla Covic, a lawyer who represents defendants in several war crime cases, said that the current situation is affecting defendants' right to a within a reasonable timeframe.
"The expeditiousness and right to an efficient trial is being lost, alongside the quality of the trial, because there the proceedings have no continuity," Covic said.
"Quality is also lost due to the fact that lawyers, as well as prosecutors, cannot do a good-quality job when trying to prove their allegations because of limited contacts with witnesses, court experts and other individuals whose participation in the proceedings is necessary," she added.
The cases that have been on hold for the year include the high-profile trial of Atif Dudakovic, the former commander of the Bosnian Army's Fifth Corps, who is being tried alongside 16 of his soldiers for wartime crimes including over 300 killings and the destruction of Serb Orthodox churches. The last hearing in the case was held in February 2020.
The politically-controversial trial of nine former Croatian Defence Council fighters charged with committing crimes against Serbs in the town of Orasje has also been on hold since February 2020. The case has sparked protests by Bosnian Croats and strong reactions from officials in the Croatian capital Zagreb.
Also on hold is the trial of 11 Bosniak Territorial Defence fighters and policemen accused of an attack on the village of Cemerno in 1992, when around 30 Serbs were killed, including ten women. The last hearing was held in December 2019.
Other cases that have not seen hearings for over a year are the trials of 14 Serbs accused of involvement in mass killings, rape and torture in a village near Prijedor, nine former Bosnian Army soldiers accused of abusing civilian detainees and prisoners of war who were held in a former hotel in Buzim and ten Serbs accused of illegal arrests and abuse of Bosniak civilians in the Janja area.