Terror Trial Witness 'Went to Syria to Find Freedom'
A witness said she moved from Bosnia and Herzegovina to Islamic State-controlled territory in Syria in 2013 to be able to practice her religion in the way she wanted.
This post is also available in: Bosnian (Bosnian)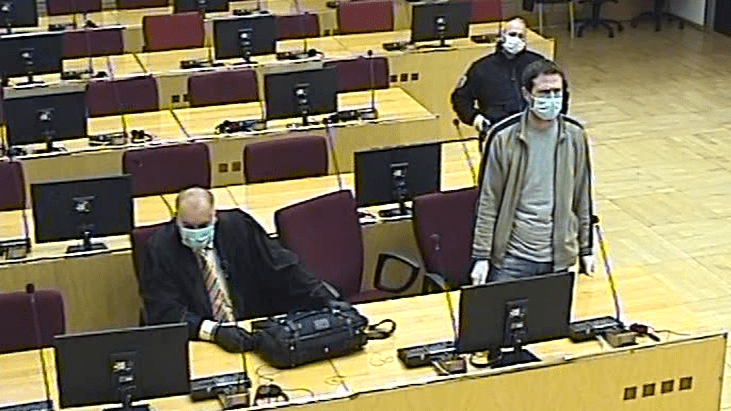 Senad Kasupovic. Photo: Court of Bosnia and Herzegovina
At the trial of Senad Kasupovic, who is charged with going to fight in Syria, the prosecution read a statement by a witness who spoke about why she moved to the Middle East with her family and about life in the conflict zone.
The statement given by the witness, whose name cannot be disclosed, was read after an expert had determined that she would be unable to testify in court for medical reasons.
During an investigation of the Kasupovic case last year, the witness said that in early 2012 she had started practicing her religion in a way that is unusual in Bosnia and visited an unlicensed mosque in the Zenica area.
She said she had met her husband on Facebook. Some time later they met in person and then had a sharia wedding. She mentioned that her parents were traditional believers and did not agree wuth the choices she made.
The witness said her husband had been in Syria before "to help oppressed Muslims" and had returned in March 2013.
She said that she wanted to move to Syria too.
"I wanted to go, to get more freedom, to dress as I wish," she said.
She recalled that in 2013, she set out for Syria with her husband and another couple in a minivan and arrived several days later.
They first stayed in a house, but then they moved and "fled" to various places, including Raqqa, Haritan, Jerablus, Manbij and eventually Baghouz.
She said that, "while in Raqqa, we swore an oath to caliph [Abu Bakr] al-Baghdadi", the leader of Islamic State.
She said her husband had a rifle and went on "sentry duty". In the beginning, they received certain amounts of money, she recalled, but the payments later stopped. She gave birth to two sons in Syria.
The witness listed the names of people whom she came to know or met, saying that many of the men and some women had been killed. She said that at some stage she wanted to go back to Bosnia.
She said they eventually arrived in Baghouz and were so tired that decided to surrender.
"I am not sorry for having gone [to Syria], because some nice things happened to me… There is no more Islamic State, but there was a lot of injustice," she said.
Defence lawyer Husein Music said he had no questions for the witness, because she did not even mention Kasupovic.
Prosecutor Cazim Hasanspahic said the witness confirmed some allegations made by other witnesses who had seen Kasupovic.
The prosecution introduced several pieces of material evidence, including records of the defendant's identification.
The trial is due to continue on December 30.