A new peace monument in Srebrenica has caused a row between local Serbs and Bosniaks, who are upset that it features no reference to the July 1995 genocide of thousands of men and boys from the town.
This post is also available in: Bosnian (Bosnian)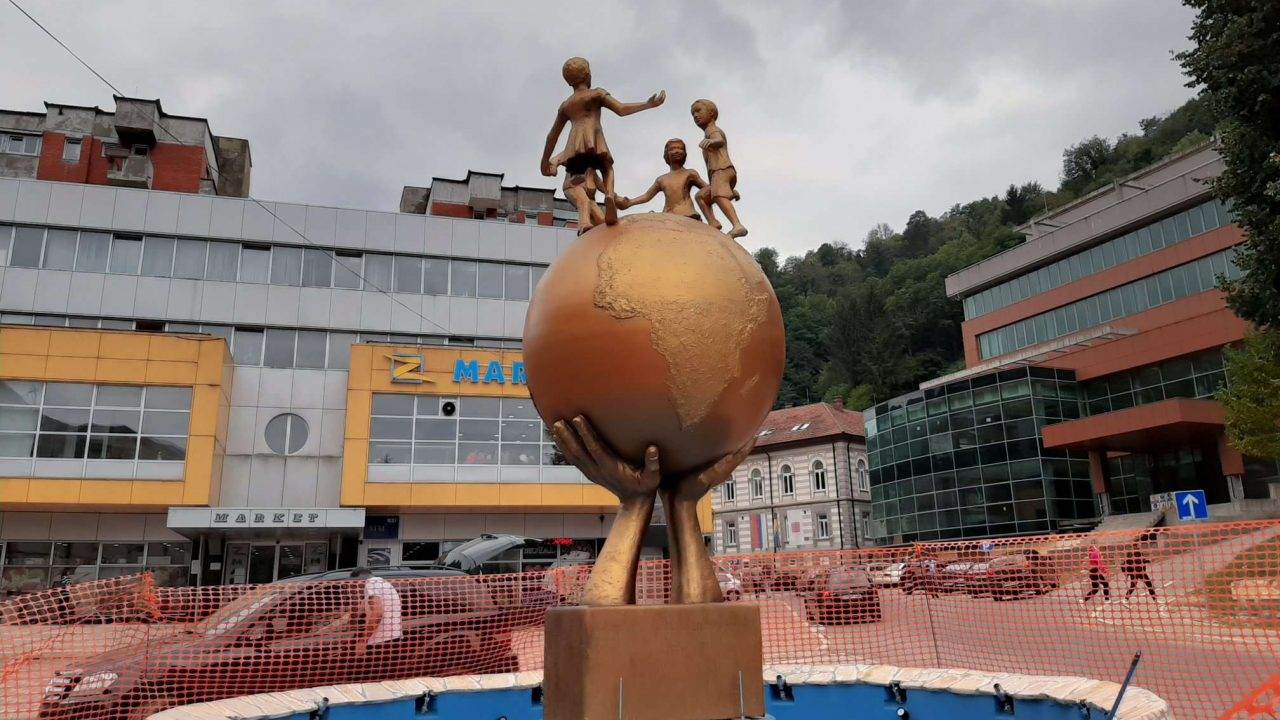 The new monument in central Srebrenica. Photo: BIRN.
The new monument, which was inaugurated on Monday to coincide with the UN-backed International Day of Peace, has again highlighted the persistent post-war ethnic divisions between Serbs and Bosniaks in the town.
Srebrenica's mayor, Mladen Grujicic, told BIRN that the municipal assembly had decided to build "a monument that will be universal and with no direct link to victims of the past war".
"The monument of peace, as they called it, will not be associated with the war at all, it will not serve for laying wreaths or commemorating anything in that sense, but it will serve as a message of peace and coexistence and looking to the future for young people who are yet to come," Grujicic said.
Grujicic explained that the idea for a neutral monument was inspired by an artwork by a Srebrenica schoolchild.
He added that over the past several years, there have been discussions about Serbs and Bosniaks building "something jointly in terms of suffering" in Srebrenica, but no agreement has ever been reached.
The Association of Mothers of Srebrenica and Zepa Enclaves, an organisation representing war victims, expressed unhappiness that the monument does not acknowledge the 1995 genocide of Bosniaks by Bosnian Serb forces.
"Sometimes I think how he [Grujicic] can face the Bosniak people at all or say anything considering his… denial of genocide and his own personal minimisation of the victims, and what hypocrisy it is that he is building a monument of peace in Srebrenica," said Sahida Abdurahmanovic, a member of the association.
Like other Serb political leaders, Grujicic insists that the massacres of Bosniaks did not constitute genocide despite the verdicts of international and Bosnian courts.
So far, 47 individuals have been sentenced to more than 700 years in prison and four life sentences by courts in the former Yugoslavia and in The Hague for crimes against Bosniaks from Srebrenica in July 1995, including Bosnian Serb political leader Radovan Karadzic.
Court verdicts have established that more than 7,000 Bosniak men and boys from Srebrenica were killed and more than 40,000 women, children and elderly people were expelled.
Residents of Srebrenica have divided opinions about the monument, but BIRN found that many did not want to speak about it to media.
One local, Mirnes Zahirovic, said the monument "has brought unrest among an already divided people".
"The erection of a monument of peace in the town where genocide was committed against Bosniaks … is nothing but a poke in the eye for war victims and [post-war] returnees to Srebrenica," Zahirovic said.