Anger in Bosnia after British PM Ennobles 'War Crimes Denier'
Survivors of the 1992-95 Bosnian war have expressed anger after British Prime Minister Boris Johnson decided to make Claire Fox, who has published articles denying the Srebrenica genocide and other wartime crimes, a member of the House of Lords.
This post is also available in: Bosnian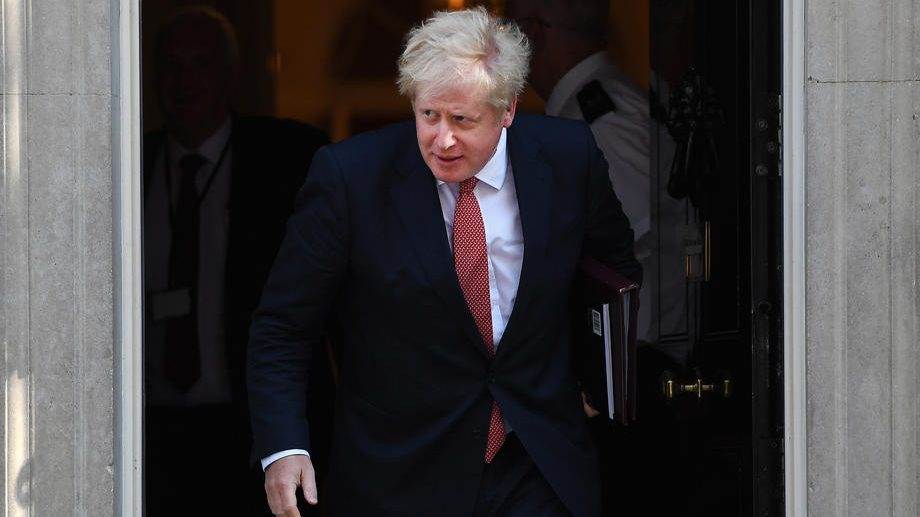 British Prime Minister Boris Johnson in Downing Street, London in July. Photo: EPA-EFE/Andy Rain.
Boris Johnson's decision to award a life peerage in the House of Lords to Claire Fox, the former co-publisher of a magazine that published articles denying war crimes that were committed against non-Serbs during the Bosnian conflict, has been described by war survivors as a boost for nationalists and historical revisionists.
Fox, a former member of the Revolutionary Communist Party and former co-publisher of Living Marxism magazine, who more recently has been a Brexit Party member of the European Parliament, was nominated as a peer by Johnson last week. The British premier gave no reason for his decision.
Camil Durakovic, a former mayor of Srebrenica who escaped the July 1995 genocide of Bosniaks when he was a 16-year-old boy, said that Britain previously had a good record of raising awareness about war crimes, citing a UK-backed initiative at the UN Security Council to adopt a declaration condemning the Srebrenica massacres as genocide, which was ultimately blocked by Russia.
Johnson was also one of more than 40 world leaders who sent video messages in July this year for the 25th anniversary of the killing of some 8,000 Bosniaks from Srebrenica, which was classified as genocide by international courts.
In his message, Johnson said "we owe it to the victims" to remember Srebrenica and "to ensure it never happens again". Three weeks later, he nominated Fox to the House of Lords.
"I am afraid that the UK might be following in the footsteps of the Swedish awarding the Nobel Prize to Handke," said Durakovic, referring to the awarding of the 2019 Nobel Literature Prize to author Peter Handke, a sympathiser with Serbian wartime leader Slobodan Milosevic.
"Who can we trust now?" Durakovic asked. "The UK that commemorates the genocide with us, or the one that puts people in important position who are no less evil when it comes to Bosnia's war history than Handke or various others."
Refik Hodzic, a Bosnian transitional justice expert and former spokesperson for the Hague Tribunal, said that by publishing articles that denied the facts about the Srebrenica genocide and other war crimes in Bosnia, Fox "put the wind in the sails of a whole machinery of revisionism and further dehumanisation of the victims".
Fox's Living Marxism magazine lost a libel case in a London court after it published claims that British television company ITN faked evidence in a report in 1992 about the Trnopolje and Omarska detention camps for non-Serbs in the Prijedor area, where thousands were interned and mistreated, and from where many were sent to their deaths.
Satko Mujagic, a Bosniak who was detained at Omarska as a 20-year-old when the ITN journalists and a reporter from The Guardian newspaper visited the camp in August 1992, said he did not see the reporters because he was huddled in a hangar at the time, but their arrival changed his fate because their reporting led to the closure of the camp.
"Their entrance literally saved our lives, it was thanks to them that the last group [of prisoners at Omarska] was not killed, some 170 people and myself among them," said Mujagic, who suffered beatings and starvation at Omarska and had to clean its notorious 'White House' building after Serb militiamen killed people there.
Mujagic said that so much time has now passed that many politicians in Europe, let alone ordinary citizens, do not know what happened during the Balkan wars or about Fox's role in the denial of crimes.
"Until you write a letter to the people in such positions, even those who send messages about Srebrenica, explaining the background of certain people they wouldn't know, I think no one tells them that. Too much time has passed and I don't think that someone Googles that," Mujagic said.
Fox wrote in 2007 that "the Serbs were routinely demonised en masse" during the Balkan wars, when the country was under Slobodan Milosevic's rule, and that Serbia was treated as "an international pariah state, instead of a local protagonist in a dirty and bloody civil war".
"Regardless of the facts on the ground, Serbia has long acted as a symbol of evil, a propaganda monster created by righteous westerners," she argued.
Johnson's decision to make Fox a peer, on a list of nominations that also awarded peerages to his own brother and to donors to his Conservative party, has sparked criticism in Britain.
"With a few honourable exceptions this is the most appalling list of peerages I've ever seen. Packed full of cronies, and at least one genocide denier. Claire Fox has never apologised for denying the genocide of Bosnian Muslims," London's deputy mayor, Tom Copley, wrote on Twitter.
"The UK government's award of a peerage to Bosnian genocide-denier Claire Fox is disgraceful," said Marko Attila Hoare, a British historian of the Balkans.
The British Labour Party has also called for Fox's peerage to be blocked because she has refused to apologise for expressing support for the Irish Republican Army in 1993, when it staged a bomb attack in the English town of Warrington that killed two schoolboys.
BIRN contacted both Johnson and Fox by email for a comment but received no reply by the time of publication.