Terror Trial Expert: Islamic State Recruits Embraced Death
At the trial of Senad Kasupovic, a Bosnian man accused of going to fight in Syria, a state prosecution expert witness presented his findings about so-called Islamic State, saying its philosophy was that "it is not important how you lived before, but how you will die".
This post is also available in: Bosnian (Bosnian)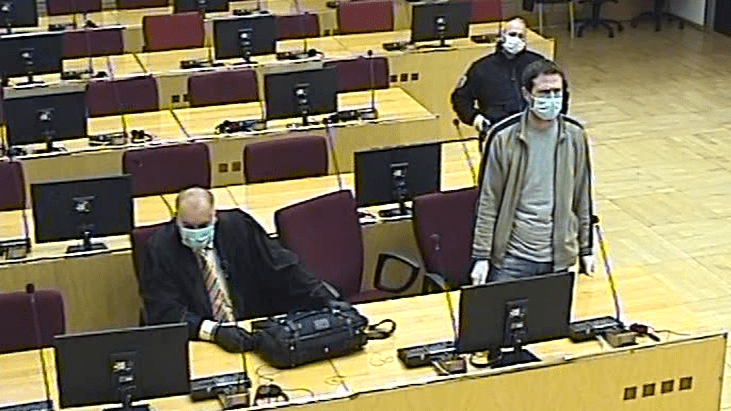 Expert Vlado Azinovic, a professor at the Security and Peace Studies Department of the Faculty of Political Sciences, said his findings were based his own research, interviews with the staff of security agencies and numerous bibliographical sources.
"Islamic State is considered the most vicious terrorist organisation – tens of thousands of people have died [because of it]. Reckonings with opponents are carried out in a brutal manner," Azinovic said.
He said that people started to leave Bosnia and Herzegovina to join Islamic State in 2012, but most went two years after that.
"Nearly 95 per cent of [Bosnian] citizens left with the intention of not coming back," he said, adding that those who went to the Middle East considered "it an obligation for believers living in a secular state".
According to Azinovic, there is no universal profile of people who went to fight abroad, but two factors do stand out – people from the diaspora, and those who have a criminal past.
He said that data available to him suggested that 25 per cent of those who went to fight had either been investigated or prosecuted, while some of them come from "dysfunctional" families, whose parents were divorced and fathers were violent or alcoholics. Many also had mental health issues.
When asked by prosecutor Cazim Hasanspahic about the main motives for Bosnian citizens going to fight abroad, Azinovic said it was a combination of general circumstances and personalities, adding that many people left believing they were fulfilling a religious obligation, intending not to come back, which is why many of them burnt their documents and passports as an act of leaving Bosnia and Herzegovina, a secular state.
Azinovic said that battalions were the core Islamic State units. He added that El-Aksa was one of the Islamic State formations that consisted of Bosnian citizens.
Azinovic said that the returnees from the Middle East are skilled in handling weapons and explosive devices and ideologically engaged.
"There are two types of returnees – several dozen who returned voluntarily, and the last group of people who stayed with Islamic State until the last moment," Azinovic said.
When asked by Kasupovic's defence lawyer Husein Music whether some people went to Syria for love, Azinovic agreed that some did go in order to get married.
Kasupovic said he met his wife on the internet and went to Syria to get married, but later on was not able to return to his home country.
Kasupovic is accused of terrorism for joining so-called Islamic State.
According to the charges, he travelled from Bosnia and Herzegovina to Turkey on July 12, 2013 and then illegally crossed the Syrian border with the intention of fighting for Islamic State, which was declared a terrorist organisation by the UN on May 30, 2013.
According to the charges, Kasupovic participated, under the name of Muatesim, in terrorist activities by fighting for the Bejt Komandos Unit, which was later renamed al-Aksa.
A police officer from the State Investigation and Protection Agency (SIPA) testified that the agency began monitoring individuals who had gone to fight on  foreign battlefronts during 2012 and 2013, when they learnt that Kasupovic, who comes from Velika Kladusa, was in Syria.
The SIPA witness, whose name cannot be published due to the nature of his job, said that after having received that piece of information, he went to Velika Kladusa, where he spoke to Kasupovic's mother.
"She gave a statement to us and confirmed our findings. She told us that Senad was in Syria, that he lied to them and actually that he was not honest when he left, telling them he was going somewhere else," the witness said.
Kasupovic said his mother died in 2018, adding that inspectors and police officers had visited her several times to take statements.
The trial is due to continue on August 12.