Handke Monument Reignites Nobel-Prize Controversy in Bosnia
Planned sculpture of the Nobel prize-winner – known for his strongly pro-Serbian views and denial of the Srebrenica genocide – becomes the latest source of discord in the divided country.
This post is also available in: Bosnian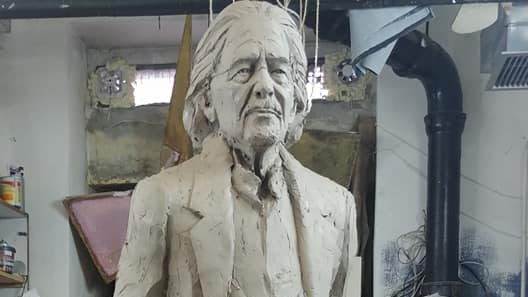 Sculpture of Handke. Photo: Facebook, Bojan Mikulic
Peter Handke, the Austrian author whose Nobel prize was denounced by victims of the war in Bosnia because of his pro-Serbian stance, and dismissal of the 1995 Srebrenica genocide, is to get a sculpture in Banja Luka, the main city in Bosnia's Serb-majority entity, Republika Srpska.
Artist Bojan Mikulic said he expected to finish the sculpture in September of the 77-year-old writer, notorious for having supported Serbian strongman Slobodan Milosevic and for denying that the 1995 massacre in Srebrenica was an act of genocide – as the UN war crimes tribunal for former Yugoslavia, the ICTY, had ruled.
Handke was awarded the Nobel Prize for Literature in December last year, drawing furious criticism from politicians, human rights activists, historians and other public figures in Bosnia and beyond.
As BIRN understands, the sculpture dedicated to Handke will not be placed in a public area in the city.
Banja Luka mayor Igor Radojicic said that the local council in Banja Luka had nothing to do with it. "Its construction has not been announced to the city authorities," he said.
Mikulic told BIRN in Bosnia and Herzegovina that he was not interested in the political disputes surrounding Handke, and the statue was his first larger project. "I have been working on this 220-cm high figure for a month. A nice [hotel] complex is being built across the street from the tobacco factory, where the sculpture will be placed," he said.
"Sculptures of Skender Kulenovic, Branko Copic and Ivo Andric will also be placed there. They will all be about the same size," Mikulic said, referring to the well-known Bosnian writers. Andric, like Handke, won a Nobel prize.
A hotel is being built across from the tobacco factory in Banja Luka, at the former site of Republika Srpska Radio. The Integra Company did not want to confirm or deny to BIRN whether Handke's sculpture will be placed in the hotel area.
Handke's prize prompted several cantons in Bosnia's Federation entity, in which Bosniaks and Croats are in the majority, to declare him "persona non grata" – while several politicians in Republika Srpska said they were pleased to see the prize going to "a proven friend of the Serbian people and justice".
Hasan Nuhanovic, a Srebrenica survivor whose parents and brother were killed in July 1995, told BIRN that the talk about Handke "annoys him terribly", as he was being referred not as a writer but as a "friend of the Serbs and enemy of Bosniaks", neither of whom had any idea who he was before.
"What I see as a bigger problem is that, for instance, we now have murals of [Bosnian Serb wartime commander] Ratko Mladic [who is appealing his conviction for genocide and other war crimes], and it has now become normal," he added.
Banja Luka-based cultural expert Mladen Bubonjic echoed Nuhanovic's views, saying the monument to Handke was just another source of discord corroding Bosnian society.
"The culture of remembrance in Bosnia and Herzegovina and the Balkans often does not serve its purpose, – sustaining memories of tragic and traumatic historical moments. The fate of individuals, but also peoples as a whole, is often misused for daily political purposes," Bubonjic said.