The far-right in Europe is seizing on the scourge of COVID-19 as evidence of the folly of open borders and free movement of people.
This post is also available in: Bosnian (Bosnian)
The absence of a pan-European response to the pandemic, leaving the hardest-hit countries like Italy and Spain to do much of the heavy lifting themselves, has only served to reinforce one of the far-right's key messages – when the going gets tough, it's every country for itself.
"France stole masks from Sweden, and Italy was furious that no other country helped out in their crisis," Angry Foreigner, whose real name is Haris, told BIRN. "Countries like Serbia were denied help from the EU and instead received it from Turkey."
COVID-19, he said, has exposed the "flawed nature of globalism right now, in the sense that since everyone is connected it also means everyone depends too much on each other."
Haris, who declined to give his surname, does not speak in a vacuum. Some of his videos get hundreds of thousands of views, while his opinions are shared by far-right figures and movements across Europe.
Such opinions, experts warn, threaten to infiltrate the mainstream as Europeans try to find their feet in societies and economies reshaped by a virus unlikely to be vanquished anytime soon.
"We have already seen various radical right attempts to make use of [COVID-19] for their own ends," said Matthew Feldman, a professor at Britain's Teesside University and director of the Centre for Analysis of the Radical Right.
Feldman warns that the far right will seek to exploit the pandemic to push xenophobic messages into mainstream political discourse, hoping that they are adopted by more established political actors.
"This has been the working practice of fascism since 1945," he told BIRN, "which often boils down to attempting to enter the mainstream on the back of public issues."
Curse of 'open borders'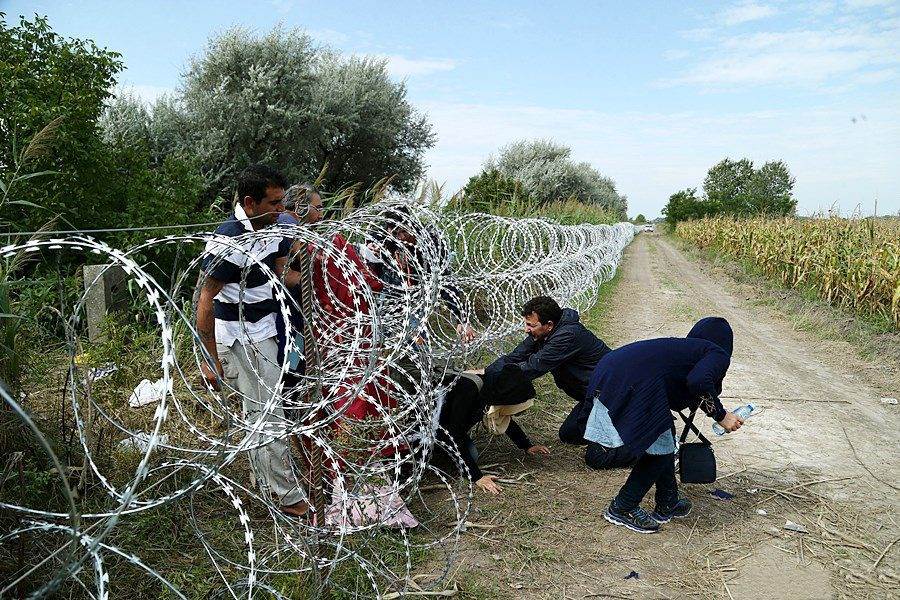 Migrants on Hungarian border. Photo: Gémes Sándor/SzomSzed
Sporting a slicked-back Mohawk and goatee, Haris has made a name for himself on the YouTuber scene with videos – in English and Swedish – in which he preaches against immigration and "open borders". One from 2019 was posted under the title Open Borders Spread Disease, a popular far-right slogan.
"You have the voice of reason," one viewer commented on a March 2020 video in which Haris accused Turkey of wanting to trigger a new migrant crisis in Europe. Another wrote, "It's interesting that a single YouTuber posts more factual info than the mainstream media."
The irony is that Haris himself is an immigrant, having left his native Bosnia in the 1990s as a refugee during the bloody collapse of federal Yugoslavia.
Haris prefers to characterise himself as "left-libertarian" rather than right-wing and has had links with the Sweden Democrats, a populist party with roots in the neo-Nazi scene in Sweden in the 1990s.
He looks beyond Sweden too, however; in 2017 a video featuring large groups of refugees running across European borders was produced by the interior ministry of Poland under the ruling right-wing Law and Justice Party and subsequently put into limited viewership by YouTube, meaning it would not show up as a recommended video or in searches – Haris shared it himself on his own channel under the title 'Based Poland.'
The title was no accident. 'Based' is a term used widely by far-right outlets such as Daily Stormer and on forums like 8chan for a country or an individual deemed worthy of support.
The term was co-opted from American rapper Lil B, who has explained "based" as meaning, "Not being scared of what people think about you. Not being afraid to do what you wanna do."
In the far-right universe, a "based" country is a country that is openly proud of its ethnic, religious and national background and, crucially, not being afraid to go up against what the far-right sees as the western liberal order.
'BasedPoland' is also the name of a popular far-right Twitter account with more than 121,000 followers and run by Adam Starzynski, an ethnic Pole born and raised in Sweden but who now lives in Poland and received Polish citizenship in 2016.
As COVID-19 swept Europe, Starzynski's BasedPoland account fired off tweets with videos painting minorities in a negative light, such as accusing Muslim migrants and Roma communities of failing to follow social-distancing requirements.
He has also sought to present eastern European countries such as Poland and Hungary as better placed to confront the pandemic thanks to their right-wing, anti-migrant policies.
In western European countries like France, Starzynski said in an April 2020 tweet, multiculturalism has undermined "social cohesion". More monoethnic, homogeneous societies like those of Poland and Hungary are better able to confront such pandemics, so the argument goes.
Starzynski did not respond to multiple requests for comment for this story. But he is not the only far-right figure in Poland making such arguments.
Szturm magazine, which describes itself as "national radical", has argued that "ethnic uniformity" is a solution to the crisis.
In a March 2020 article on the magazine's website, Szturm contributor Jaroslaw Ostrogniew argued that what Europe needs to fight the COVID-19 pandemic is "a return to ethnically uniform nation-states."
"Ethnic uniformity," he wrote, "ensures a higher level of social trust as well as better functioning of society, which becomes particularly important in the face of any crisis."
Mateusz Marzoch, leader of the 'Młodzież Wszechpolska' or All-Polish Youth, a self-described 'nationalist' youth organisation and descendant of the ultranationalist groups active in Poland the 1930s, said the EU had been unmasked by the pandemic, a 'union' undone by the initial national hoarding of medical supplies and refusal of wealthy northern states such as Germany and the Netherlands to consider 'Coronabonds' to share the debt burden of harder-hit countries like Italy.
"After COVID-19, disappointment with the European Union and globalisation will increase," he told BIRN.
"I think people will realise that they don't need the European Union," said Marzoch. "What they need is a strong national government, a strong country that can protect them when danger comes, when something threatens them."
"I think after this COVID-19 situation many other countries will start to care more about their own safety, their own circumstances, not the problems of other countries."
Influence on political culture
With more than 120,000 lives lost so far in Europe, the continent is living a new normal – one in which once-fluid borders are heavily monitored, where minorities such as refugees and Roma face being stigmatised even more and where countries cooperate less and look inward for answers.
Criticism of the apparent lack of solidarity among EU member states went beyond the bloc's own borders to countries hoping to one day join.
In Serbia, a candidate for EU membership, conservative President Aleksandar Vucic seized on  a March 2020 EU decision to block exports of key medical equipment to countries on the bloc's periphery as evidence of a lack of care, while rolling out the red carpet for aid and assistance arriving from China.
"The crisis caused by the coronavirus epidemic shows once again that the EU is unable to function and that the values on which it is based are absent in practice," said Dragana Trifkovic, chair of the foreign affairs committee of the far-right opposition party Dveri.
Dveri, a fiercely anti-western, pro-Russian party, believes the pandemic proves the wisdom of its policy against Serbia's eventual EU membership.
"Crises in the EU have been catching up with each other in recent years, from economic, political, migrant and now epidemiological, and European institutions can't find a solution," Trifkovic told BIRN. "It turns out there is no common policy, just a growing divide between EU countries."
But while Dveri may be banking on a pandemic-related bounce in support, poll numbers have sunk for a number of far-right parties in the likes of Germany, the Netherlands and Sweden since COVID-19 began coursing through the continent.
It may not be felt directly at the ballot box, but analysts say the message of 'more nationalism' may grow in influence within the political mainstream, as already witnessed in Italy.
With more than 30,000 coronavirus-related deaths to date, Italy is the hardest-hit country in the EU.
The neo-fascist movement CasaPound Italia has been working overtime to promote its own brand of nationalist as a cure for the country's ills, from online and print propaganda to grocery deliveries in CasaPound-branded bags.
But its efforts have not yet translated into greater popularity, said political scientist Giorgia Bulli, a professor at the University of Florence and co-author of CasaPound Italia: Contemporary Extreme-Right Politics, published in February 2020.
Self-proclaimed "third-millennium fascists" have yet to see any discernible rise in support since the pandemic struck Italy earlier this year, Bulli told BIRN, but this does not mean the efforts of CasaPound and their like across Europe should be dismissed.
The movement's attention-grabbing demonstrations and grassroots mobilisation has generated headline after headline in Italian media and there is talk of a post-pandemic meeting of minds between CasaPound and the likes of the nationalist Lega Nord of former interior minister Matteo Salvini or the national-conservative Fratelli d'Italia in a more insular, EU-sceptic Italy.
"They have had more impact on political culture than on policy-making," Bulli said.
As the party's official mouthpiece, Il Primato Nazionale, wrote in March, "If the virus is global, the reality is that all the answers have been national."