Croatian President Defends Bosnian Croat War Crime Convicts
Croatian President Zoran Milanovic defended his decision to meet former officers of the Bosnian Croat wartime force, the Croatian Defence Council, including an ex-convict jailed for war crimes by the Hague Tribunal.
This post is also available in: Bosnian (Bosnian)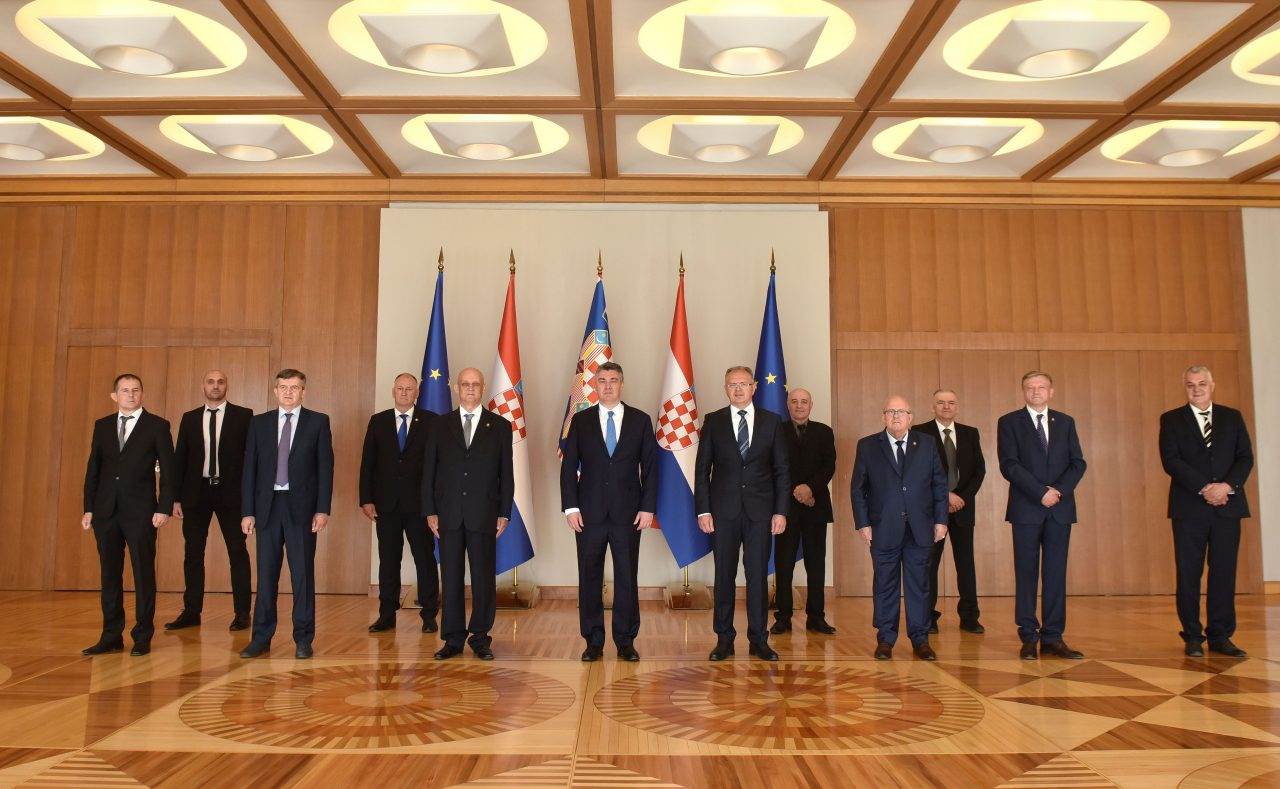 Milanovic with Croatian Defence Council ex-officers. Photo: Office of the President of the Republic of Croatia/Tomislav Busljeta
Croatian President Zoran Milanovic on Tuesday defended his decision to receive in his office former Croatian Defence Council, HVO officers, including Tihomir Blaskic, who served a prison sentence for his role in crimes committed during the Bosnian war after being convicted by the UN court in The Hague.
"There are various categories of war crimes, crimes against humanity and crimes related to the customs of war and waging war; it is a wide range of offences. If Blaskic was responsible for something for which [wartime Bosnian Serb military chief] Ratko Mladic is responsible, I would not host him," Milanovic told media.
He described the Hague Tribunal's conviction of Blaskic as a "political verdict".
Milanovic met the former officers of the HVO on Monday and "discussed HVO's role in defending Croats in all parts of Bosnia and Herzegovina and the contribution of HVO members to defending Croatia during the Homeland War", his office said.
The International Criminal Tribunal for the Former Yugoslavia, ICTY, originally sentenced Blaskic under a first-instance verdict to 45 years in prison for ordering, planning, committing and aiding and abetting crimes against Bosniaks in 1993.
The crimes of which he was accused included planning and ordering an attack on the Bosnian village of Ahmici in April 1993, when more than 100 Bosniak civilians, mostly women and children, were killed, as well as the destruction of property, persecution and using prisoners as human shields.
He appealed, and in 2004 the court dismissed 16 of 19 counts of the initial indictment, notably the claim that Blaskic had command responsibility for the massacre in Ahmici. He was sentenced to nine years in jailfor crimes against prisoners of war.
In 2010, Blaskic expressed his support for former Croatian President Ivo Josipovic's decision to visit Ahmici to pay tribute to the victims. He also said that after he served his sentence he went to Ahmici to pay his respects.
Milanovic said on Tuesday that he would also receive Milivoj Petkovic, a former HVO commander who is serving a sentence for crimes against humanity after being convicted by the UN court.
"I will receive Petkovic when he gets out of prison. I hope it will be soon. And I will receive him because he is not a war criminal," Milanovic said.
Milanovic also defended Petkovic in August last year, when he stated that "not everyone who was sentenced in The Hague was a war criminal".
Petkovic was convicted in 2017 of committing crimes against humanity, violations of the laws or customs of war, and grave breaches of the Geneva Conventions between 1992 and 1994.
He was found guilty of participating in a joint criminal enterprise intended to remove Bosniaks from territories of Bosnia and Herzegovina in which the Bosnian Croat leadership, along with the leadership of Croatia, wanted to establish Croat domination.
Five other military and political officials of the self-proclaimed wartime Bosnian Croat statelet of Herzeg-Bosnia were convicted alongside him – Jadranko Prlic, Bruno Stojic, Slobodan Praljak, Valentin Coric and Berislav Pusic.